Grow hope with us
By sponsoring an acre with Grow Hope, you are helping to provide food where it's needed most. Your gift makes it possible for families who have been displaced from their homes to receive a food basket, or to get the tools and seeds they need for their garden so they can send their children to school.
Join us in Grow Hope by sponsoring an acre of Manitoba farmland for $350. Is that more or less than you can give? We encourage giving partial - or multiple - acres, too! You can also have your friends or family join you in a giving project to support Grow Hope.
Contact our Grow Hope Coordinator to learn more at 204-261-6381, or growhope@mccmb.ca. 
 
How it works:
 
Image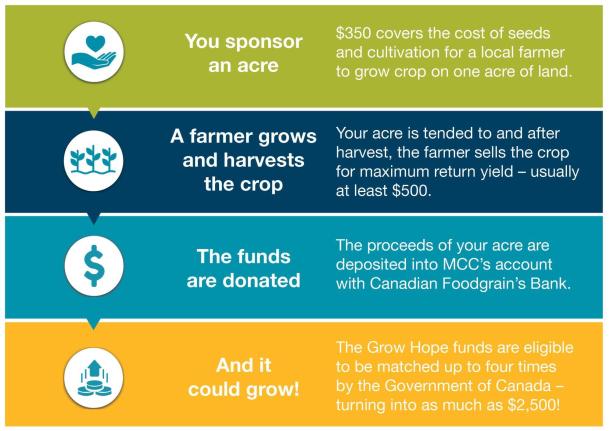 Updates from our farmers 
After you donate to Grow Hope, you'll receive email updates throughout the season and learn about the impacts that you helped to make possible – stories from local farmers and global partners!  
Invite MCC to share 
If you've supported Grow Hope with your family, small group, or wider community you can invite MCC to come and share with you about your impact! Email GrowHope@mccmb.ca to invite an MCC staff to speak to your group, and learn more about global hunger and MCC's responses. 

How your support can Grow Hope 
When you join our Grow Hope community, you'll be helping to transform the lives of people like Chim Yean and his wife, Reach Koeun, in Cambodia. Each $350 acre sponsorship can grow into $2,500 for food security – talk about a bountiful harvest!
 
Image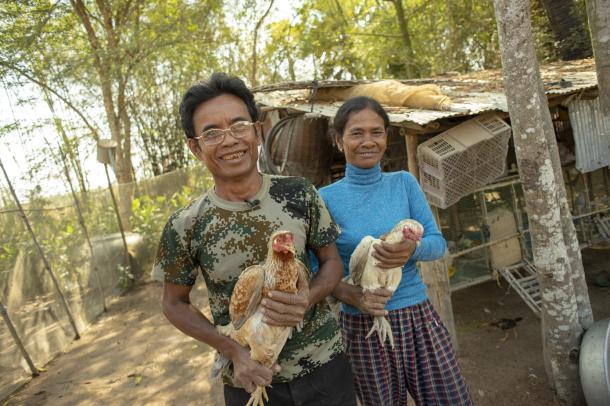 "Before I worked so hard, like working in the rice field for somebody or borrowing money or doing whatever for other people to get money and to buy the vegetable, fish and chicken. Now I grow everything."
Watch this video to see the impacts for yourself.
Image

Did you know you can grow hope with your family, friends and church community with a Giving Registry?
Set your goal of sponsored acres

 

Write a short description about your group and your goal

 

Upload your description and a photo to a Giving Registry page

 

Share the unique link and watch your community Grow Hope together!
Contact MCC Manitoba for more information.
Help Grow Hope
When you give to Grow Hope, you are supporting local growers and having an impact globally.