When love and online dating meet citizenship paperwork
As Luis Lorenzo sits with a thick folder of legal documents in front of him, he explains in English the complicated logistics of legal processes after marriage. At the same time, Silvia Sanchez fondly shows photos of her and Luis's small wedding and their family members present, describing who's who to me in Spanish. It's a tender collision of worlds when I meet them in the basement of a Mennonite church in the Bronx, New York City—the hard facts, affidavits and merciless timelines of immigration law explained in English paired with the fond reminiscing of their wedding day in Spanish.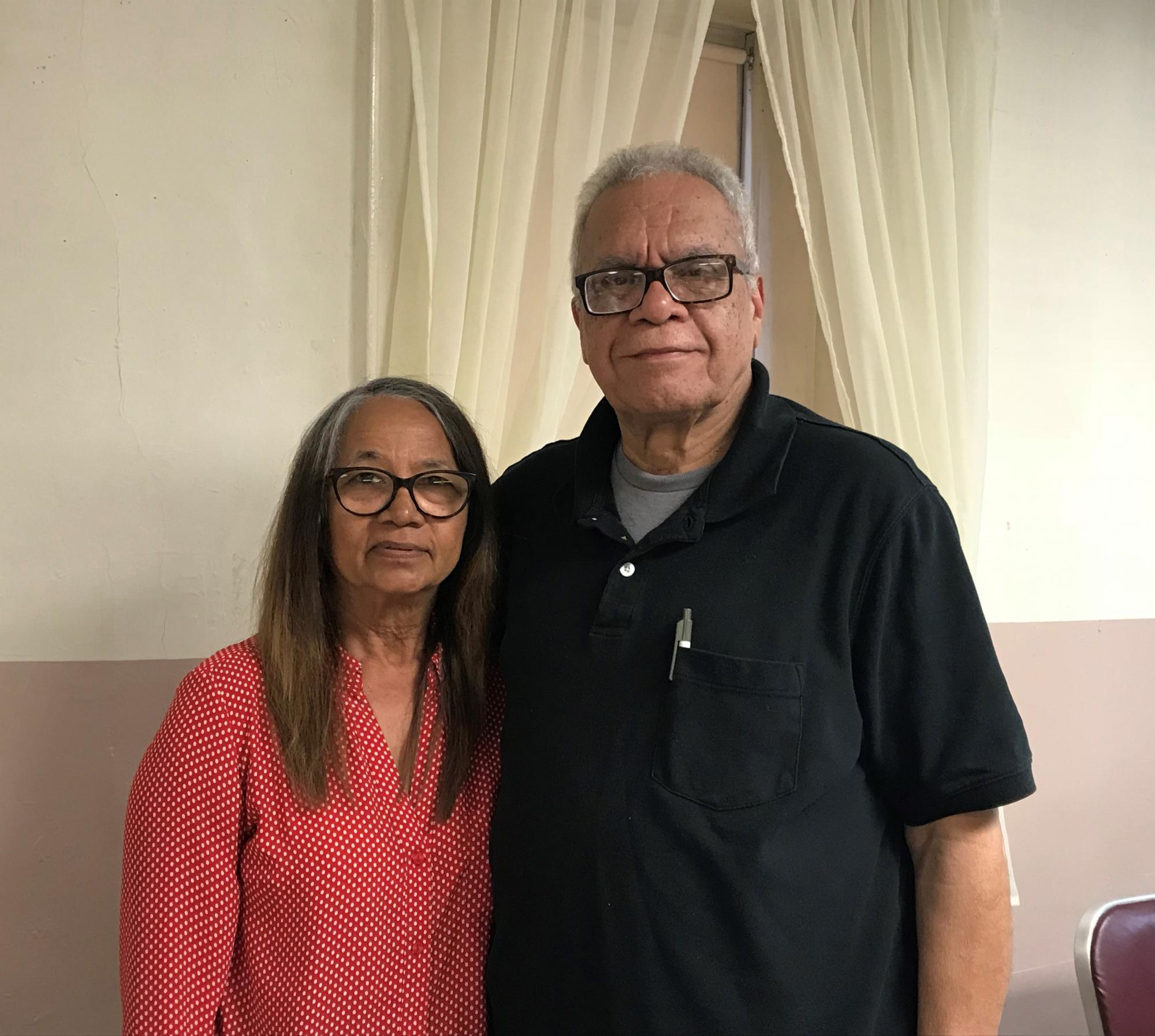 Like many couples in the U.S. today, Luis and Silvia met online. Though they're not proud of it, the two met on Facebook through mutual friends. Silvia knew Luis was a pastor, so one day in 2012 she messaged him, asking for prayer. Over the next three years, they kept in touch.
Luis, a veteran, grew up in Puerto Rico and has been an ordained minister for over 30 years. He isn't afraid to speak his mind. His first wife died from health complications in 2008, and he admits that many of his friends had been trying to "set him up" with a woman for some time.
Silvia grew up in Santo Domingo in the Dominican Republic, and has soft, kind eyes that are full of wisdom. She was looking for a viejito to take care of her, and he was looking for a viejita to take care of him.
They've been married for over 2 years now, but unlike many couples, Luis and Silvia have faced an unusual set of challenges.
They've been married for over 2 years now, but unlike many couples, they've faced an unusual set of challenges. You see, at the beginning of their marriage, Silvia was not a U.S. citizen, like her husband.
Luis says, "Once I knew we were getting married, I called up Gregoria. She was the first one we made contact with."
Gregoria Flores, community and church liaison in New York City for Mennonite Central Committee's East Coast region, immediately put Luis and Silvia in touch with the New York Mennonite Immigration Program (NYMIP). NYMIP, which began more than 20 years ago in 1998, is the product of a partnership between the New York City Council of Mennonite Churches (NYCCMC) and MCC. For the past 2 years, MCC and NYMIP staff have been walking alongside Luis and Silvia as they navigate the tedious process of applying for Silvia's legal permanent residence.
As a pastor, Luis had already met Flores at a community outreach event where MCC and NYMIP were present. Part of his ministry at the time included providing immigration resources to individuals and families in his church and community and Luis had already recommended NYMIP's services to other community members.
Now, Luis found that he and his wife, to live a normal, secure life together in the U.S., needed NYMIP's services themselves to navigate the complicated, costly and confusing process that immigration poses for many citizens and non-citizens that get married. Despite the legal challenges ahead of them, Luis said to Silvia, "I'm a veteran. I'll fight for you."
The amount of paperwork, phone calls and appointments that ensued were daunting. As a U.S. citizen, Luis was in a position where he could advocate and gather all necessary documentation for Silvia. He joked, "Am I marrying the immigration department?"
"The process feels like a place of surrender and [of being] out of control."
Hyacinth Stevens
New York program coordinator for MCC in the East Coast
Hyacinth Stevens, New York program coordinator for MCC in the East Coast region, has seen many individuals and families wrestle with legalization. She admits, "The process feels like a place of surrender and [of being] out of control. For someone who is used to being in control, this [process] is controlling you with all the documents they want."
Luis, who is shuffling through envelopes with crinkly plastic windows, pauses during the interview to ask Hyacinth what a particular document is. She gently, patiently explains the uses of a card that's attached to the letter. Further conversation reveals that they haven't been notified of an appointment for an interview as the next step in their process. Hyacinth makes a note to follow up with their attorney so that they can stay on the correct path.
Amidst the uncertainty of immigration, NYMIP has been a consistent presence and source of hope for Luis and Silvia. Now that they are nearly through the process of receiving legal permanent residence for Silvia, they are confident that they can reach back to help other immigrants in their community who are going through the same process.
"God has control of everything here," says Luis. Silvia replies, as if rehearsed, "Amen."
In Florida and New York City, MCC East Coast provides immigration services to members of Anabaptist churches at minimal fees. Throughout the East Coast region, MCC staff are also available to provide education and resources for congregations interested in raising awareness about immigration related issues.  With the supervision of immigration attorneys, immigration counselors assist church members with:
naturalization
family petitions
adjustment of status
replacement or renewal of green cards and work permits
 
The MCC East Coast immigration program also offers educational opportunities. In New York City, counselors hold immigration education clinics several times per year. In Florida, counselors visit area congregations to educate members about immigration-related issues.
In both locations, counselors meet with clients by appointment only. Please contact our offices to schedule an appointment.