Threads - Jan 2023 - "...For they will be comforted"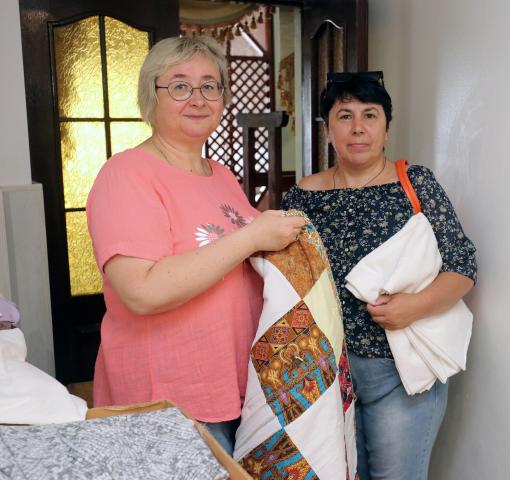 Playing time: 14:21
On this episode of Threads, you'll hear about the important role that comforters play in MCC's work around the world and the ways it also impacts and helps those making the comforters.
Listen in as our host Kyle Rudge talks to Sophia Bezoplenko and Anne Plett about the important role that comforters and comforter-making groups play in MCC's work around the world, particularly in Ukraine.
Threads, formerly known as Word and Deed, was established in April 2007. It is a 15-minute radio program by KR Words featuring the work of MCC in Manitoba and around the world. Threads broadcasts on CFAM AM 950, CHSM AM 1250 and CHRB AM 1220 at 8:45 am on the first Sunday of the month.
Audio Transcription:
Kyle Rudge (00:02):
It begins with a single thread woven through another thread, and then another and another until we have a single piece of fabric. That fabric is stretched, cut and stitched together with another just like it. This process is repeated over and over and over until we have a beautiful tapestry that all began with a single thread. Welcome to MCC Threads, where we look closely at how our stories in Manitoba weave together with the stories of MCC and its partners around the world. Well, we certainly got the white Christmas again this year. I feel like my body still hasn't recovered from all the snowfall last year, and yet here we are again. But it's easy to complain about the hardships of a Manitoba winter, but without it, we'd never have the chance of after being outside in the cold shovelling or sledding to come home and warm up with fresh socks, hot chocolate, a soft comforter, and wonderful company.
Sophia Bezoplenko (01:18):
Hi, I'm Sophia Bezoplenko, and I am the material resources coordinator with MCC Manitoba working out of the Winnipeg office.
Kyle Rudge (01:26):
If anyone knows about the magic of comforters and wonderful company, it's Sophia and her team with material resources, and 2022 was quite the year for them.
Sophia Bezoplenko (01:37):
It was really wonderful this year to get to finally connect a little bit more in person with people and with groups getting together with people in person to pack disaster relief items and to share in person about the impact of those items for people around the world. It's been really wonderful. Just generates a lot of energy and enthusiasm again to tell some of these stories about our work and how it's really making a difference for people when we get to just sort of connect in person. So we've had groups in the warehouse here, our material resources center in Winnipeg for Buckets of Thanks, putting relief kits together. I just travelled around last week around Manitoba, connecting with comforter groups who've been faithfully making comforters for us that have been shipped to people that really need them this year. And so it's just been really wonderful to, to just connect in person. That's really been inspiring for me this year.
Kyle Rudge (02:34):
It makes sense. The pandemic paused comforter making as a communal activity, but to have that back has meant the world. Not only to Sophia, but even to her volunteers.
Anne Plett (02:46):
Hi, I'm Anne Plett and I work in the MR department on Plaza Drive in Winnipeg and my position is really working with fabrics and the material resources that come in through donations and in which we do the comforter making, as well as the sorting of fabrics, as well as the shipping of comforters, as well as the quality control of comforters et cetera, et cetera.
Kyle Rudge (03:16):
Anne has been a volunteer with material resources, or MR for short, as you'll hear them refer to it periodically, with Mennonite Central Committee since 2013.
Anne Plett (03:25):
What drew me to MCC was the fine quilting. There were a number of women at MCC at that time who were just fine quilting, and they would have a show once a year and sell fine quilts and give the proceeds of that sale to the MR program. Since actually the pandemic, that has changed and we are now in a church basement doing the fine quilting, but MR is still very involved in the comforter piece of it.
Kyle Rudge (04:01):
Comforters differ from quilts primarily in the way that they are made. With a fine quilt being rather elaborate, comforters can find their beauty in the ease, simplicity, and accessibility in making them, but I assure you, they are no less beautiful. Anne's connection to MCC runs deep, certainly in part due to the fabric, but also through the people and community.
Anne Plett (04:21):
We have many, many friends who have been overseas with MCC, and we probably visited at least four of them, four of the couples during their time with MCC. We went to Croatia, we went to Labrador, we went to Zambia, we went to South America, so we visited friends who were under MCC and so our love for MCC has continued. And now both of us are retired and both of us work for MCC as a volunteer.
Kyle Rudge (04:54):
Groups across Manitoba make comforters for MCC, but then what? Where do these comforters go and what impact do they have? Well, this past year, many of the comforters went to relief efforts for the war in Ukraine.
Sophia Bezoplenko (05:07):
We, as the MR network, were able to have a Zoom call with our staff just last month in the middle of what has been an onslaught, sort of non-stop since February 24 when Russia invaded Ukraine of just really intense conditions under which our partners are operating. And so it was a real honour, and it just felt very, very special and very sacred almost to be able to connect with our staff there and here, in the middle of hoping that the rolling power outages because of the damaged energy infrastructure wasn't gonna cut off our internet. And hearing from them, stories about what it has been like to respond at the beginning of this invasion and what partners could do and what they have been able to do with material resources shipments since, and just the conditions and who are the kind of people that are being assisted and helped. And so we were getting to speak with our partner Charitable Foundation Uman Health Center, and they've been responding with emergency assistance to Ukrainians who have been displaced, people who have sometimes lost their homes because of shelling by the Russian army and they have been providing ready to eat meals, hygiene kits, relief kits, and many, many comforters, canned meat and many other items. They also have a safe space where they can provide psychological support or pastors and chaplains for people to talk to and just a warm reception with maybe some soup or a cup of hot tea, and just the gift of presence for people to finally sort of be in a place where they can feel as safe as one can feel anywhere in Ukraine, especially not super, super far from some of the more hot spots. It was really an honour to get to hear some of these stories when it's been really challenging conditions and for partners to take the time out to connect with us and tell us what this work has been like. It was really particularly special for me, as, you know, I have a connection to Ukraine. That is where I was born, that's where I still have family, and it was very much, it was very special for me to get to hear Ukrainian spoken, to speak Ukrainian and to hear about what the work was like that was being done there.
Kyle Rudge (07:45):
As a side note, through the kind and generous donations, MCC raised over 10 million dollars for relief aid for Ukraine, and that number continues to climb today. However, in getting that aid to those in need in Ukraine, has been a challenge that is also ever-growing.
Sophia Bezoplenko (08:01):
We were, as an MR network trying to plan for how to ship containers through a new route because there was really intense fighting in the Black Sea, which made it impossible to ship to our usual port in Odesa. So but meanwhile people are still making comforters, bringing, checking in, asking about what kinds of kits are necessary. And so as we were kind of working on a plan through the spring, we were finally able to find a different route that docked in Rotterdam in the Netherlands. Shipments were transported by trucks through Germany and Poland into Ukraine. And so in the summer we were able to get five shipments, five containers of disaster relief supplies to our partners there. And it was really amazing to be able to say yes to the kinds of needs that they had and the requests that they had based on the people that they were serving and what they really needed.
Kyle Rudge (09:01):
Incidentally, there are more containers still in the process of being sent as the need in Ukraine continues.
Sophia Bezoplenko (09:07):
At least five going out. The last one out of Canada left just October 16, and maybe two more after that. And so it really is wonderful to see that we can, with an unexpected additional need this year, be able to still say yes to these requests and to help to, yeah, to provide these really critical supplies to people in Ukraine.
Kyle Rudge (09:33):
Quilting and comforter making, however, isn't just for the people in need, you know, the ones that are receiving them, but even in the process of making them, differences are being made here in Manitoba.
Anne Plett (09:44):
Well, that's been a real highlight, and people who aren't maybe so proficient in sewing use this opportunity to really develop their skills in sewing. And really like one refugee woman now is working in a sewing factory and got the experience I think from, we made a lot of masks, so mask making and comforter making where she got her experience. We had two women in our group who lost their husbands one, you know, maybe four years ago and one, two to three years ago, I would say. And, you know, they were telling me if it wasn't for this group, they would, they didn't know how they had gotten, were able to get through, you know, the, the grief of losing their husbands gave them an opportunity to really talk about it, meet together, stay involved, stay connected. And yeah, it's, I mean, one woman said, I don't know how I would've gotten through it had it not been for this group. So it acts as a support as well as, you know, we find it very encouraging to do something for the greater good for the greater picture of what MCC really does and is involved in, and so this is their way of connecting with MCC.
Kyle Rudge (11:20):
And last, but certainly not least, what are the numbers? How much has been shipped?
Sophia Bezoplenko (11:25):
You know, I think it might be interesting for people to know, how much have we shipped to Ukraine? What does it mean? You know, five containers and another five you know, the first five or six that have left since we were starting to ship in June, in those containers, so far, we have shipped 9,881 comforters. So that's in the last four and a bit months, and 4,507 relief kits have been shipped to Ukraine alone. I think that's incredible. That is just to one partner country. And I think that just speaks to that generosity and speaks to faithfulness of our groups and that are making these comforters and that at churches that have participated in Buckets of Thanks and really responded to why packing hygiene, supplies, in the form of relief kits is really a beautiful thing that they can do together. And so I'm really proud of our province and, and our donors and the people that have had big and small parts to play in some of those numbers. And those are not all of the things that we've shipped, but I think that's really something we can be encouraged by.
Kyle Rudge (12:44):
And you should be encouraged. Thank you all that have helped in 2022. And if there's an off chance you're looking for a way to help, New Year's resolution perhaps? And it doesn't involve going outside, shovelling your neighbour's walk? Comforter-making can be a very wholesome, friendly and communal way of making a difference, both here in Manitoba and around the world.
Anne Plett (13:05):
And if people wanna start groups for comforter making that would be amazing. We have a lot of donated fabric that we can give to you to start to work with. We can, you know, help you to figure out what to do and how to do this. That's part of my role, I think, for people to come and help themselves to our fabric as well as be shown how to make these comforters.
Kyle Rudge (13:35):
If you're interested in starting a group or perhaps finding one near you, contact Sophia and her volunteers at materialresources@mccmb.ca. Also, there are some great tips to make comforters at mcccanada.ca/get-involved/kit/comforters or just search for comforters in the search bar at mcccanada.ca and you'll find it. There's three great step-by-step videos on how to do it. Thank you to Sophia and Anne for sharing your heart and story for fabric and relief with material resources in Manitoba. MCC Threads is produced by KR Words with story assistance by Nikki Hamm Gwala and Jason Dueck. I'm Kyle Rudge, and this is MCC Threads.