The Raw Carrot at MCC is celebrating five years!
How delicious soup and meaningful employment is a win-win for both staff and customers.
Image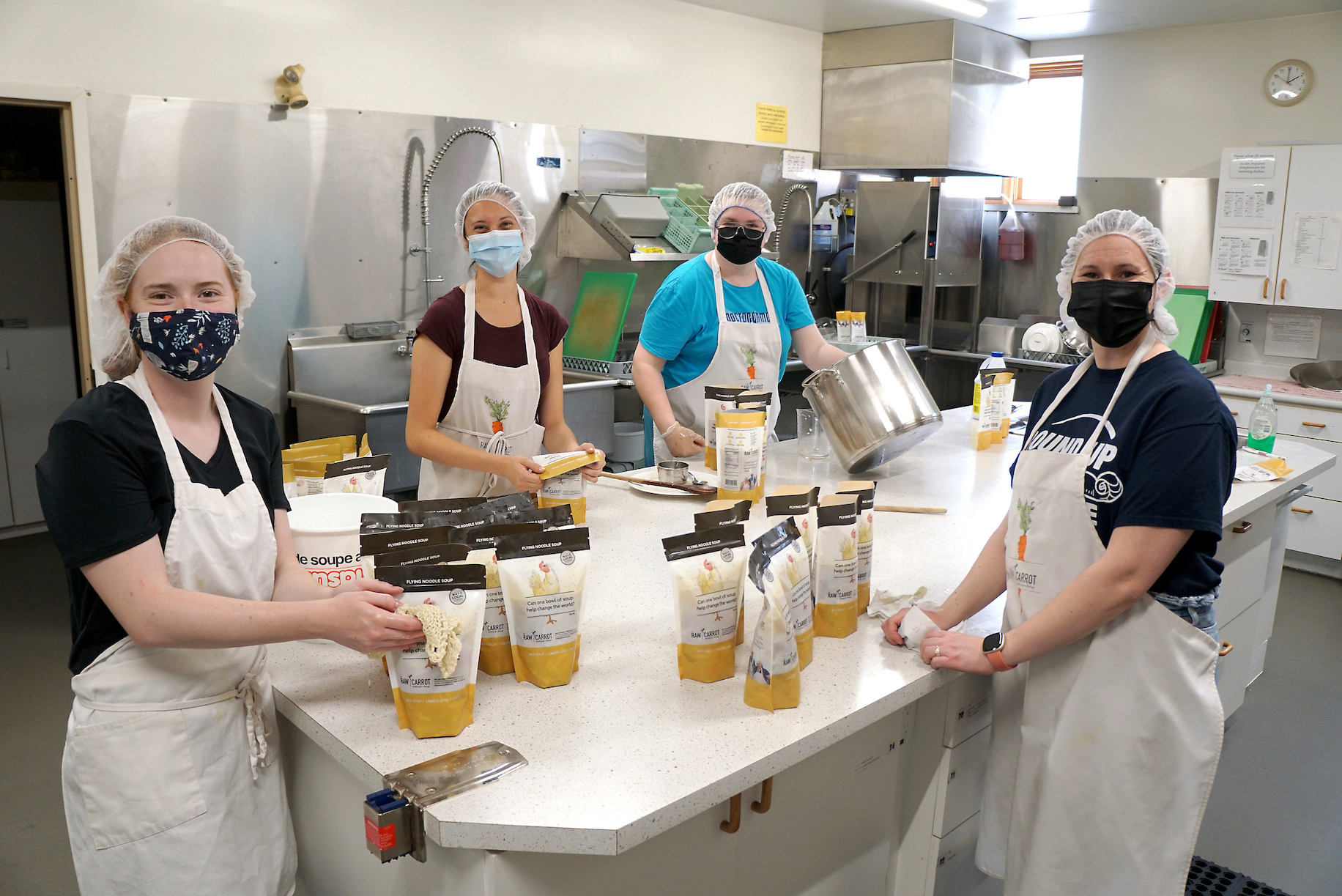 This is reposted from The Raw Carrot website.
Kitchener's Mennonite Central Committee (MCC) Raw Carrot is celebrating its five-year anniversary and we're proud to share it with you, our loyal supporters.
The MCC Raw Carrot site opened in May 2017 and has operated in partnership with Stirling Avenue Mennonite Church in Kitchener. The location produces 500 to 600 bags of soup per month.
Leah Brown, kitchen manager, commemorated the anniversary with a brownie party for staff so they could take a moment to reflect and share what working at The Raw Carrot has meant to them.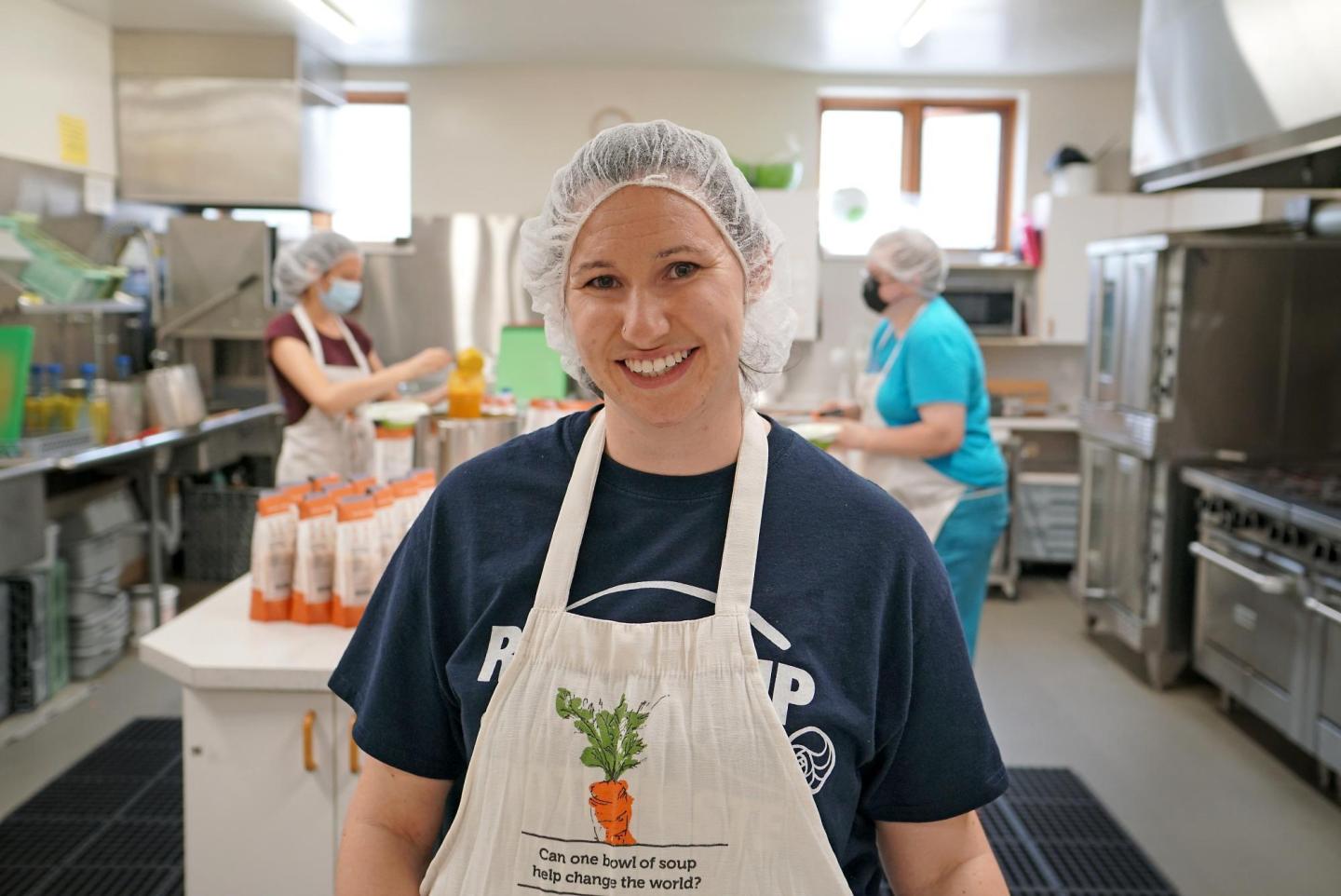 "There are three staff who have been working here since the site first opened five years ago," says Brown. "Suzi Gursoy is one of those staff who is proud of her work and prompted me to reflect on this milestone and celebrate the past five years."
"You can't find this type of employer, the way the Raw Carrot is set up to help people with disabilities, it's like family," reflects Gursoy. "I don't know how else to describe it!"
Lucas Veenhoven has worked at The Raw Carrot for four years. He's thankful for his extra income to top up his Ontario Disability Support Payment (ODSP).  "I can see the positive impact on Lucas; he's really grown in confidence and I can trust him with new tasks and to do amazing things," says Brown.
With ODSP, staff can earn up to $1000 per month on top of the income supplement before it gets clawed back at a rate of 75%.
For some staff, working at The Raw Carrot is a stepping stone to full-time employment elsewhere. They're able to learn new skills and confidence in a supportive environment. They gain strong practical work experience while being able to grow at their own pace. For others, The Raw Carrot is exactly the type of workplace that they may need for the rest of their lives—where they can be supported during work by staff who understand the social, emotional, or mental health needs that impact their ability to work on a daily basis. These are needs that are simply not met by most workplaces.
What makes a supportive environment different from traditional workplaces is that the focus is not just on maximizing profit, it's on generating revenue that funds endeavours with a social purpose and value for the public good. A social enterprise takes into consideration people's limitations, provides flexibility and makes special accommodations to ensure that people feel the value and dignity of work in an environment that suits their needs.
"We're still accomplishing our goal—to make soup—but we're able to do that within a community that values people over efficiency," Brown says. "It's all worth it, even if it takes us a little longer."
Lucas is grateful for the income he earns at The Raw Carrot and for the community support that's helped him grow. He tells Leah that he feels inspired to search for another job and is on a waitlist for supportive housing so he can live independently.
MCC Raw Carrot has a lot to celebrate.  Not only have they reached a significant milestone, but their staff are also growing in skills and confidence to participate more fully in community life.
To buy soup from The Raw Carrot, visit any MCC Thrift Shop in Ontario, or from a grocery store near you!