Puerto Rican-style canned meat
Meeting physical and spiritual needs
Image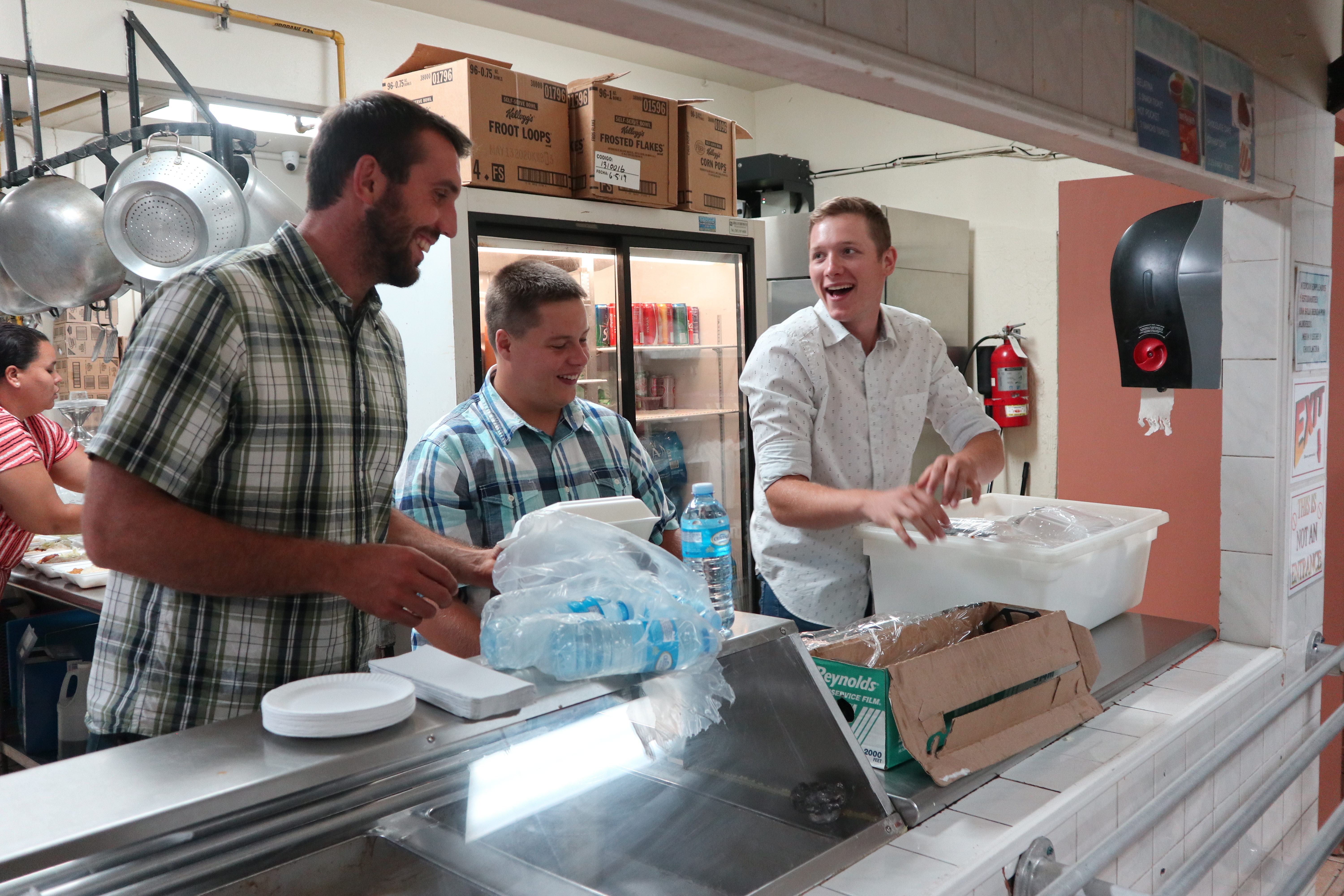 "…I had to fight my tears back when we were helping the homeless people with the food," says Tristan Pries, one of the 2019-2020 MCC mobile meat canner operators. "I learned to appreciate what I have. That I have enough. And I really thank God for the blessings He has given to me and for the talents I have."
Pries, from Loma Plata, Paraguay, along with fellow canners Gabriel Eisenbeis, from Freeman, S.D., and Kendall Weaver, from Wooster, Ohio, had the chance to travel to Puerto Rico in September as part of the bi-yearly MCC mobile meat canning learning tour.
These tours, led by John Hillegass, MCC's canning and trucking manager, give canners a glimpse into the impact MCC canned meat has in communities around the world. This year's tour highlighted the significant canned meat shipments to Puerto Rico following Hurricane Maria in September of 2017.
Part of this year's tour included distributing pre-plated food, complete with MCC canned meat, to people without homes in a local park in San Juan, Puerto Rico, an outreach of Iglesia Evangélica Menonita de Summit Hills. In the pouring rain, those in need of a hot meal gathered under tents to stay dry along with church volunteers and the canning crew. Everyone exchanged stories.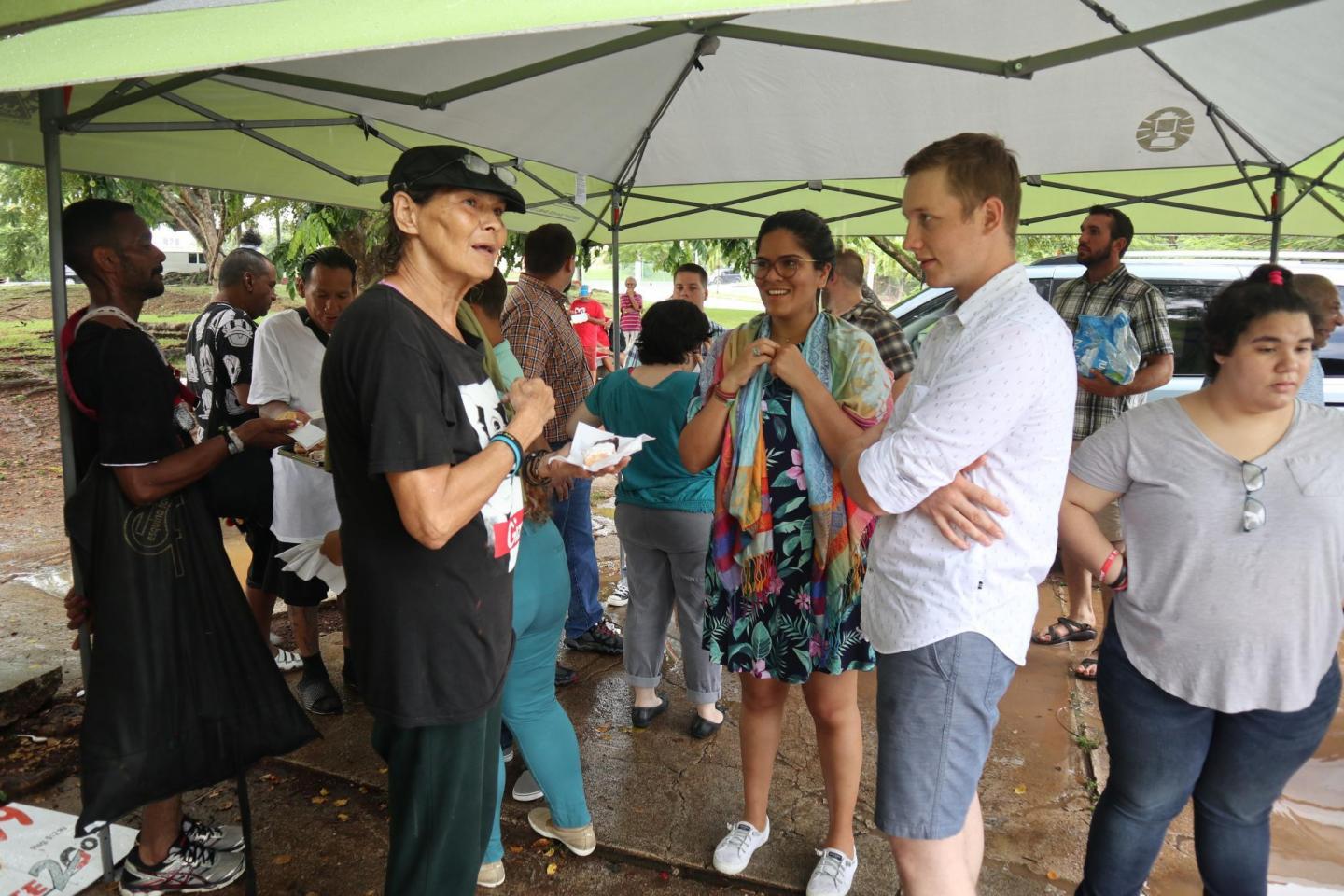 Every other month the church goes into the community to reach out to those that are homeless. Sometimes they use canned meat, cooked Puerto Rican-style, adding white rice, fried plantains and salad. Many church members get involved.
"This is a church that has very few members, but this church does a lot," notes Carmen B. Vélez, a parishioner at Summit Hills church. "We don't need to have a lot of members to do the job that has to be done."
With limited services for those that are homeless in Puerto Rico, many people find themselves on the streets without a place to live. Some are fighting drug or alcohol abuse or are living with mental illness. Others lost their homes following Hurricane Maria.
"There's a lot of humble people in need," says Vélez. "They have no home, they just sleep in the streets, or they lost their homes some way, somehow and now they prefer to live on the streets. Or they get used to living in the streets and decided to stay there. Also, the problem with drugs makes them stay there. Sometimes the family just throws them out. It's the same as in the states. But it's sad to see..."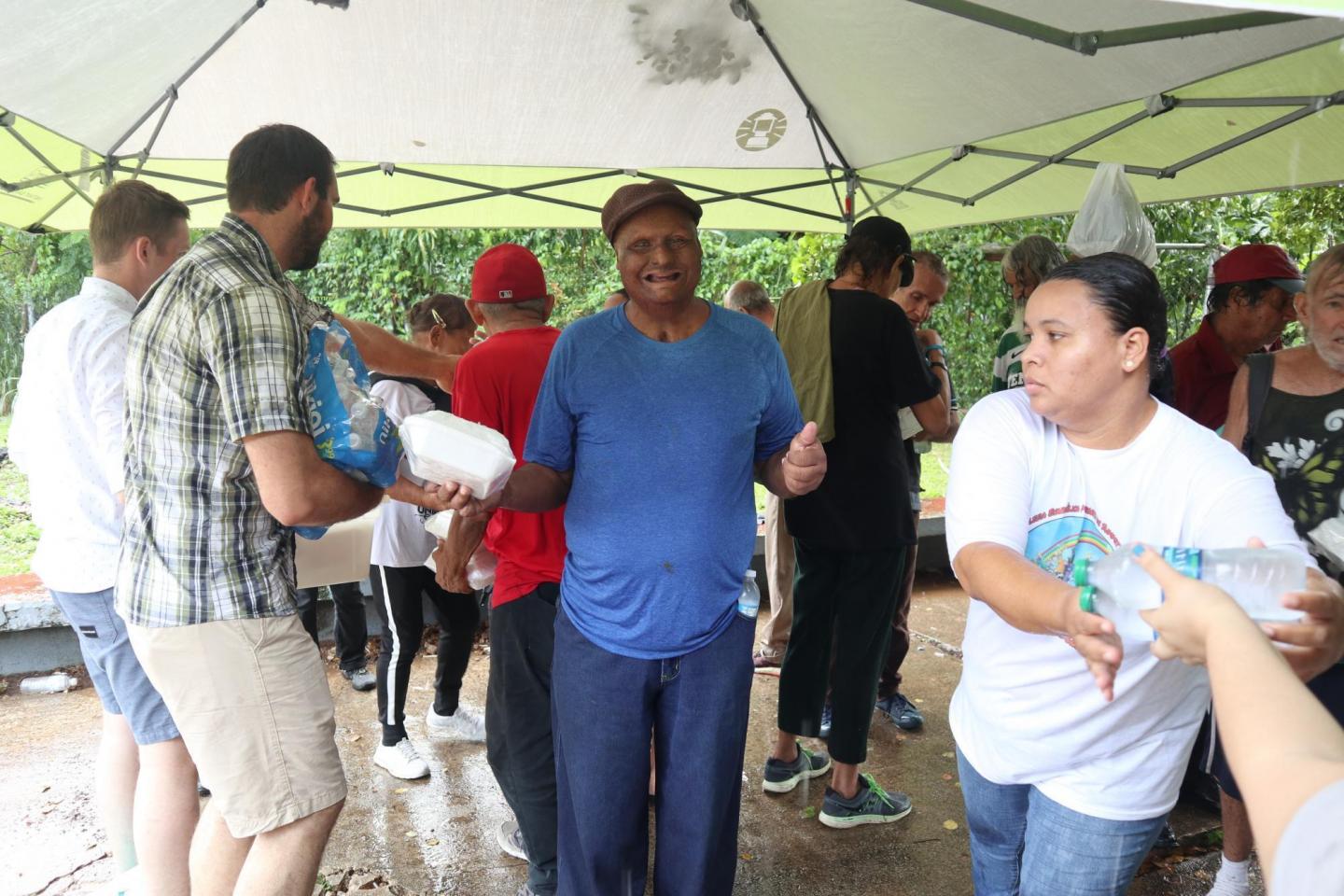 The church sees the outreach initiative as a way to spread the gospel as well. Rolando Flores, MCC's Puerto Rico program coordinator and pastor of Summit Hills church, notes, "The idea with the canned meat is to provide something else to the church that they [can] help the community and then evangelize."
Several Mennonite congregations across the island also do similar homeless outreach programs. Many of them use MCC canned meat.
Vélez reflects, "I don't like our church to be known that it has money, or that it has a lot of help. I like people to know the church by saying, 'That's the church that brought me what I needed.' When people are in need, we have to be there."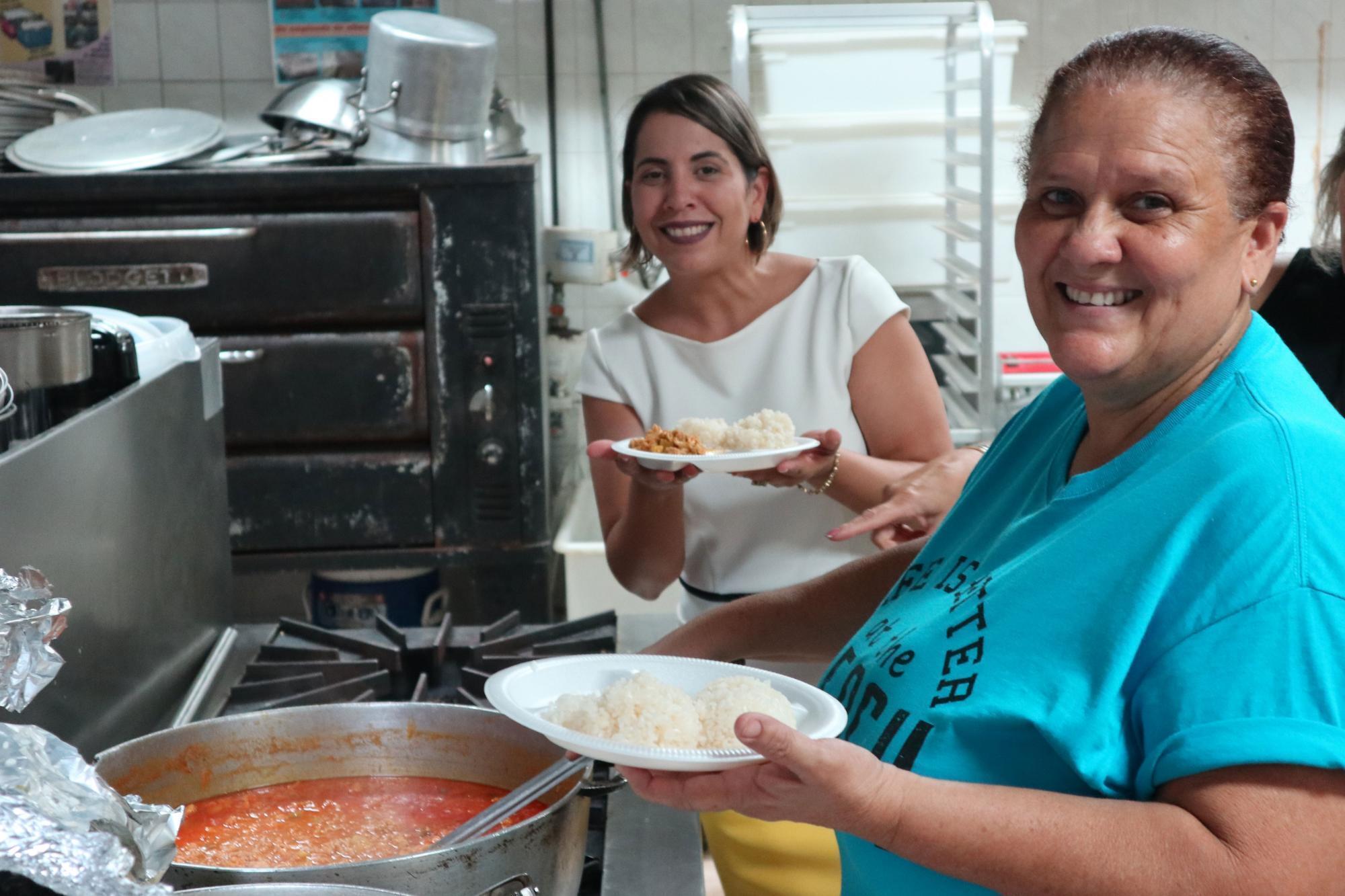 Lucy's Puerto Rican-style canned meat
We asked chef Lucy Santiago, member of Iglesia Evangélica Menonita de Summit Hills in San Juan, Puerto Rico, for the recipe for the delicious canned meat she made for the homeless community near the church. Like most great dishes, there is not a recipe card, but we got her to share the ingredients in case you want to make it yourself. Feel free to adjust the amounts as you see fit.
Image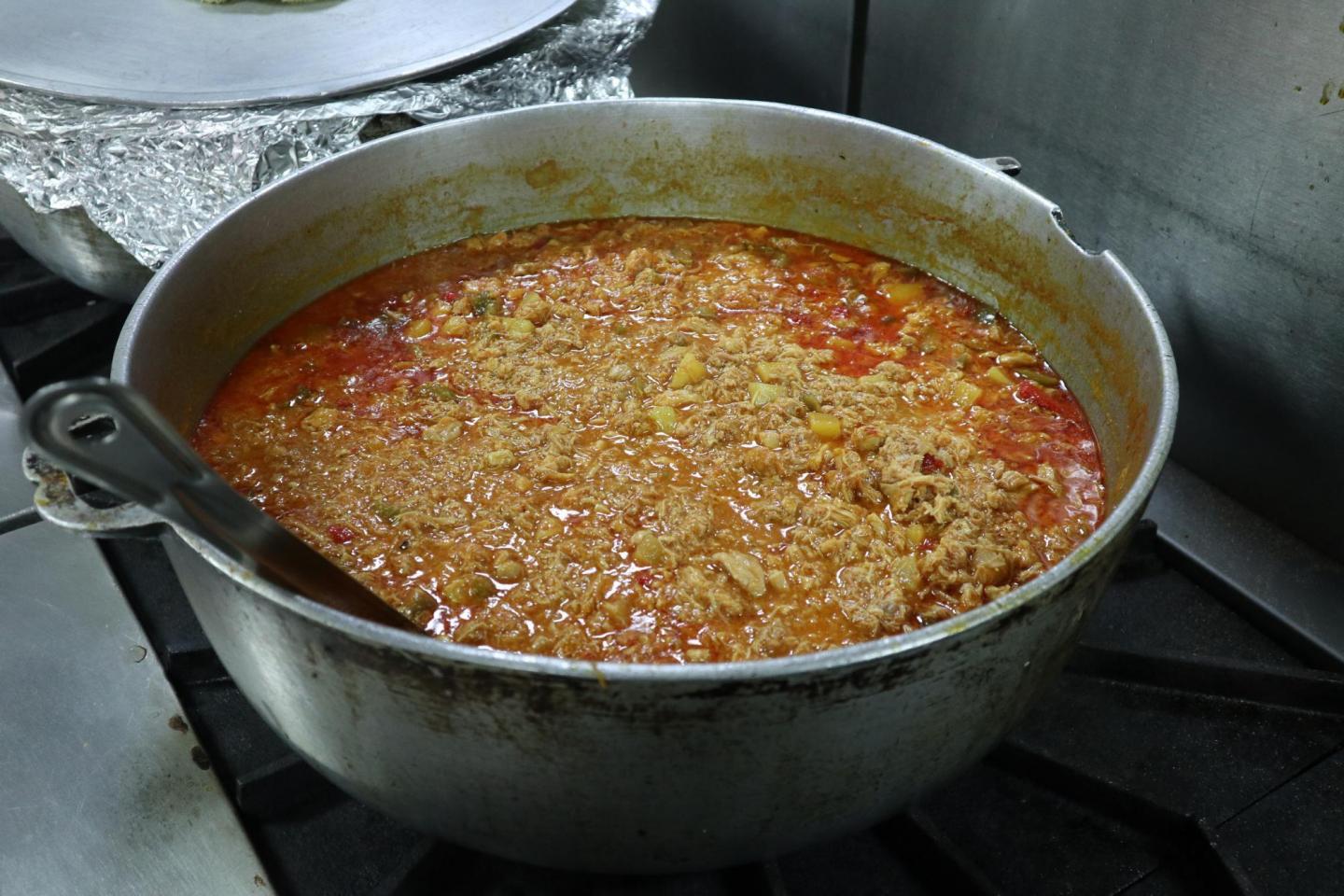 Ingredients:
Can of meat, preferably chicken, pork or beef
Small onion, chopped
Small spoonful of chopped garlic
Half pot tomato sauce
Half green pepper, chopped
One bell pepper, sliced and chopped
An envelope of achiote/annatto seasoning
Small spoonful of Sofrito seasoning*
*Sofrito is the main ingredient in Puerto Rican food. We use it in almost all of our dishes including stews, rice, meat, fish and chicken. If you don't have Sofrito, here's a recipe to make some:
2 green peppers, seeded and chopped
2 red, yellow or orange peppers, seeded and chopped
4 onions, chopped
3 heads of garlic, peeled and minced
25 leaves of fresh cilantro
25 bunches of recao (or cilantro) leaves
1 tablespoon salt
¼ cup oil
Instructions:
Sauté the vegetables together with a little vegetable oil. Next, add in the seasonings. Then mix in the meat with only half of the water from the can. Cook together until warmed through and simmering.
Serve over white rice with salad and fried plantains. (At least that is what Lucy does.)
Every year, the mobile meat cannery travels to over 30 locations across the U.S. and Canada. Canning locations are always looking for volunteers to help with the entire process as they fill, weigh, wash and label every can. To find a location near you, visit mcc.org/canning.