Peace for the Weary
How young adults are healing and building resilience
Image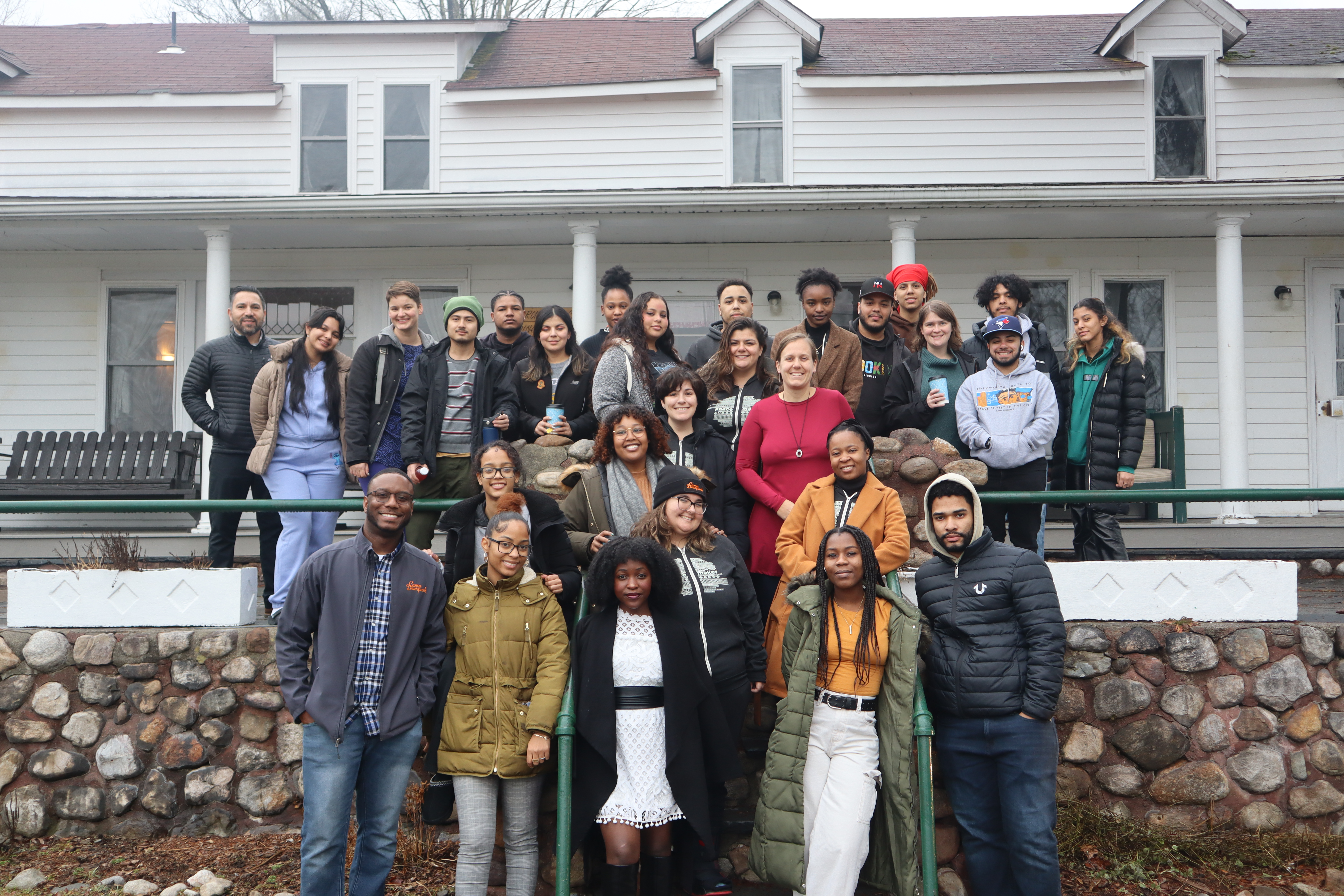 August 18, 2023
Twenty-four young adults traveled from urban areas near and far to greet the new year at Camp Deerpark in Westbrookville, New York. On January 2-7, 2023, Mennonite Central Committee and Camp Deerpark staff led a young adult MCC peace camp titled Peace for the Weary. 
At the beginning and end of each day, participants were embraced by the warmth, crackling sound and brisk smell of the campfire, where they gathered for a time of centering. Every morning, tranquil songs, spoken words and thoughtful silence were shared. In the evening, participants gathered around the fire once again and exchanged songs of worship, stories and laughter.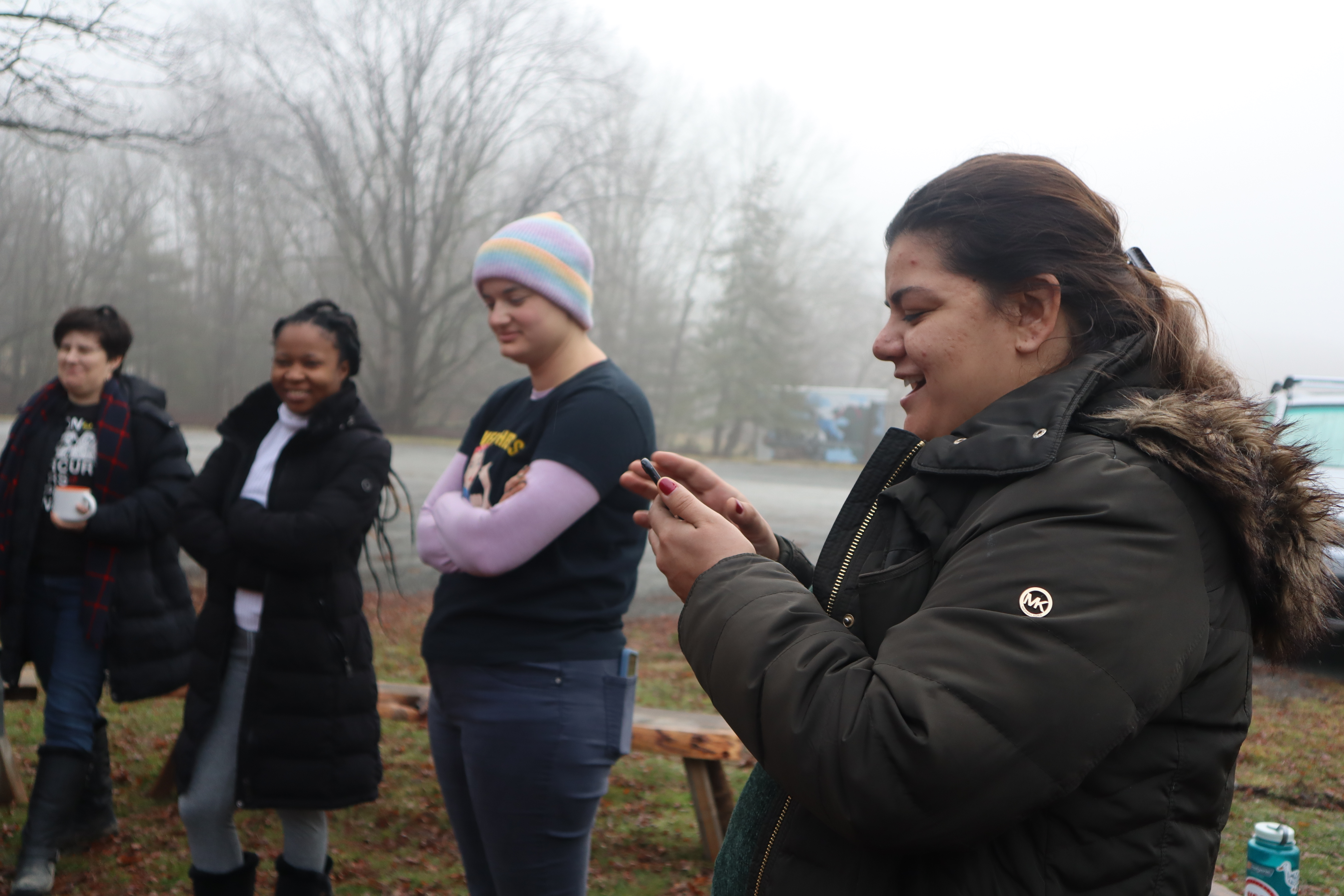 ---
Peace for the Weary invited young adults living in urban contexts to engage in a week of reflecting on personal and communal trauma. Young adults grapple with many challenging crises, including the COVID-19 pandemic, growing inequality and division, rising gun violence and anxiety due to climate change. 
Over the course of the week, participants explored creating strategies for healing, nonviolent intervention and resilient hope through various sessions and activities surrounding trauma, healing, cycles of violence and reconciliation. 
Trauma
On the first day, participants learned about the different types of trauma—personal, secondary, historical, cultural, generational—and identified traumas that exist in their own communities. 
Later, the discussion around trauma shifted to a personal level. The group partook in a self-reflection activity called "river of life." Each participant illustrated a river that reflected their life journey and inner landscape using different shapes and elements such as streams, rocks, waterfalls, mud, curves, and fast and slow currents.   
Everyone, including the staff, was invited into an intentional space to unpack their stories of trauma as much or as little as they were willing to. The air felt heavy but there was a sense of relief. The mentorship and vulnerability of the MCC and Camp Deerpark leadership team assured participants that they are not alone in these troubled times. 
One participant, Princess Tshuma, a 2022-2023 International Volunteer Exchange Program (IVEP) participant from Zimbabwe who served in Kansas City, Missouri, found courage through the sincerity and vulnerability shared by the facilitators and individuals at the camp. "Stories shared by people gave me the courage to be brave and say, 'If others went through the same challenges and made it [through], I can do it,'" Tshuma said.
Laura Rodriguez Reyes lives in Kitchener, Ontario, Canada. She works with Indigenous communities that experience generational trauma. The peace camp's theme of resilience and healing resonated with her and her desire to learn tools and practices that would help her take care of herself and enable her to help others. Something that stood out to Reyes  was the story of one of the facilitators, Saulo Padilla, Migration Education Coordinator for MCC. "His journey and the struggles of being an immigrant, an outsider, and how he overcame those struggles made me think of my story," she said, "because my sister and I have endured a lot being newcomers in Canada. Although his journey is not over, it was hopeful to see that it got better, and it gave me hope for the future."
---
Josephine (Phina) Kalondji is from Dallas, Texas, and studies at the College of the Holy Cross in Boston, Massachusetts. Kalondji participated in the 2022 MCC peace camp in Puerto Rico and it was a transformative experience that led her to her decision to join Peace for the Weary. "I found everything interesting and life-giving," Kalondji said. "Especially speaking about trauma and ways to deal with it and being able to hear leaders' experiences of dealing with trauma in relation to working with community and people."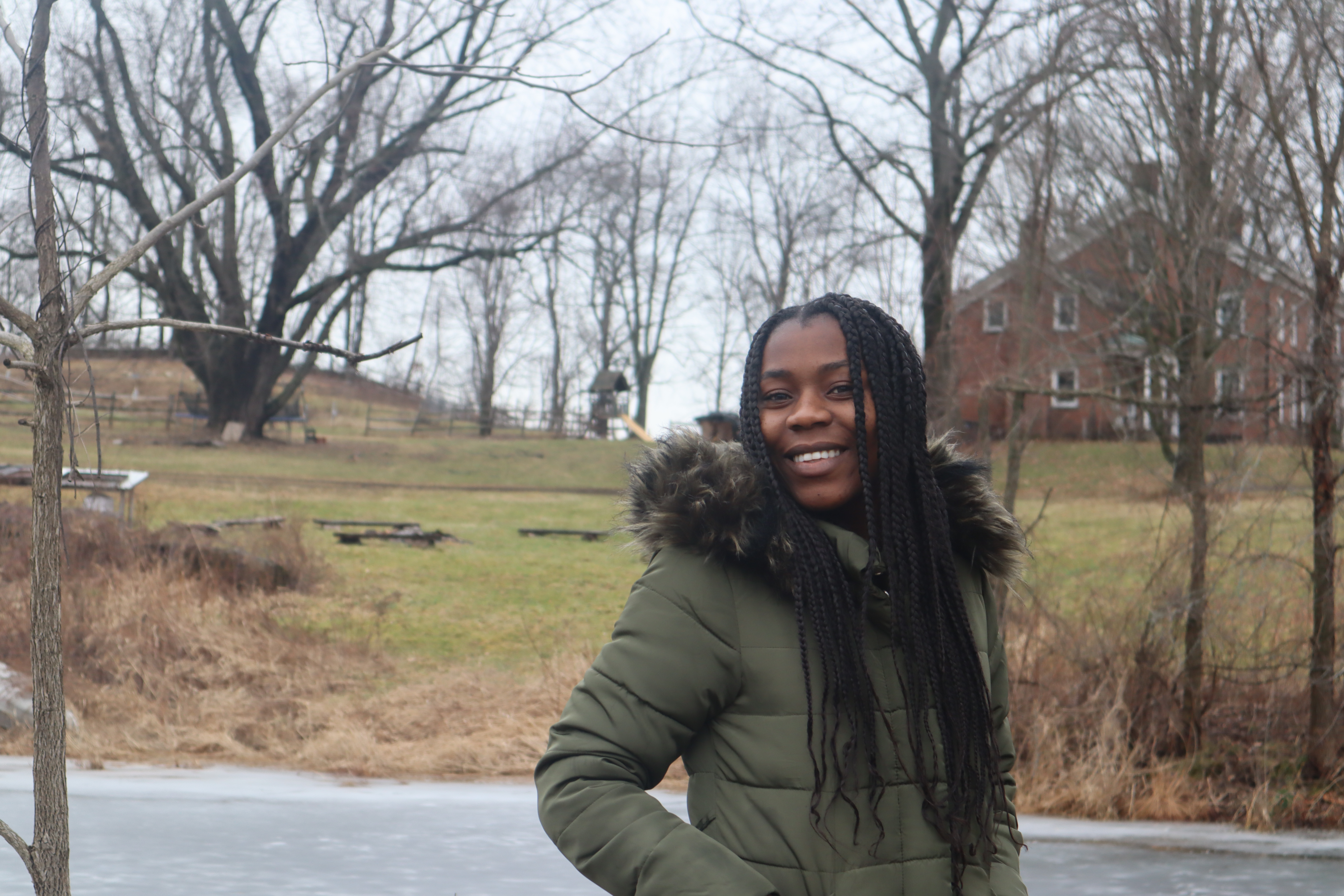 Healing
Healing was the theme for the following day. 
Participants were guided into stretching and breathing exercises that eased their minds and bodies.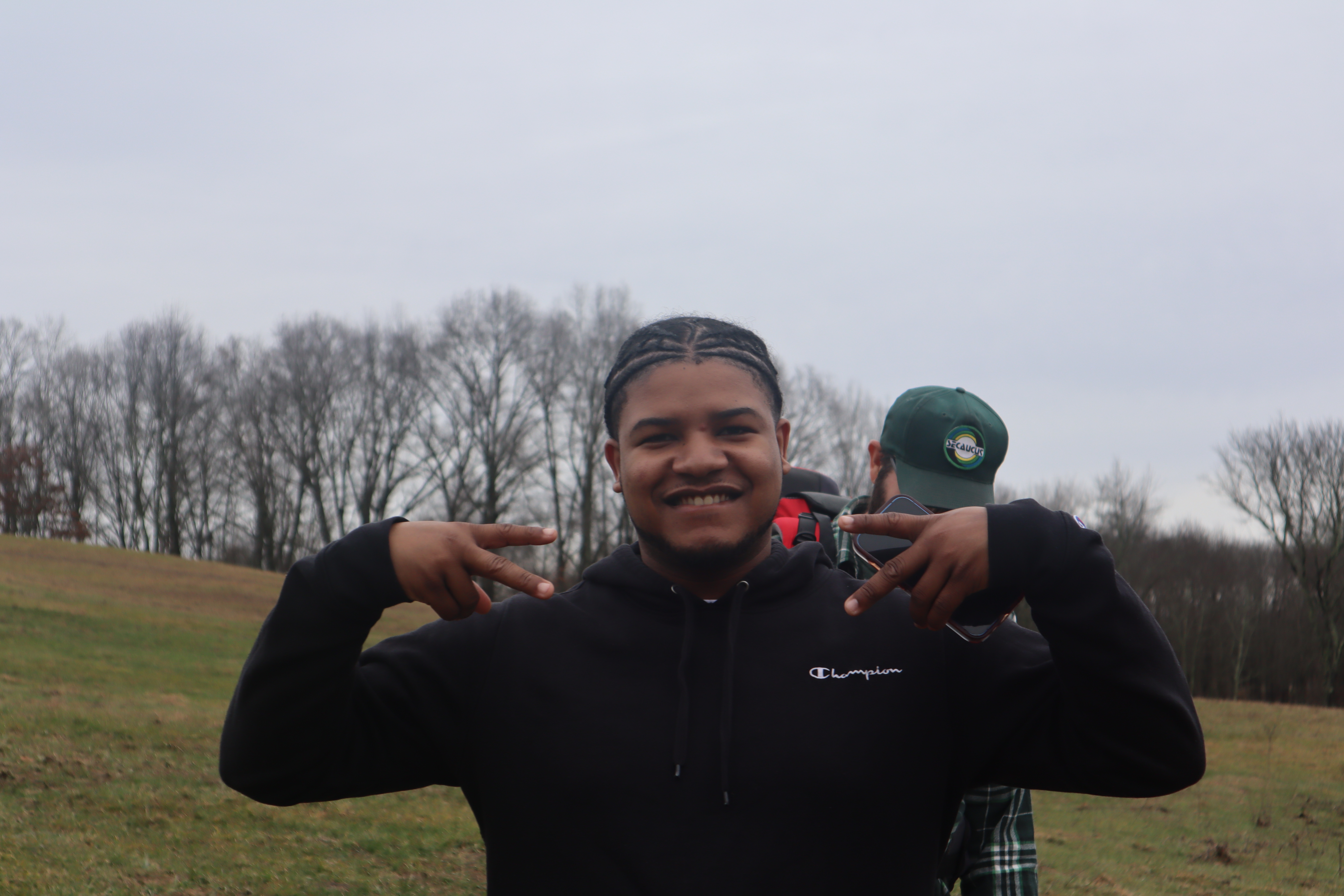 Javier (Javi) Quezada was born in the Dominican Republic and lives in Queens and Brooklyn, New York. He is a music producer and engineer. One of the tools Quezada found helpful was the somatic exercises. "I'll definitely remember the methods and practices of breathing and relaxation," Quezada said. "A simple stretch could release so much stress and tension in your body." 
The group visited Freedom Farm, a local Christian-based youth education farm in Middletown, New York. The farm strives for peace and justice by teaching sustainable agriculture, alternatives to violence and community building.
Although it was winter, there were signs of life. A farm dog ran around excitedly as participants walked on the farm trail. Plants and trees seemed dormant but were gathering strength for spring. There were also herbs--rosemary and thyme--firmly rooted in the garden. The presence and scent of these herbs brought curiosity and excitement to the group.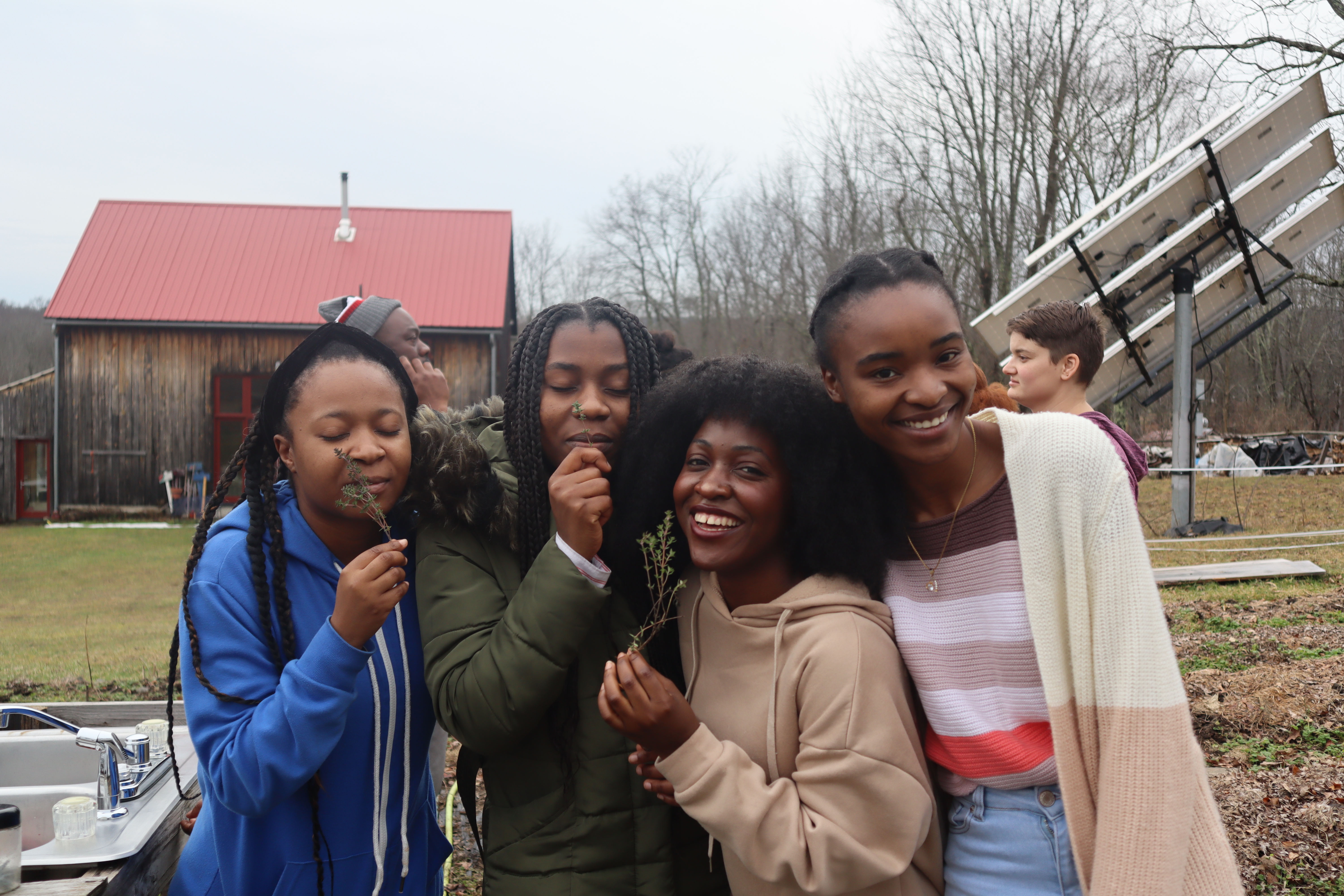 Kalondji described her experience, saying, "The visit to Freedom Farm taught me the importance of being able to see nature as it is instead of taking it for granted, and taking a step back from constantly doing things and instead sitting with God's creation."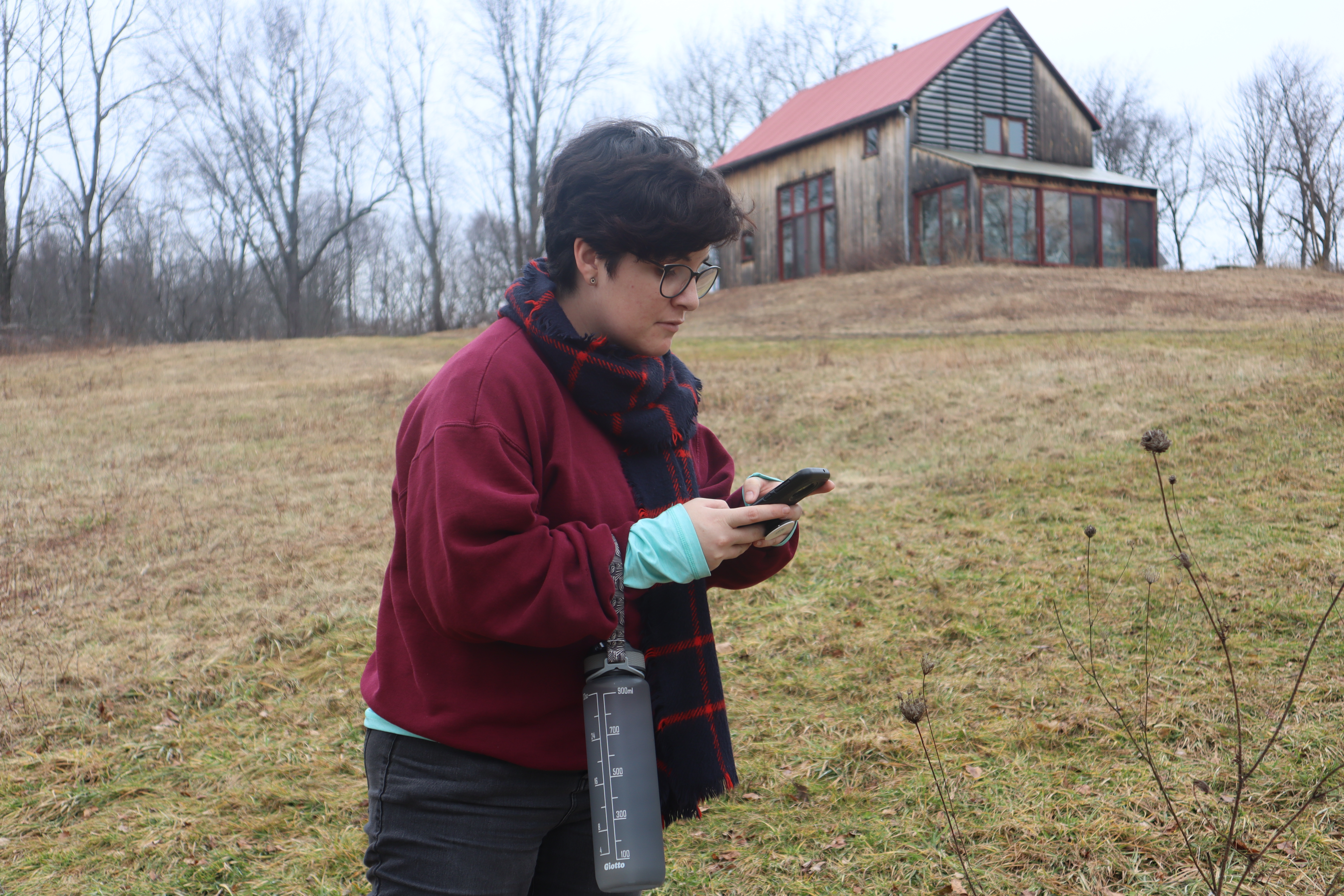 "I think the most restorative thing for me was being out in nature," said Elaine Beckham, a sewist  from Fresno, California. "I forgot just how healing it is. I've done journaling, stretches, progressive muscle relaxation, somatic stretching. But nothing was as healing as just walking through the woods and then getting stupidly excited over some plants." Beckham decided to spend more time outside when she returns home because she tends to spend more time indoors as a sewist. "I want to spend a little more time enjoying what God has created." 
Cycles of violence and reconciliation
After healing, cycles of violence and reconciliation were the next theme. Participants explored the concepts of truth, mercy, justice and peace. They were tasked with choosing one concept that felt more important than the others. But through a heated debate in the form of a talk-show activity where four people represented truth, mercy, justice and peace, the group realized that instead of competing against one another, these virtues need to grow in solidarity to break cycles of violence, which will lead to reconciliation.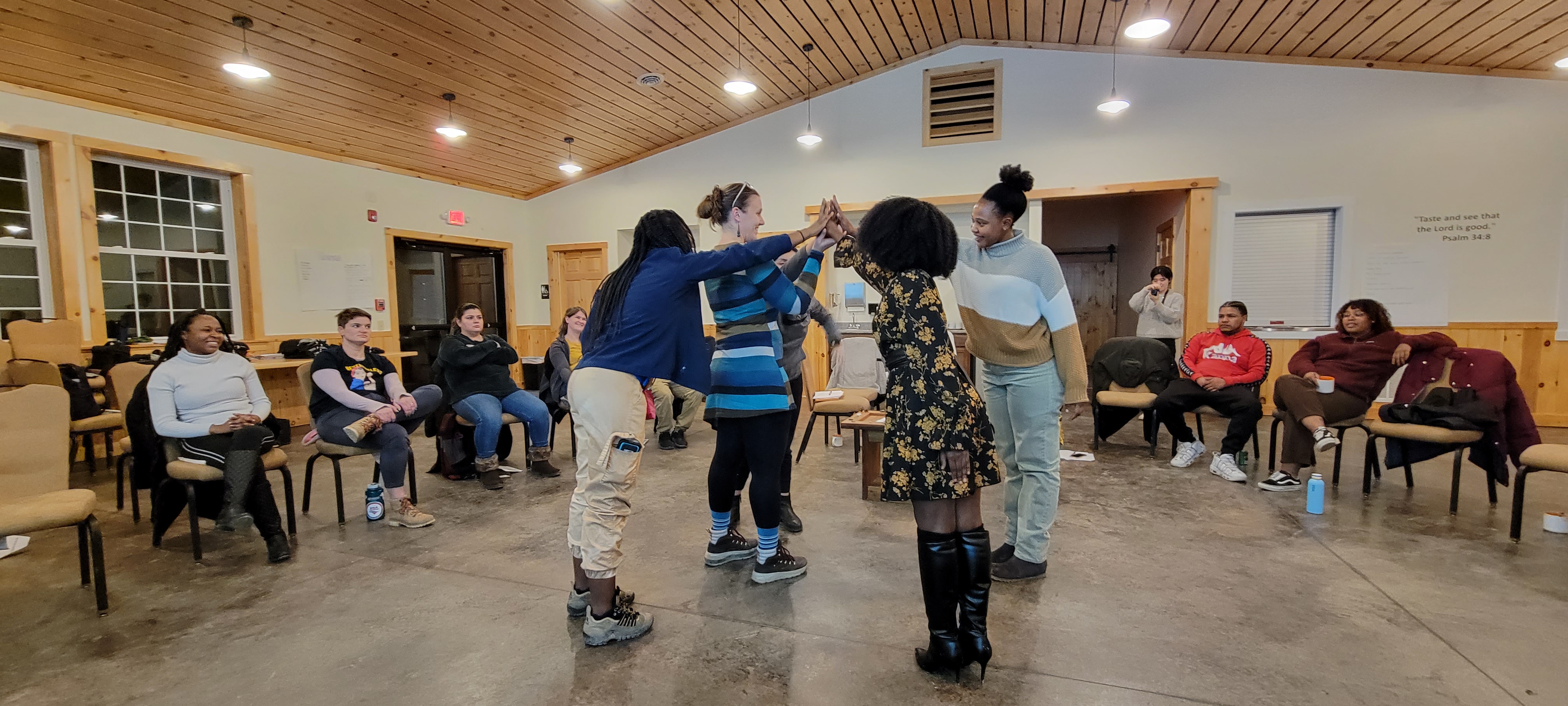 Elaine Beckham found hope while learning about strategies for nonviolent intervention. "It gives me hope for the coming generation to process their problems within their communities to better connect with others," she said.
 Finding peace in urban settings
The camp concluded in New York City. The group returned to an urban context and sought ways to find peace in a city where the atmosphere is often chaotic. 
Participants visited Brooklyn Peace Center, a community center in Brooklyn, New York, that promotes peace and conflict transformation. They engaged in a conversation about finding peace and resilience with a panel of local peacebuilders who work with churches and other partners in New York City.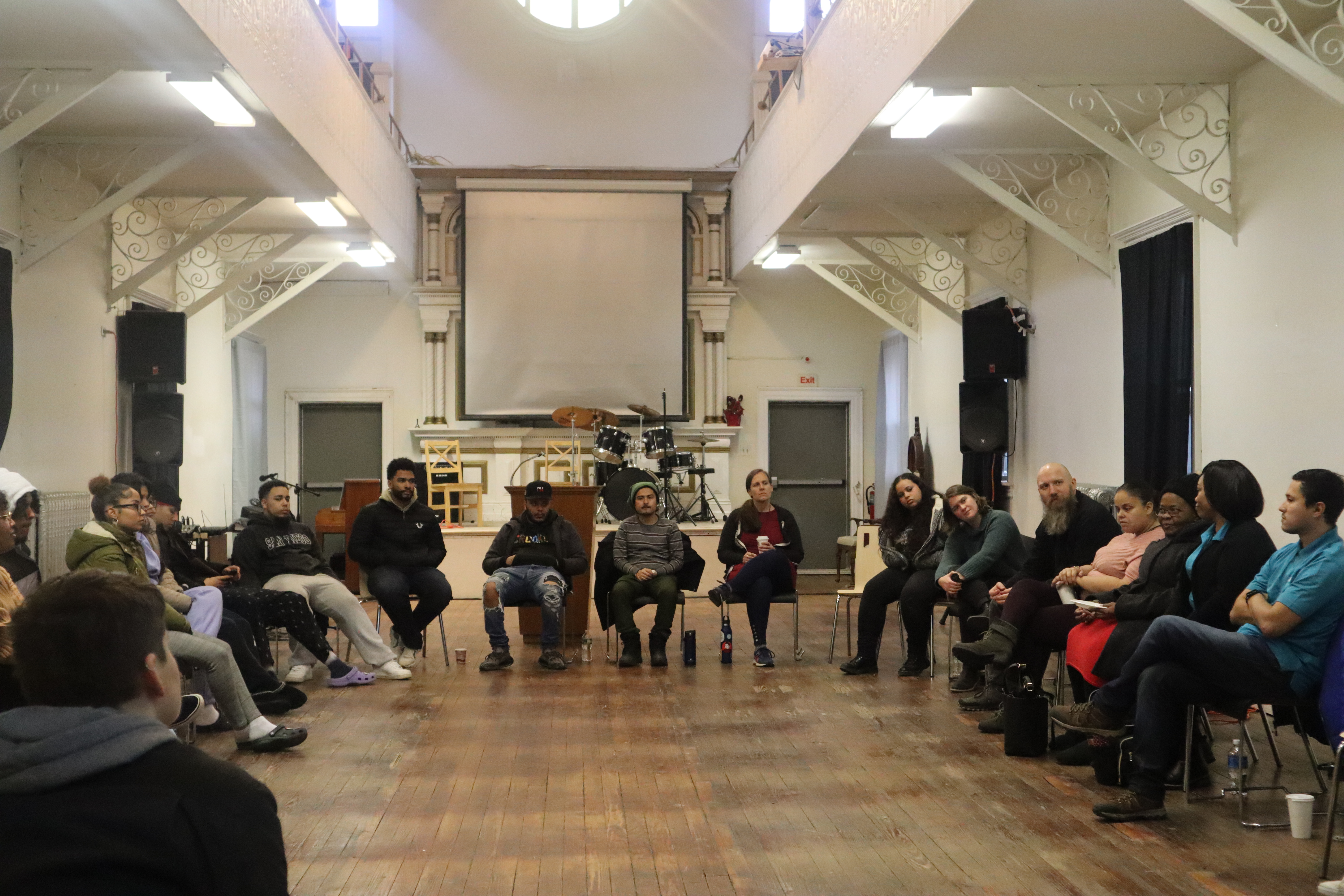 For the final, closing session, participants were given pieces of colorful fabrics and wrote words of gratitude for themselves and each other. They then tied their pieces together, forming a thread that symbolized solidarity and the resilient community they had built over the course of the week.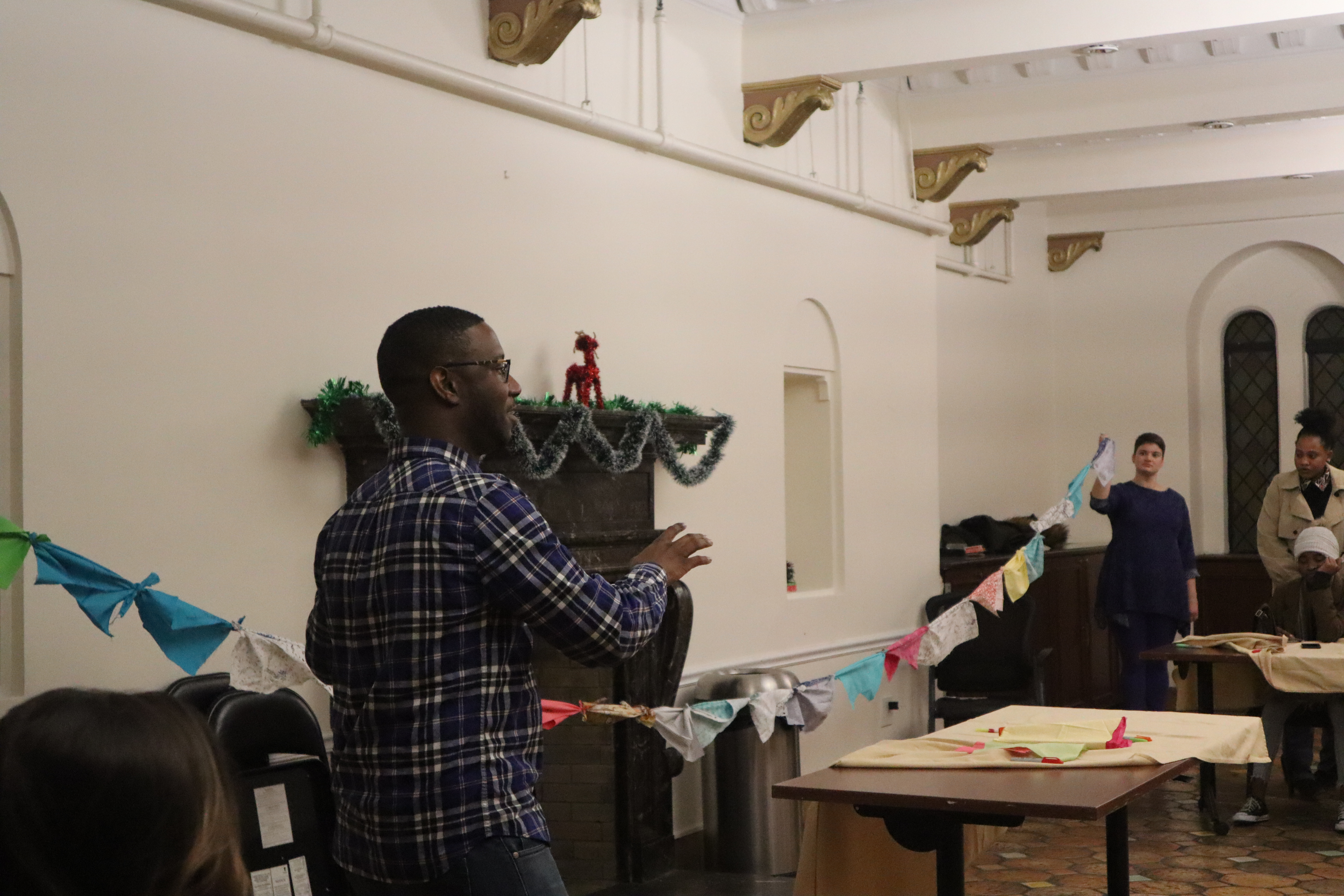 Khine Thet Swe, from Myanmar (Burma), is a Peace and Conflict Studies major at Brandeis University in Waltham, Massachusetts. "The camp is very unique with its flexibility and the theme of trauma and healing," Swe said. "Because of the focus on trauma, people were more considerate about getting enough rest and [inviting] feelings of grief and relief." 
Peace for the Weary nurtured space for young adults to build a community of faith and mutual support through sharing meals, songs, laughter, tears, stories and prayers. Throughout the week, young adults found ample times of rest and restoration in both rural upstate New York and New York City.  It was a time of renewal, connecting and learning to grow in solidarity and recognizing God's presence and embrace in each individual's journey to peace. 
The ongoing journey 
Peace for the Weary participants Tshuma, AC Reyes and Mwajuma (Mwa) Katembo shared their insights a few months after they attended Peace for the Weary. Their responses reflect the ongoing impact of MCC peace camps. 
Tshuma enjoyed the devotionals that were shared in the morning around the fire. They reminded her of God's love for each one of us. "God is a pillar of our strength in times when we feel low," she said. 
When Tshuma joined Peace for the Weary, she was looking forward to learning about restorative measures and guidance to navigate through trauma and daily stress. "The exercise[s] that were done to reduce headaches and fatigue caused by stress, now I apply those exercises at work or when I get home."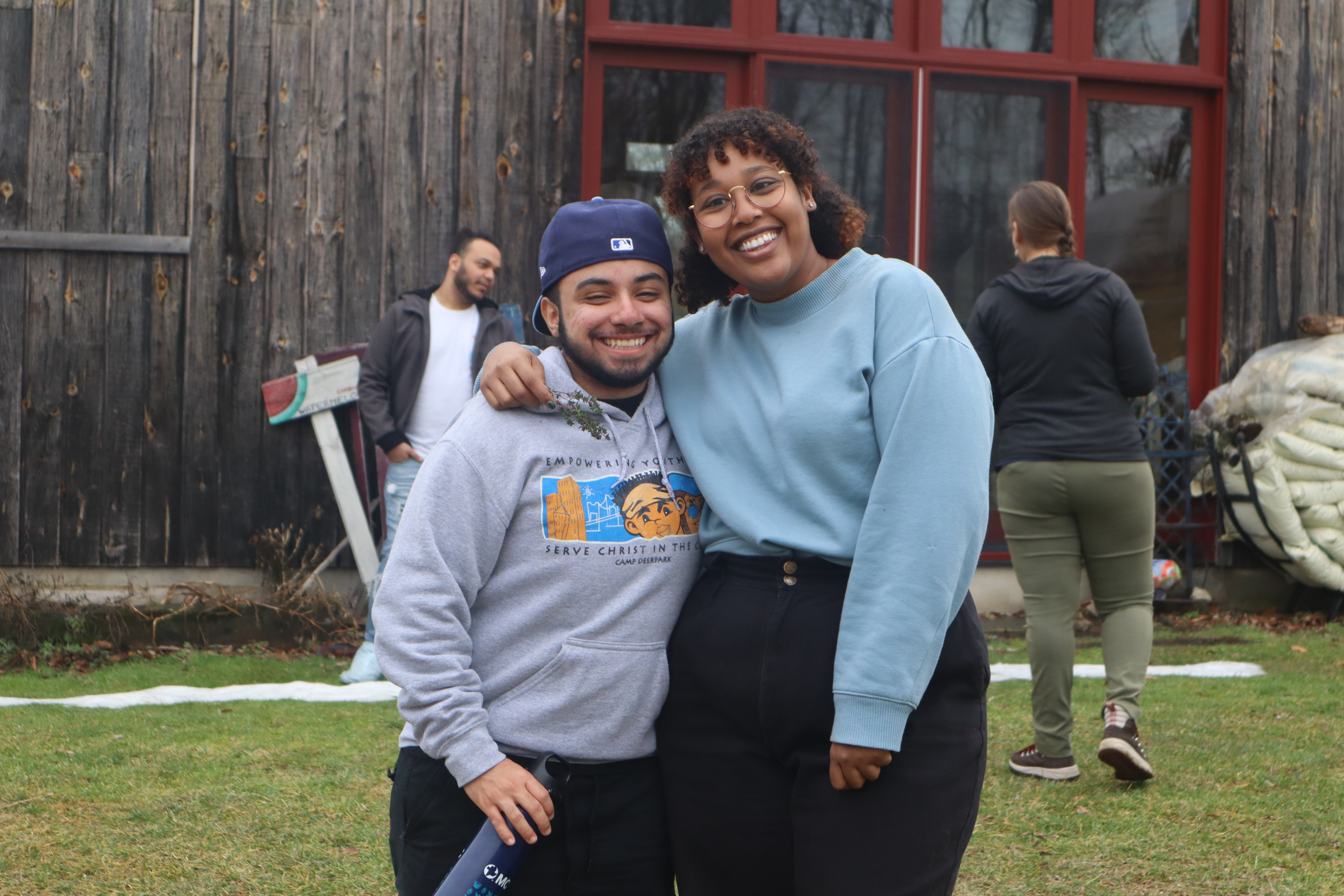 After about five months, AC Reyes from Bronx, New York, was asked how he was doing. He replied, "I'm doing good! I've had a few minor mental health setbacks but overall, I have been doing good and I couldn't be more proud of the progress I've made." 
Reyes has been applying the tools he learned at Peace for the Weary, such as river of life and the breathing practices, to his daily life. "Using those tools for my personal life has been beneficial with how much I have grown mentally for the last five months," he said. "Peace for the Weary has been a helpful tool and experience. I was weary of going in the beginning, but I'm glad I changed my mind! It was a learning experience, and I would recommend it for others."
Katembo, from Commerce, Texas, shared, "I think Peace for the Weary really has been valuable to me. The idea of being able to share my story with others without feeling guilty and knowing that I'm not alone have been extremely helpful."
Peace for the Weary has impacted Katembo's life in several ways in the past six months. After she returned to her city, she realized the difference in the air of Texas and became reminiscent about the fresh crisp air at Camp Deerpark. "I've been thinking lately on how we can take care of our city more often," she said. 
The tools and resources for trauma and healing helped her become more aware of the intersection between the hidden (trauma) and the visible (people's reaction and ways of communication).
Lastly, Katembo built the courage to conduct thoughtful conversations and share her stories and inspirational messages with her peers. "I have learned a lot about community," she said. "We can't always do everything on our own. You need your community."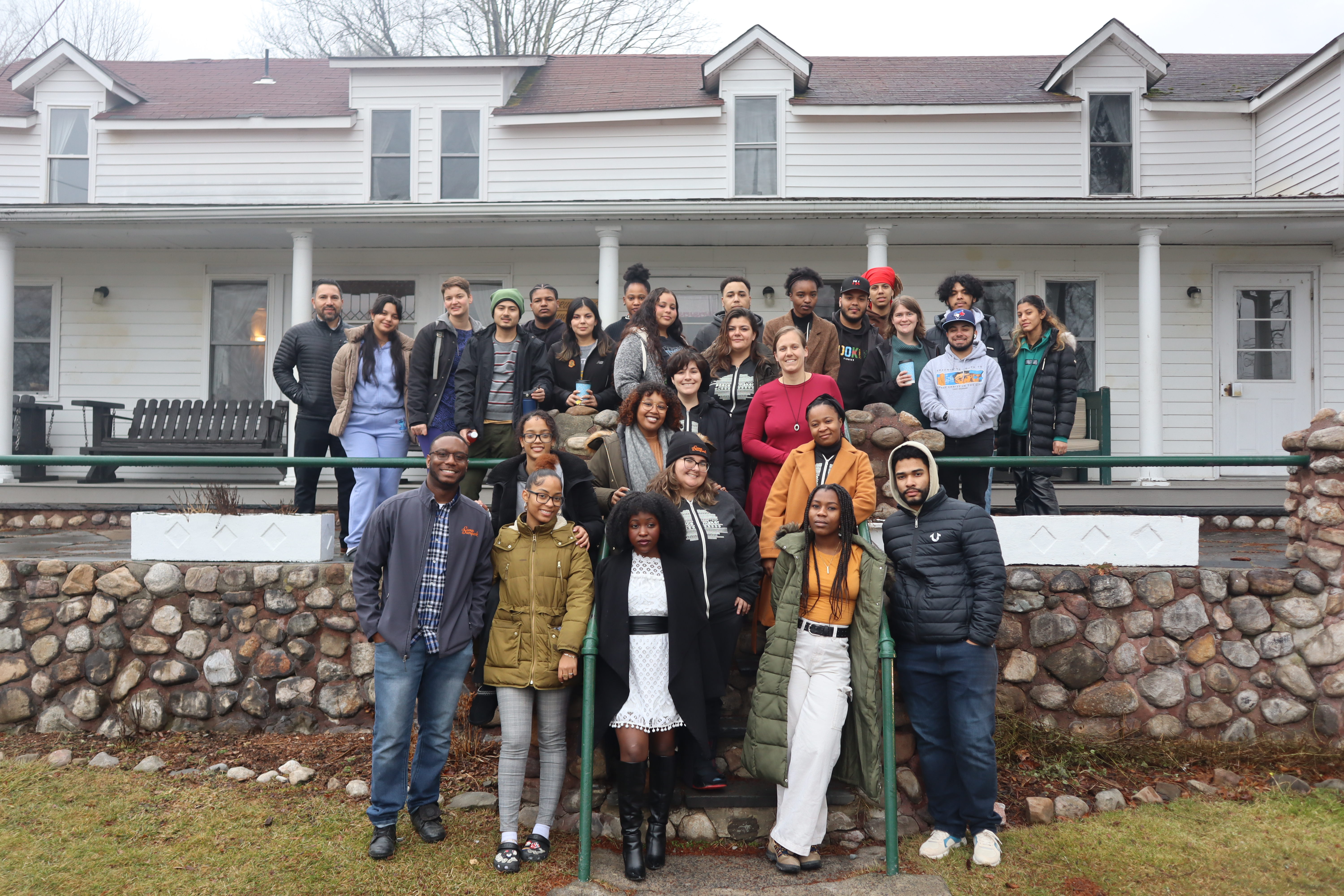 As an Anabaptist organization, MCC strives to be an instrument of God's peace—an active peace that bridges divides and calls for faith in action. The 24 young adults who attended Peace for the Weary came from a wide range of geographic locations that extended from California to Puerto Rico. Each young adult was rooted in diverse faith traditions and cultures. 
Through this MCC peace camp, these young adults were brought together to heal and learn how to live out our shared Anabaptist values. At the end of the camp, they went out into the challenging world, returning to their different homes and communities. They returned with the knowledge and assurance that they are not alone in their journey forward as believers in peace and reconciliation.    
MCC seeks opportunities to connect with young adults through peacebuilding and nonviolent action for justice. MCC peace camps are one-week, hands-on learning experiences for young adults eager to connect with other young adults, root themselves in intentional, theological reflection and apply these tools to the real-world work of peace and justice in their communities. 
We invite young adults to join two upcoming peace camps on October 15-20, 2023, in Puerto Rico and January 3-8, 2024, in Camp Deerpark, New York. Please visit mcc.org/events to register for these upcoming peace camps and learn more about MCC's commitment to live and serve justly and peacefully.