MCC's 2023-2024 meat canning season gets underway
Image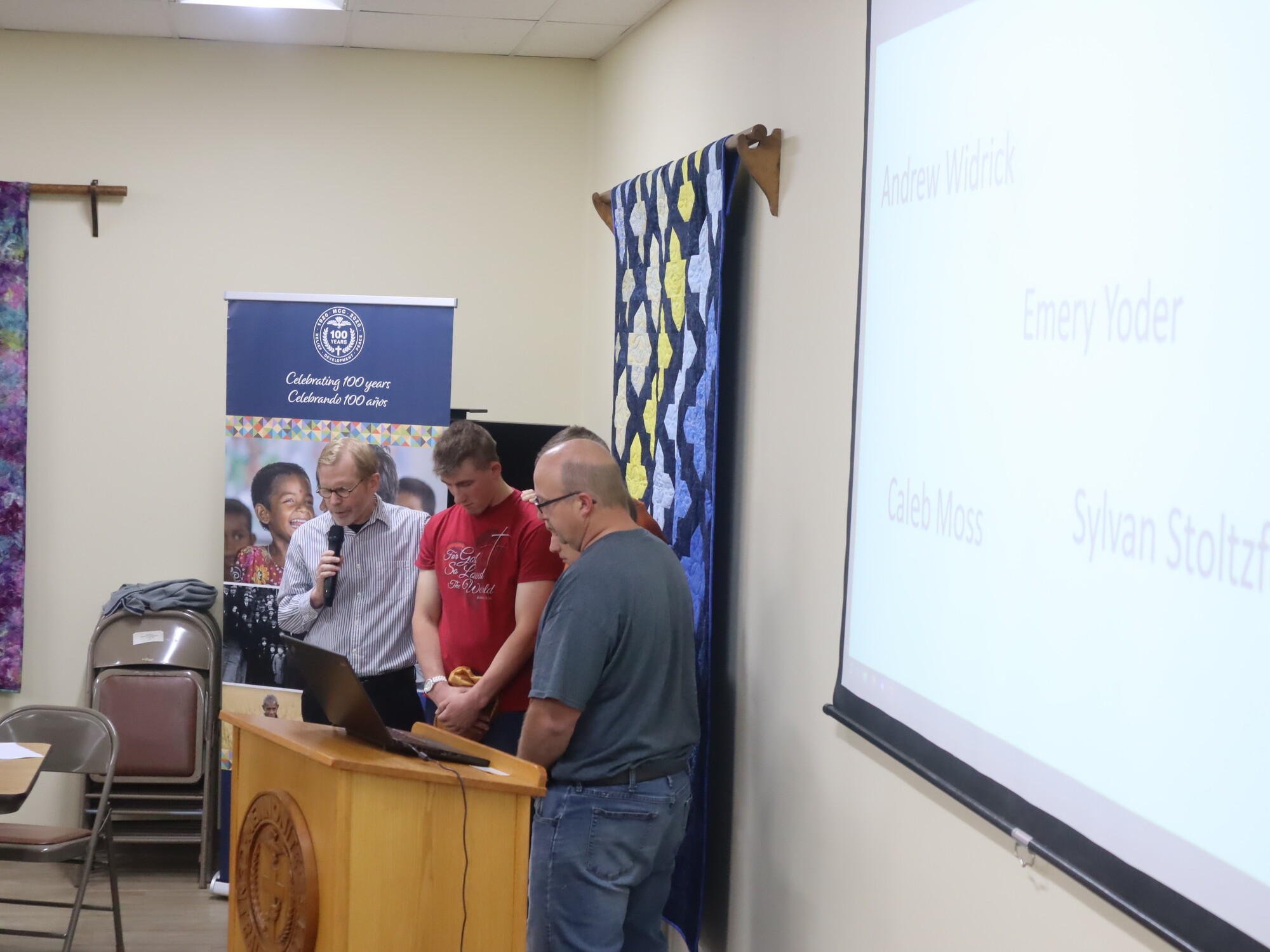 Just as autumn sweeps through the country turning leaves crisp and nights cool, Mennonite Central Committee's (MCC's) mobile cannery has begun rolling through the U.S. so volunteers can provide protein sources for people living through crises around the world.
On September 27 in Ephrata, Pennsylvania, Material Resources Center volunteers and staff and the mobile cannery operators participated in a dedication service kicking off the 2023-2024 meat canning season.
From October 2022 through April 2023, volunteers canned 525,562 cans of turkey, beef, chicken and pork for MCC local and international programs. MCC hopes to produce even more of the highly sought-after meat this coming season.
Caleb Moss, Rock City, Illinois; Sylvan Stoltzfus, Narvon, Pennsylvania; Andrew Widrick, Copenhagen, New York; and Emery Yoder, Wilmot, Ohio, make up this year's canning crew. They will oversee the canning operation and work alongside volunteers in 29 locations. Thousands will assist in filling, weighing, washing and labeling every can. Each one bears the label Food for Relief, In the name of Christ.
Last year, MCC distributed 383,040 cans of meat to Cuba, Ecuador, Ethiopia, Haiti, Malawi, South Sudan, Ukraine, Zambia and the U.S., including Puerto Rico. MCC and local partners allocate cans to families, many of whom are displaced from their homes because of war or other crises.
For some recipients, the meat represents the only protein source they will have that day.
In Ethiopian refugee camps, many children are malnourished due to insufficient food sources. Last year, MCC canned meat bolstered the diets of 6,000 children under the age of two in the camps.
Joe Miller, canning relations coordinator for MCC U.S., called MCC canned meat a "skilled cross-cultural traveler" because it takes on the flavor of each receiving community. In the Ethiopian refugee camps, people from South Sudan will combine the meat with asida. In Ukraine, the canned meat may become part of a borscht. In Cuba, it can be paired with rice, beans and fried plantains to make ropa vieja. Some recipients save the meat's broth to fortify the next day's meal of beans and rice.
MCC continues to receive requests from additional communities to expand the mobile cannery's number of stops. This year, the crew will stop at a new location in Hagerstown, Indiana, where primarily Old Order Amish will work the cannery.
Another exciting development this year is the groundbreaking for a new stationary meat cannery in New Hamburg, Ontario. It has been a challenge for the mobile cannery to cross the US-Canada border. This new stationary meat cannery will address this issue and allow meat to be produced by volunteers from across Canada. Then the meat will be shipped directly from Canada to its destination.
Miller said he wants participating communities to know how grateful he is for the MCC meat canning ministry, citing their many hours of planning and physical labor as well as financial support. "As a part of the small group of MCC employees leading the canning program, I know with certainty that this life-giving work is only possible through a dedicated, compassionate and passionate community in partnership with MCC," he said.
Header photo caption: Joe Miller, canning relations coordinator for MCC U.S., and canning crew members pray for the 2023-2024 meat canning season at a dedication service on September 27 at the MCC East Coast Material Resources Center in Ephrata, Pennsylvania. MCC Photo/Kiele Hoover
Give where needed most
Every donation makes a difference.