The hope of advocacy
Image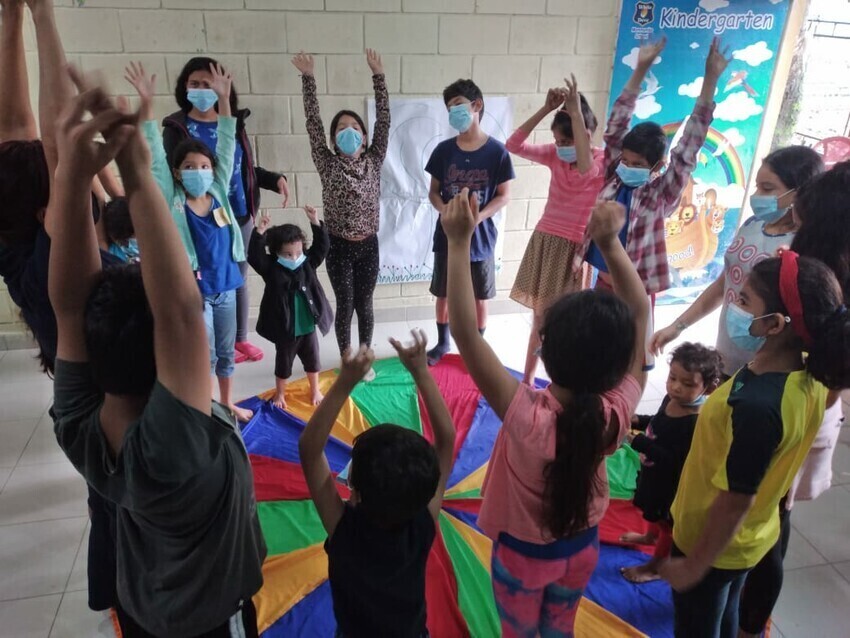 A thrill of hope, the weary world rejoices
for yonder breaks a new and glorious morn. 
("O Holy Night" by John Sullivan Dwight)
We enter this Advent season weary, many of us weighed by grief and newly attuned to waiting. A "glorious morn" still seems far away. We long to feel the "thrill of hope." For it is with hope that we can envision welcoming communities, foreign policies that build peace and right relationships with our neighbors with whom we share this beloved world.
We remember that hope is not optimism; instead, it is a sense, as Dr. Cornel West says, "that history is unfinished, that the future is open-ended, that what we think and what we do does make a difference."
Advocacy is like hope, and it does make a difference. Your letters, calls and meetings in Congressional offices help advance a Biblical vision of peace and justice. As you raise up your voice, you join MCC's partners around the world who are actively living out the hope that together we can bring the world closer to God's Kingdom. It is the experience, wisdom and hope of these partners that is central to our advocacy.
"Yes, of course we have hope," a Haitian colleague told MCC Latin American Advocacy and Communications Coordinator Annalee Geisbrecht. "We have hope because we know things can't continue like this—something has to change. And as we say in Haiti, vwa pep la se vwa Bondye. The voice of the people is the voice of God." We continue to listen to MCC's partners as they call for much-needed change.
"Hope is the capacity to see God in the midst of trouble, and to be co-workers with the Holy Spirit who is dwelling in us," reads the Kairos document from Kairos Palestine, "From this vision derives the strength to be steadfast, remain firm and work to change the reality in which we find ourselves. Hope means not giving in to evil but rather standing up to it and continuing to resist it." We continue to advocate for peace and reconciliation in Israel/ Palestine.
Battered by two devastating hurricanes in two weeks, communities in Central America came together to support each other. "I am especially struck by the response of the Chamelecon Mennonite Church, Vida en Abundancia (Life in Abundance) in San Pedro Sula, wrote Anna Vogt, Director of MCC's Ottawa Office, "As waters rose, community and church members sheltered in the second floor of the church's school. As they watched the floodwaters cover their homes, they sang together about their trust in God and their hope for the future." We continue to advocate for U.S. foreign assistance that addresses the root causes of migration, including extreme weather caused by climate change.
"We believe that God is faithful, and that the arc of the universe in God's victory in Christ bends toward justice, reconciliation, and beloved community. We pray that someday all Korean people will be able to return to the birthplaces of their ancestors, to meet face-to-face across the peninsula, and to recognize each other as sisters, brothers and image-bearers of God," reads a statement on the 70th anniversary of the beginning of the Korean War. We continue to advocate for a formal end to this war and divide.
"The only thing I wish for is to live with my family in peace," says Patricia, who fled kidnapping threats to seek asylum at a U.S. port of entry. She is part of an MCC-supported program "Embroidering Hope" that uses embroidery as art therapy for traumatized asylum seekers. We continue to advocate for safe and humane asylum policies.
"You have suffered with us and rejoiced with us," the Rev. Ibrahim Nseir of the National Presbyterian Church of Aleppo, Syria told MCC staff. "Your presence with us today is a sign of hope that God is not far from us." We continue to advocate for humanitarian support and access in Syria.
In Colombia, massacres of indigenous leaders and young people prompted the Colombian Mennonite Church to speak out. They concluded by saying: "Our clear and consistent message as churches will permeate the culture, the economy, the social relationships and the exercise of government in our country. What the use of weapons during our 200 years of existence as a nation has not achieved, the instructive and transformative message of the Gospel of Peace can accomplish. It will be like the small mustard seed that grows into a tree. It will be like the yeast that leavens the entire loaf."
We also continue to hope that our peaceful message, our advocacy, will permeate both our culture and government.
Thank you for joining us in this hope.
Top photo: Children from the neighborhood of Chamelecón, San Pedro Sula, Honduras, are learning breathing exercises to use in managing the trauma of living through Hurricane Eta and Iota that struck within two weeks in November 2020. The daily workshops, led by trauma specialist Claudina Lacayo (not pictured) were held for two weeks in early December at Iglesia Vida en Abundancia (Church of Life in Abundance). Photo courtesy of Claudina Lacayo