Goats galore and more
Image
Every year, MCC's Christmas giving offers you the chance to invest in goats, chickens and other animals. But, did you ever stop to wonder why?
It's not just the furry cuddliness of a baby goat, the handsome snout of a pig or the opportunity to offer you a gift that can quack.
When people raise animals, they can shepherd their families and communities into a brighter future. This Christmas, join in celebrating the hope that a herd or flock brings.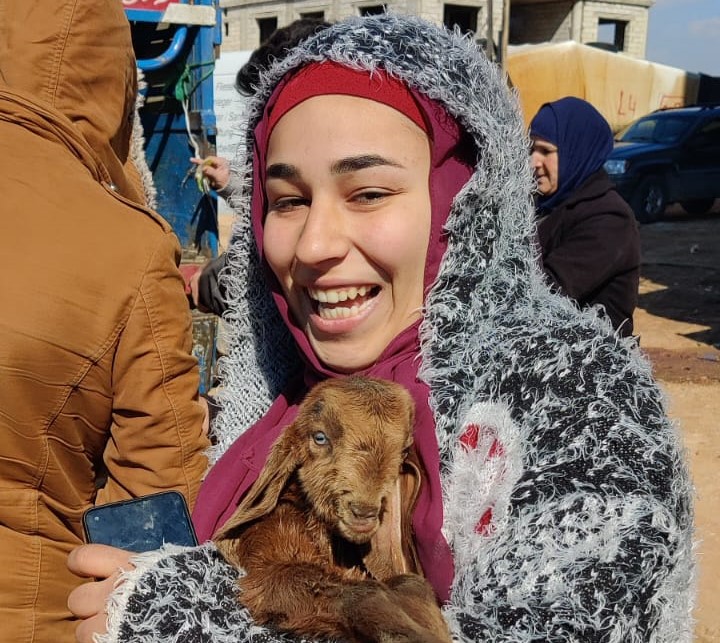 Amid an economic crisis in Lebanon, it behooves families to raise goats. "The goat project is one of the most essential and important projects in our region," says veterinarian Bassel Debs, a consultant with MCC partner Lebanese Organization for Studies and Training. The national currency has lost more than 80% of its value and prices have soared, so goat milk and cheese offer nutrition and sorely needed income to women like this one pictured above (name not provided) in the Beqaa Valley. Offspring can be sold, leading to a larger infusion of cash. 
From the Gaza Strip, where they can be raised in small spaces, to Uganda, where they help diversify farm income, rabbits can help families hop into a brighter future. Margaret Akello in Uganda added rabbits to her farm in addition to raising goats and cows and buying a pig. The rabbits, she says, reproduce quickly and don't cost much to feed.
It's a living piggy bank. Pigs like these at the farm of Young Yorn in Cambodia's Mesang District are slower growing — and slower to produce a return on investment — than smaller animals like chickens. But larger investments can yield larger returns. Pigs can be sold for a much higher price, providing one more step toward moving out of poverty and helping to cover unexpected costs, like a large medical bill or a failed harvest. 
See how raising one pig led to big change for Mary Ilero in Uganda.
In northwestern Bangladesh, wings and webbed feet are a winning combination. Ducks like these Mina Begum is raising are high egg producers and are resistant to disease. And they're just one part of a project of MCC and partner Association For Rural Cooperation that includes training in growing vegetables, worm composting, raising cattle and chickens, and cultivating mushrooms.
In Debre Markos, Ethiopia, cheeps and clucks are sounds of hope. Atalay Ebestu, shown with his wife Bachu Tilahun and their youngest child Zenebu Atalay, holds eggs from his family's chickens. MCC partner Migbare Senay Children and Family Support Organization provides training in conservation agriculture and helps families increase income by developing worm farms or selling eggs.
Give where needed most
Every donation makes a difference.