February 2023: Peace is more than a wish with some creativity
Image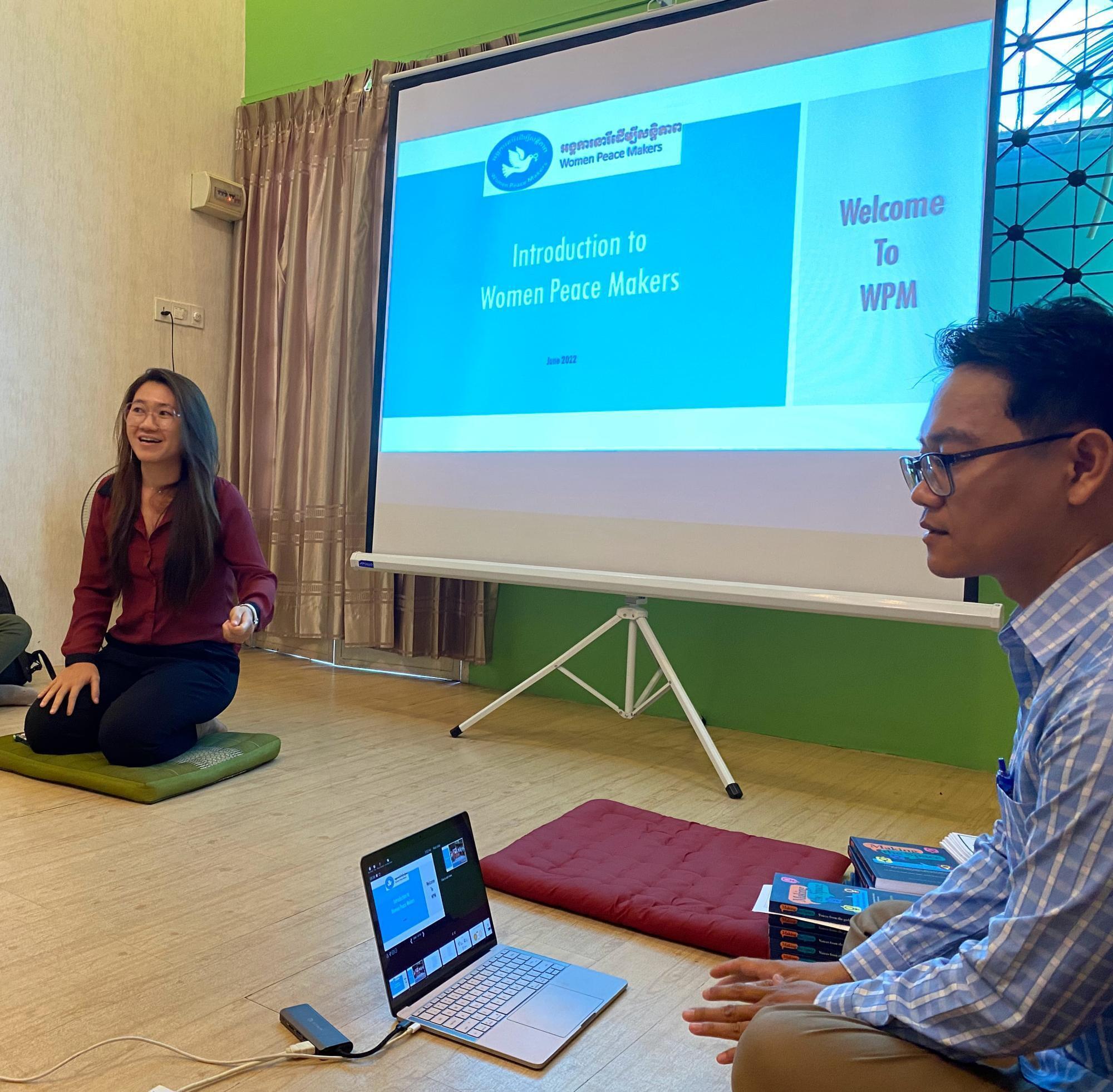 The shelves in the meeting room of Women Peace Makers (WPM) are full of colourfully painted cracked pottery jars. When I ask, executive director Suyheang Kry explains they are from a gathering WPM hosted with young people from different ethnic groups. While Cambodia is a country without active conflict, there are often tensions between these groups, sometimes over access to land and resources, or simply discrimination over language or dress style.
Over a period of a few years, young people visit each other's communities and do the hard work of getting to know each other in a way that helps them go beyond stereotypes and assumptions. They cook food together, talk about common challenges together, and dream together about what could be possible in their communities and in Cambodia as a whole, through renewed relationships with one another.
During one of the gatherings, the staff at WPM gave each group a plain clay jar and some paints. Together, participants painted their dreams and visions on the jars. In a devastating moment, WPM staff lifted the finalised artwork into the air and dropped it to the ground. The clay pots shattered into hundreds of pieces. "Now is the time to do the real work," staff announced to the startled participants. "Now you have to work together to put these jars back together."
"Peace is not something that happens by chance," Suyheang tells me. "It is not the absence of violence or conflict, but the choices and actions we make when dealing with violence. Peace is the result of design and by conscious action as we follow our values, especially of nonviolence during conflict."
Together, the groups slowly rebuilt their visions. The finalized products were still beautiful; they just looked different. The real transformation happened in the lives of the participants as they realized they had the power to rebuild and re-create in the face of destruction.
"Anyone can build peace. And it can start from you or from your family, your community, anywhere. Because, the thing is, who creates violence? It is humans who create violence, war and suffering," Suyheang continues. "Therefore, it requires humans themselves to create peace. And from where? It starts with you, with me, with us. Together we create peace. Because we don't wait for someone to come and create peace for us."
The pottery jars remind me that we are created in the image of a creator God, a God who is imaginative and who works for transformation. It's likely that none of us reading this are out committing war crimes. We also aren't engaging in national-level peace talks (although some MCC partners are!). But we do have the power to make conscious choices about how we engage in life with ourselves and with others, on a personal, interpersonal and community level. We have a God-given gift of creativity and creativity can transform violence into peace.
When I see messages on the news or social media saying that climate change and conflict have doomed us, I wonder if we are missing the point. It is precisely because we have gotten ourselves into such a mess that we can get out of it, or at least try something different. And we can get out of it by engaging with one another, getting creative and trying new things that are centred on our values of right relationships with God and with one another. It will take hard work. It will take a great deal of listening. We might not see all the results of our actions. It isn't up to individuals alone. But peace is more than a wish, it is action.
And it can be fun! When WPM hosts groups, they laugh and form a community with each other. They have hard conversations about differences and assumptions. They build art. It's not always comfortable. But it is life-giving. And it creates a sense of agency and a feeling that change is possible. That is what I want in my life, too.
Reflection questions:
Where do you believe change is possible or not possible? Spend some time reflecting on the assumptions about change you may be bringing to those situations.
Suyheang Kry believes that peace is something we create. Does that fit with your understanding of God? Why or why not? Have a conversation with a friend or family member and talk together about what it means to be created in God's image.
Does having a sense of agency as a participant in creating peace make you feel differently about the process? Do you feel more hopeful or more anxious or somewhere in between? Reflect on where those feelings could be coming from.
Action Item:
When you experience conflict or even a sense of despair, pause for a moment and imagine what a transformed situation could look like. Grab a friend or sit by yourself and create some art inspired by that vision! Draw a picture, write a story, cook a meal. As you do, imagine how to apply that same creativity to the situation you are facing. Pray about a small action that you could take and give it a try. (MCC's Advocacy Toolkit is a great place to start). Reflect on what happened, do something creative, pray, act and repeat.
Ordinary People of the Month
Meet some ordinary people just like you working for peace in their communities.
Taisong is a mixed-ethnic Khmer/Vietnamese high school student who lives in Cambodia near the Vietnamese border. He experiences discrimination and has often tried to hide his identity to avoid problems in his community. His life changes, however, when he joins others who are trying to build a world of interethnic understanding. Together, the group paves the way for a real network that can actually change other people's views about who they see as "the other".
Featured Resource
Want to grow your advocacy skills and learn what it means to be an advocate? Whether you are an experienced advocate or just starting out this resource has something for you. Explore MCC's Advocacy Toolkit.
This blog originally appeared on the Peace is More Than a Wish page.
Top Photo: Suyheang Kry and Rattanak Ly welcome MCC staff to the office of Women Peace Makers. MCC photo/Anna Vogt