A culture of peace
Image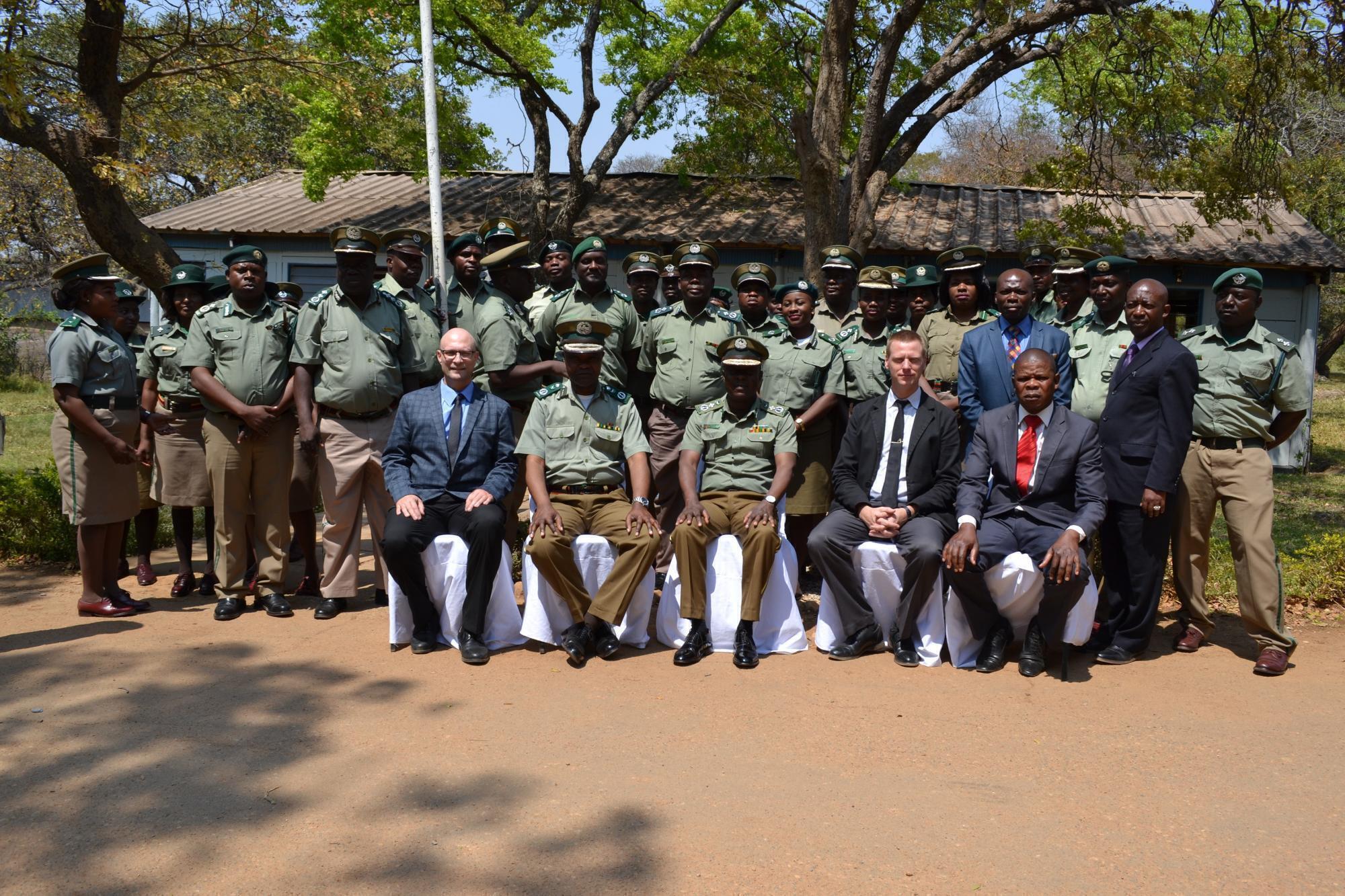 MCC Ontario's Restorative Justice Program Coordinator, Rod Friesen, was recently invited to Zambia by MCC Zambia to facilitate a week-long training to officers in the Zambia Correctional Service. It was part of a pilot project in partnership with the Zambian government whose ultimate goal is nothing short of a complete culture change within the entire Zambian corrections system—and beyond.
"This was unlike anything I'd ever done before," says Rod. "I was a bit nervous, to be honest, as it was a lot of preparation to do in a short time, and it was my first time training in a cross-cultural scenario. But it was really an opportunity of a lifetime."
Rod was helped by the fact that MCC's peacebuilding work is well known and respected in Zambia. Much of this is owed to the hard work and tireless enthusiasm of Issa Ebombolo, who, after training with MCC, founded Peace Clubs in schools in Zambia to great success. There are now over 650 Peace Clubs established across 14 African countries, and the Peace Club model has even been implemented in Ontario through The Meeting House church.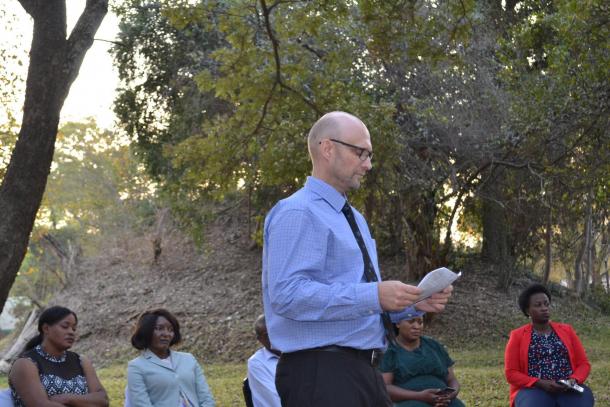 Correctional facilities in Zambia and their inmates are experiencing conflicts and violence both within the prison setting and after their release. The pilot project seeks to set up a Restorative Justice and Peacebuilding Unit for 3,000 inmates in seven prisons to address these problems.
This project has two main goals:
Create and support a culture of peace at these seven prisons.
Use this project as a pilot project for expansion into the remaining 58 prisons in Zambia. 
The key activities are the establishment of peace clubs, development of Victim-Offender Reconciliation Programs, and the facilitation of the re-integration of these inmates into their home communities.
The call for a culture shift from violence and retribution to one of peace and restoration comes from the very top levels of the Zambia Correctional Services. Rod remembers well that on the first day Commissioner Tobias Mwanza, together with many other high-ranking officials, emphasized to the officers the importance of taking this training seriously.
One unique factor in bringing together these officers was that each of them was selected for this special training not by their superiors, but by inmates. "These were respected officers that were hand-picked by inmates," says Rod. "They demonstrated the qualities and compassion needed for this special Peacebuilding and Restorative Justice Unit."
As Rod went through the week, interesting cross-cultural learnings came to the surface. Though English was the primary language at the training, certain words needed some massaging to bring out their meaning. "In the Bemba language, the word for empathy does not exist, so the best fitting description was to 'walk alongside another,'" recalls Rod.
Additionally, self-care for those practicing restorative justice was a topic that was initially hard to connect to the Zambian context. This was better understood after they talked more about trauma and the impact of trauma. When asked how the officers engaged in the concept of self-care, they named things like going to the farm, meeting with their families, and working on the land. Self-care, as the term is typically used in a North American context, is not a practical reality for most Zambians. In Canada, self-care describes a range of activities that an individual does—often alone—to rest and recharge after times of stress, including building in leisure time. In the Zambian context, however, self-care happens through time spent with family and community; leisure time is a luxury that most do not have.
The concepts of victim, offender, and community were also important and central to their understanding of their work. Some officers commented on the possibility of mob violence if they were to visit a village and were seen to be supporting only the offender. While Rod observed that there is still much work to be done in education for restorative practice in Zambia, he took inspiration from the traditional African proverbs that participants referenced to show a deep-rooted tradition of restorative principles.
"It was a way to help the officers understand that they, in fact, already know a lot of this work," says Rod. "In some ways, part of what we were doing was de-colonizing work…helping them see from their ancestral practices that restorative justice values already have been a part of their communities." Because of colonization (Zambia was a British colony from 1888 to 1964), traditional restorative practices were lost in favour of a western punitive approach which removes the problem and the person from their community. "Zambia Correctional Services is aiming to deconstruct a prison approach of punishment and punitive measures and to create a more rehabilitative one," says Rod.
When asked to name the part of this trip that had the biggest impact on him, Rod answered without hesitation: "I would say it would have to be the participants in the training. Their interest in restorative justice and learning the curriculum was exceptional. Their vulnerability and willingness to challenge themselves was really inspiring."
The seeds of peace planted years ago through MCC-sponsored peace trainings are now bearing fruit in some of the most challenging contexts in Zambia, and this training is being promoted at the highest levels.
Top photo: Issa Ebombolo, Peace Coordinator MCC Zambia, Keith Mwaaga, Peace and Justice Program Coordinator, Daniel Talstra MCC Representative for Zambia, Rod Friesen, Restorative Justice Coordinator for MCC in Ontario gather with Zambian correctional officers who participated in Restorative Justice training. The training marked the launch of a Restorative Justice and Peacebuilding unit which will be operating under the Correction and Extension Services Directorate of Zambia Correctional Service. Photo/Zambia Correctional Services