Creating and coming together
In Syria, an art project provides space for young adults to reflect and share
Image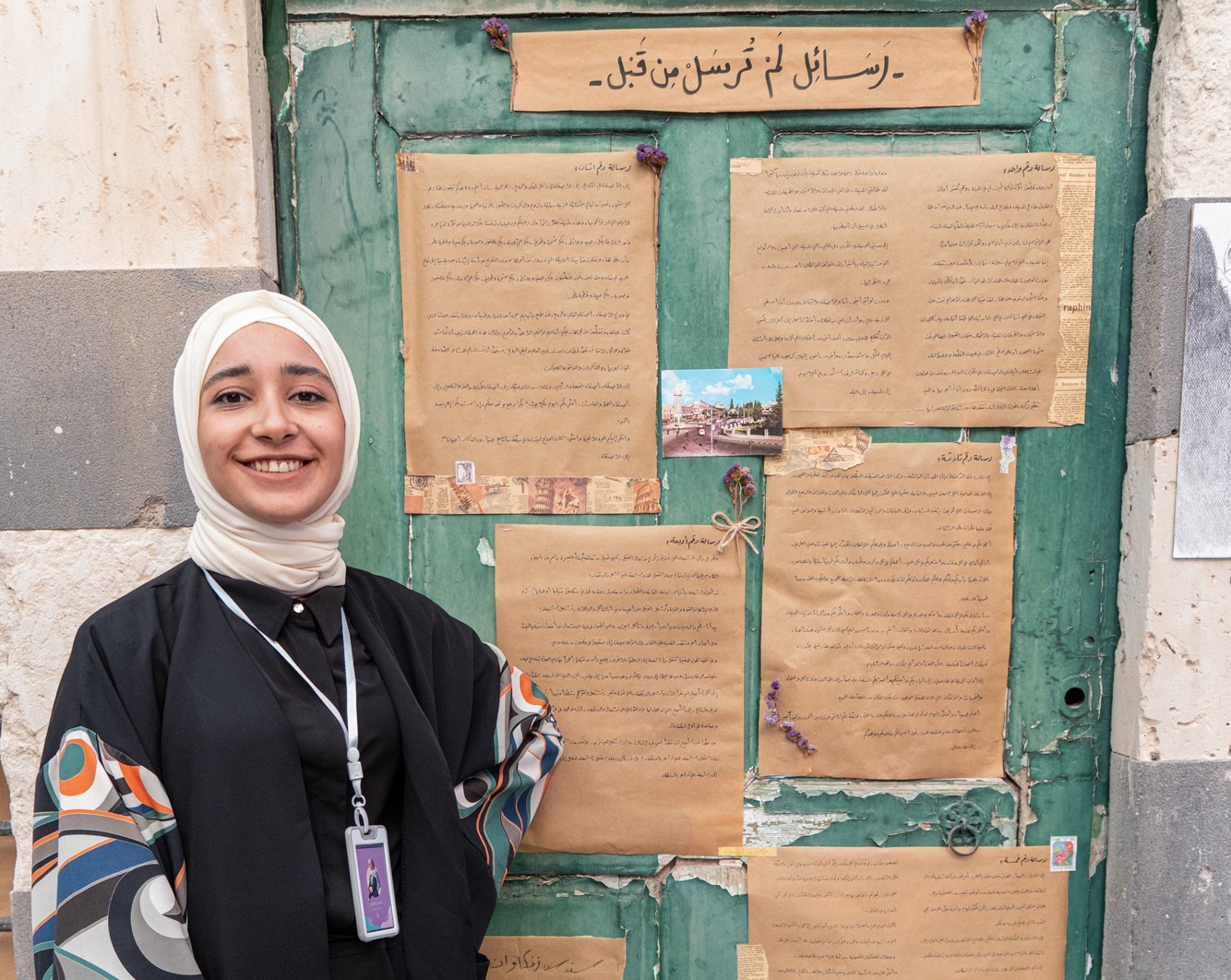 In a neighborhood of Homs, Syria, known for its history and grandeur — and for the devastation it endured through years of war — Melad Issa gazes into the courtyard at the heart of a large, traditional Arabic house damaged in the war.
He savors the sight of paintings hanging on courtyard walls, the crowd strolling through the opening celebration of an art exhibit by MCC partner Harmony Cultural Forum.
When I saw that Harmony did that in this place, something inside me lit.
"I felt like there was a candle inside me, and it lit up when I saw that. I felt like a great thing happened in Homs," the 22-year-old says. "I saw the lights and people coming and going. When I saw that Harmony did that in this place, something inside me lit."
For him, it was as if the neighborhood of Al-Hamidia itself was coming back to life.
From its start in 2018, Harmony and the artists who founded it have worked toward rebirth — helping young adults find new energy, skill and expression through art, and nurturing the connections that bring a community together in new ways.
"Harmony was able to combine all the talents: theater, music, drawing, writing — things we forgot about," says Evon Hanna Sattah, 23. "It was the place that shed a light on these talents."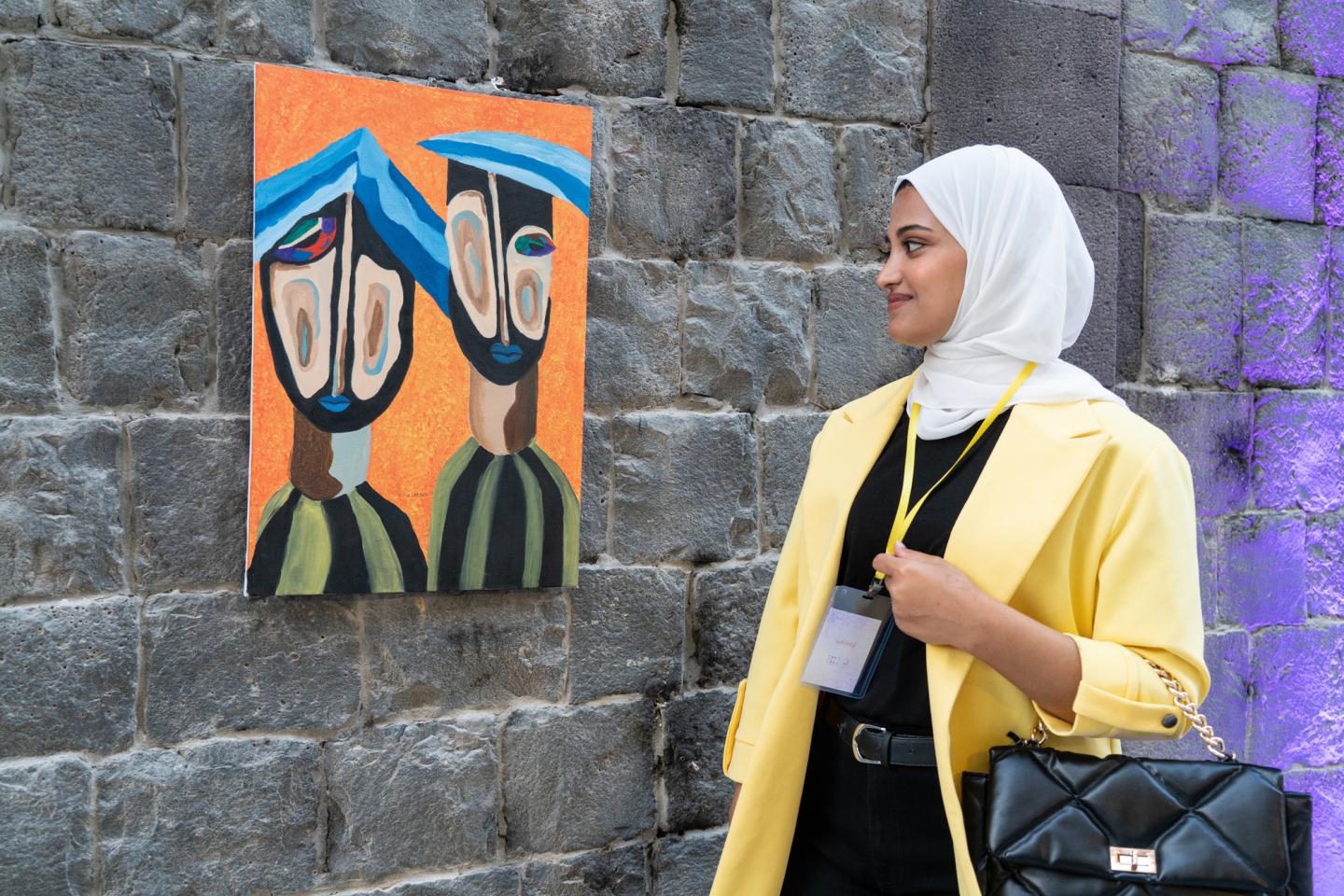 Image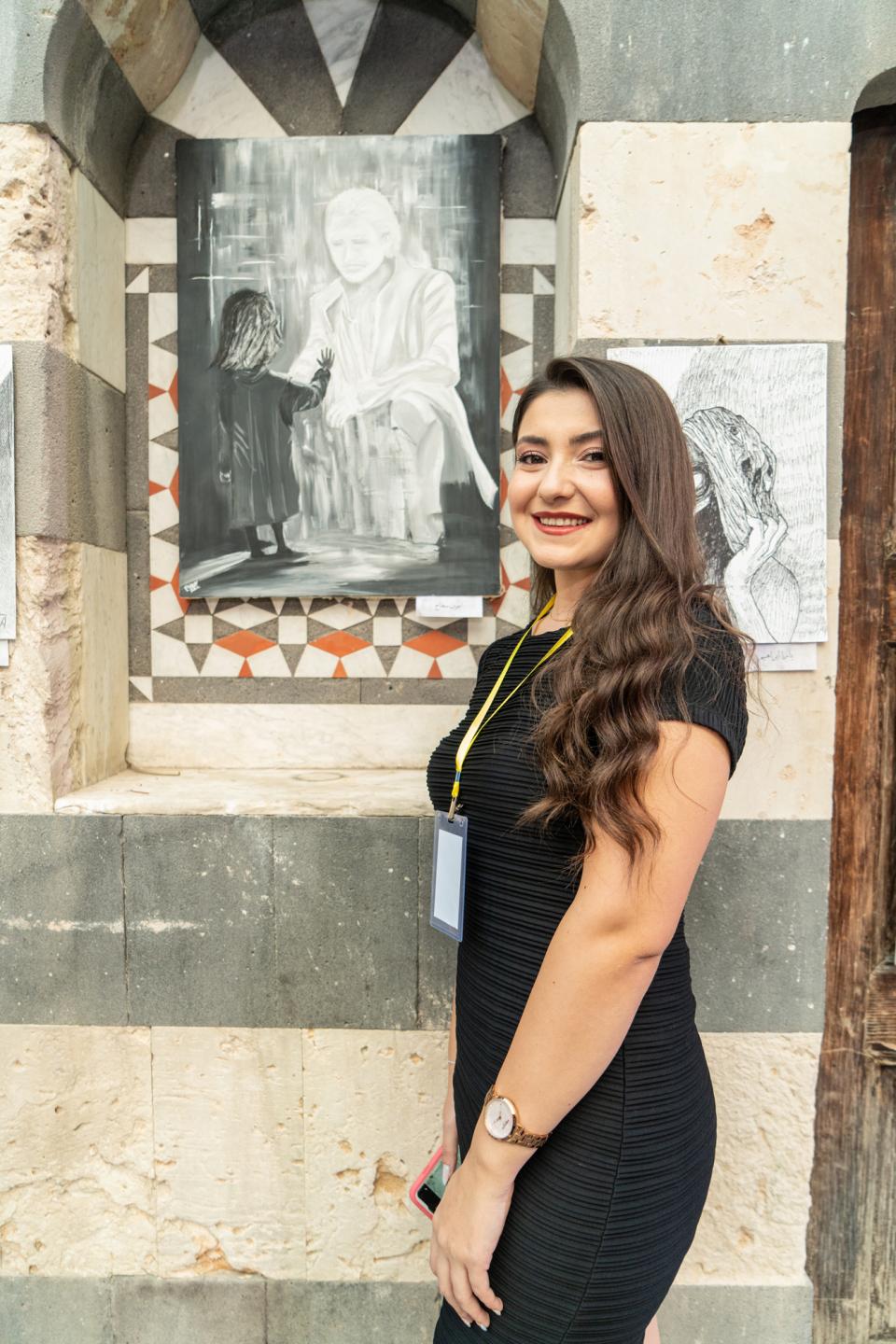 Sattah was 13 when the war started. She fled from Hama governorate to a village near the city of Homs, but the thing that affected her the most is her brothers' absence.
"They are abroad and I'm here alone," she says. "If there hadn't been a war, my brothers wouldn't have traveled; maybe they would've stayed with me."
That's a theme that's reflected in her art. The piece shown above, titled "Fathers," depicts what "might be a son, a brother, or anyone who feels this drawing. This portrait shows that the son needs feelings from a father or a brother. No matter how strong he is, he still needs someone, and that someone might be present or absent."
The effort started small. A group of artists, missing friends who had left Homs and Syria during the war, began searching for a way to gather a crowd of people who loved art.
Needing somewhere to meet, they applied to the Syrian Orthodox Archdiocese for funding. They got it and began searching in Al-Hamidia, one of the most damaged areas of the city, eventually renting a large traditional home that was burned and damaged.
"It's easy to go to any place and work there, but it wouldn't be special," says Kamel Awad, one of the founders and current director of Harmony. "I also think it's a message, we can do something beautiful on top of the rubble."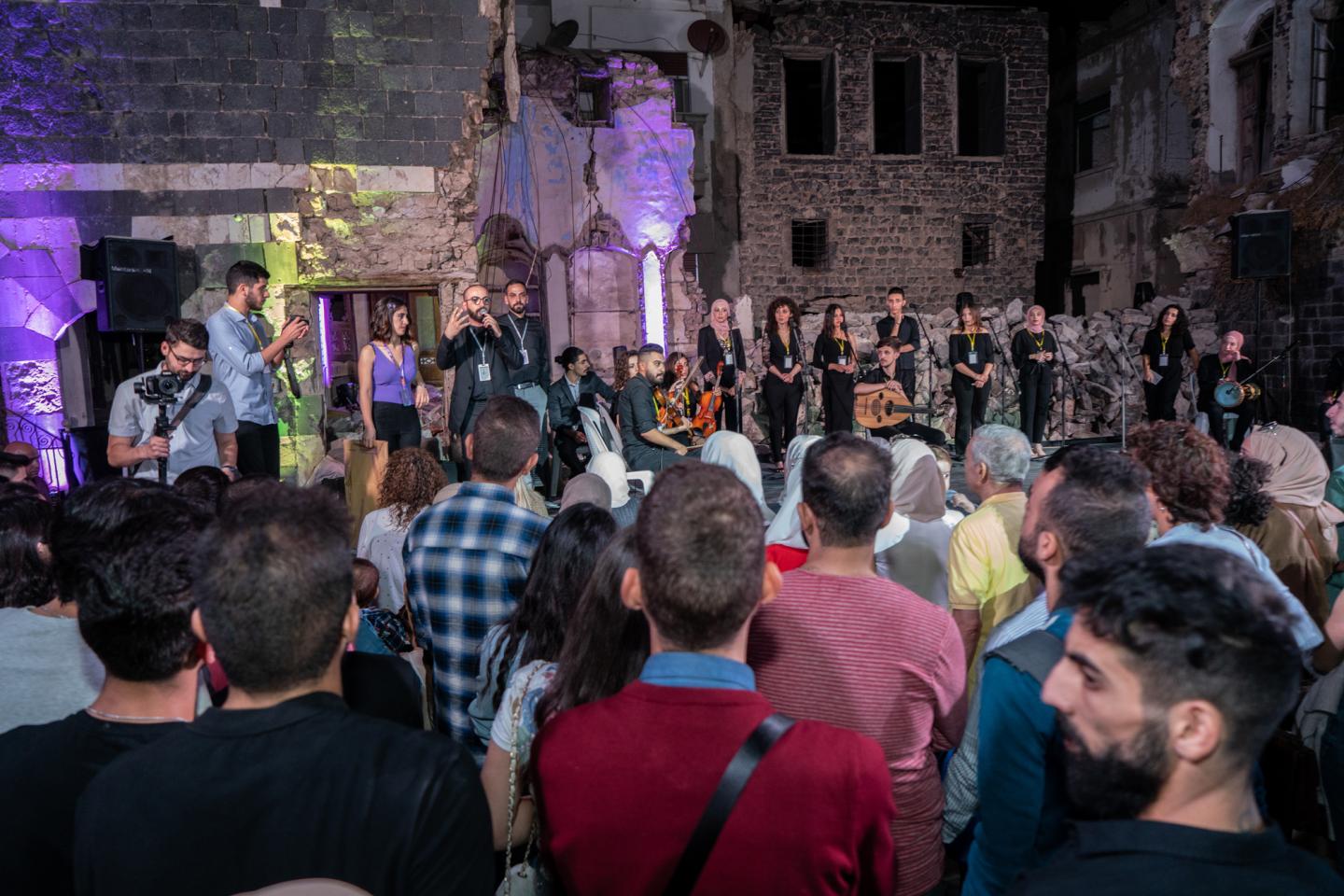 The group, only about 15 people early on, began working on the site. Organizers were soon stunned by how many others, both youth and community members, began showing up day by day to help clean and paint the site — and by people's hunger to reclaim the space and to join the art activities Harmony offers.
It wasn't just our need as friends . . .  it was the whole society's need.
"It wasn't just our need as friends, or as people who lost 50 or 60 friends who could have been here. On the contrary, it was the whole society's need," Awad says.
The efforts began with a focus on drawing and sculpting, then added music, writing and theater, says Marina Kasouha, a founder and chief executive officer of Harmony.
But of course, notes Kasouha, "Art isn't just art, just singing, just drawing."
As Harmony sees it, she explains, art is a language that can be used for peacebuilding. It's a way that people can come together across differences, explore who they are and look to move beyond conflicts caused by years of war.
That's especially important in Homs and throughout Syria, where war sowed seeds of separation, distance and discrimination, says Father Luka Awad, a priest and general manager of MCC partner Um Al-Zennar Relief and Development Center, part of the Homs Diocese of the Syrian Orthodox Church. "Some people started looking at others in a very negative way."
Harmony, though, brings youth together across the divides of their backgrounds.
An initiative like this exhibit begins with workshops where people get to know each other and feel safe, learn about peace and use art for peacebuilding. Then groups move toward planning specific themes for an exhibit, eventually crafting the art that will be shown.
Kasouha notes that the Arabic house has a tradition of gathering all of society's cultures. And Harmony, too, reaches out to all, striving to recognize each person's contribution and individuality.
"They give the feeling that you belong even if you're an outsider. They never make you feel like a stranger," Sattah says. "This place and its black stones make you feel cozy, and it makes you express whatever is inside you."
Take Issa, who wrote and performed a monologue for the theater portion of the exhibit about children's psychological struggles and how important it is that they have someone to listen to them.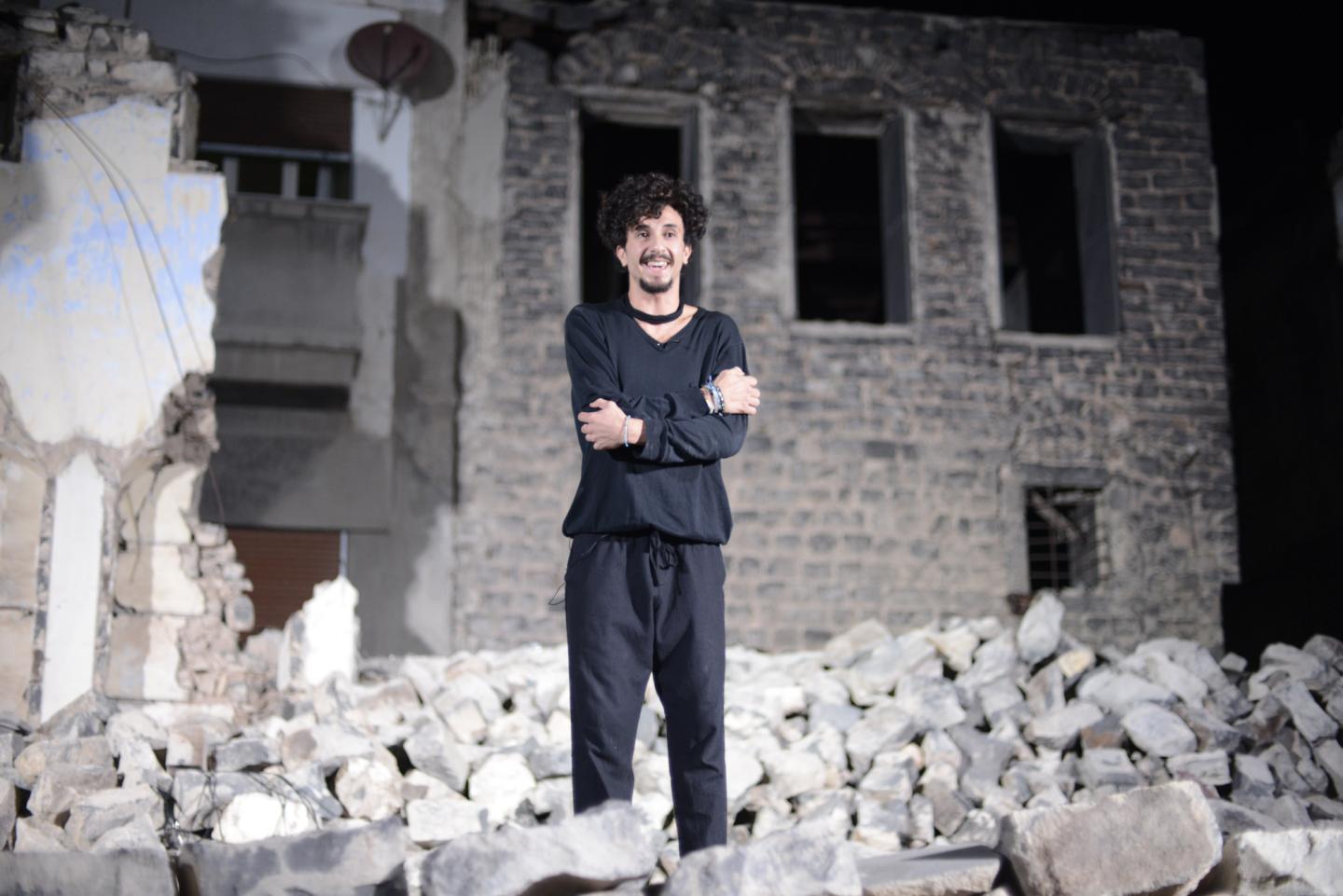 Like others, Issa stressed that Harmony gave him this opportunity to follow the idea he'd crafted, including incorporating dance. It was his first time dancing onstage, and, blindfolded as part of the act, he soared freely.
"It was all about the music and I felt like I was flying," he says. "The opportunity and the safe space I was given offered a room for my ideas. . . ."
Opportunity often seems in short supply in Syria these days. In Homs, as elsewhere in the country, the last few years have brought severe downward economic spirals, combined with the weariness, loss and trauma of years of war.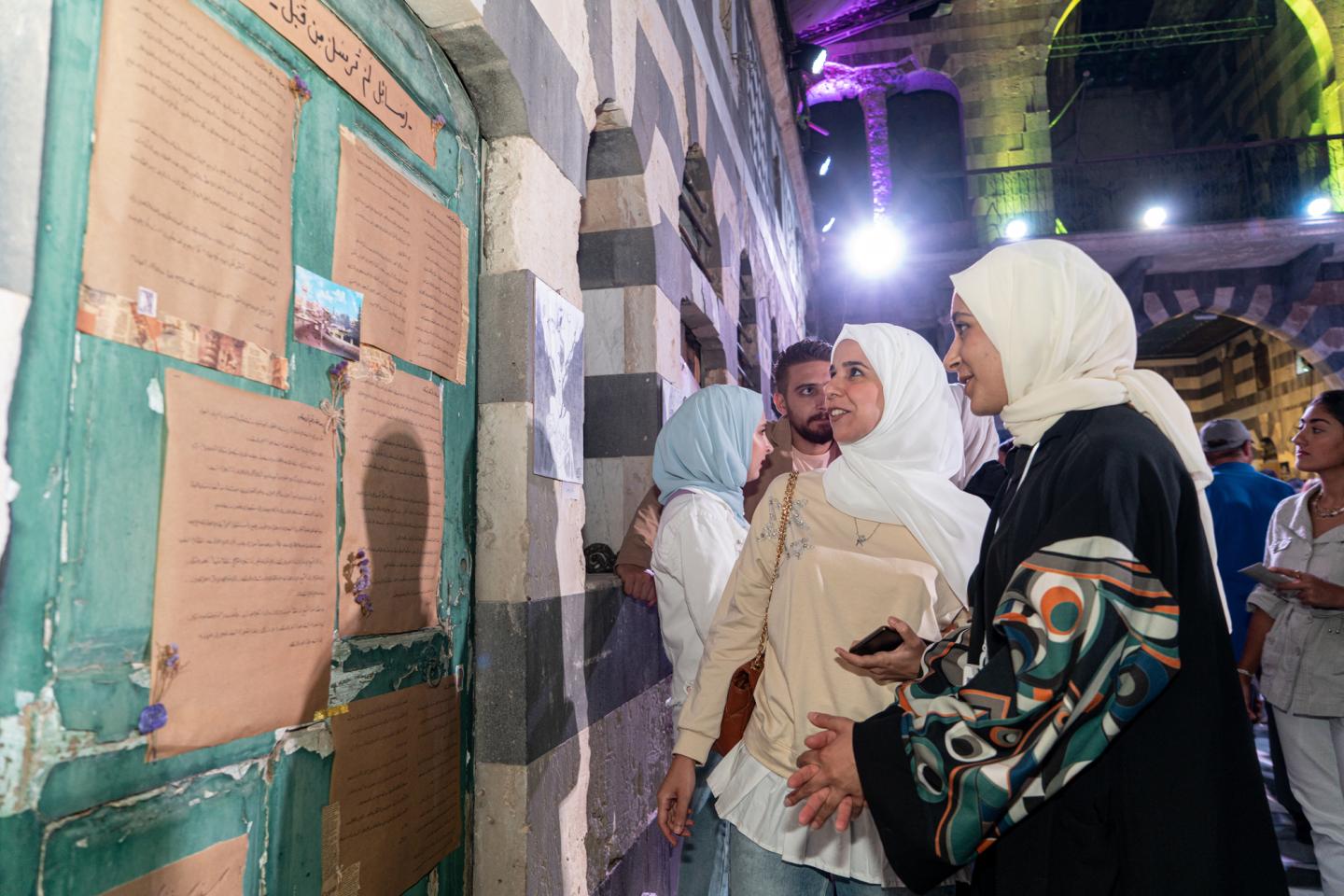 For 26-year-old Sundos Zankawan, whose parents have died and whose three siblings have left for other countries, the situation today feels even worse than when war itself was a more pressing danger. "For me, honestly, I wish I could go back to 2014 rather than live these days I am living now," she says.
"I feel sad about myself a lot, but I feel more for the younger people who were born in the war," she says. "They literally were born in a damaged atmosphere with sadness, tiredness, suffering and harm on every level."
But writing gives her a chance to reflect and explore the reality that she sees in daily life. She points to how many hours she and other artists spend giving time to the projects in Harmony.
"I know that people are hungry and tired. They need home, food and all the life basics," she says. "But they are finding who they are in this exhibit that is considered to be entertainment in other countries."
Marla Pierson Lester is senior editor for MCC U.S., and Petra Antoun and Raymond Salloum are based in Syria.