Comforters: from creation to distribution
Follow the journey of a comforter in this photo story
Image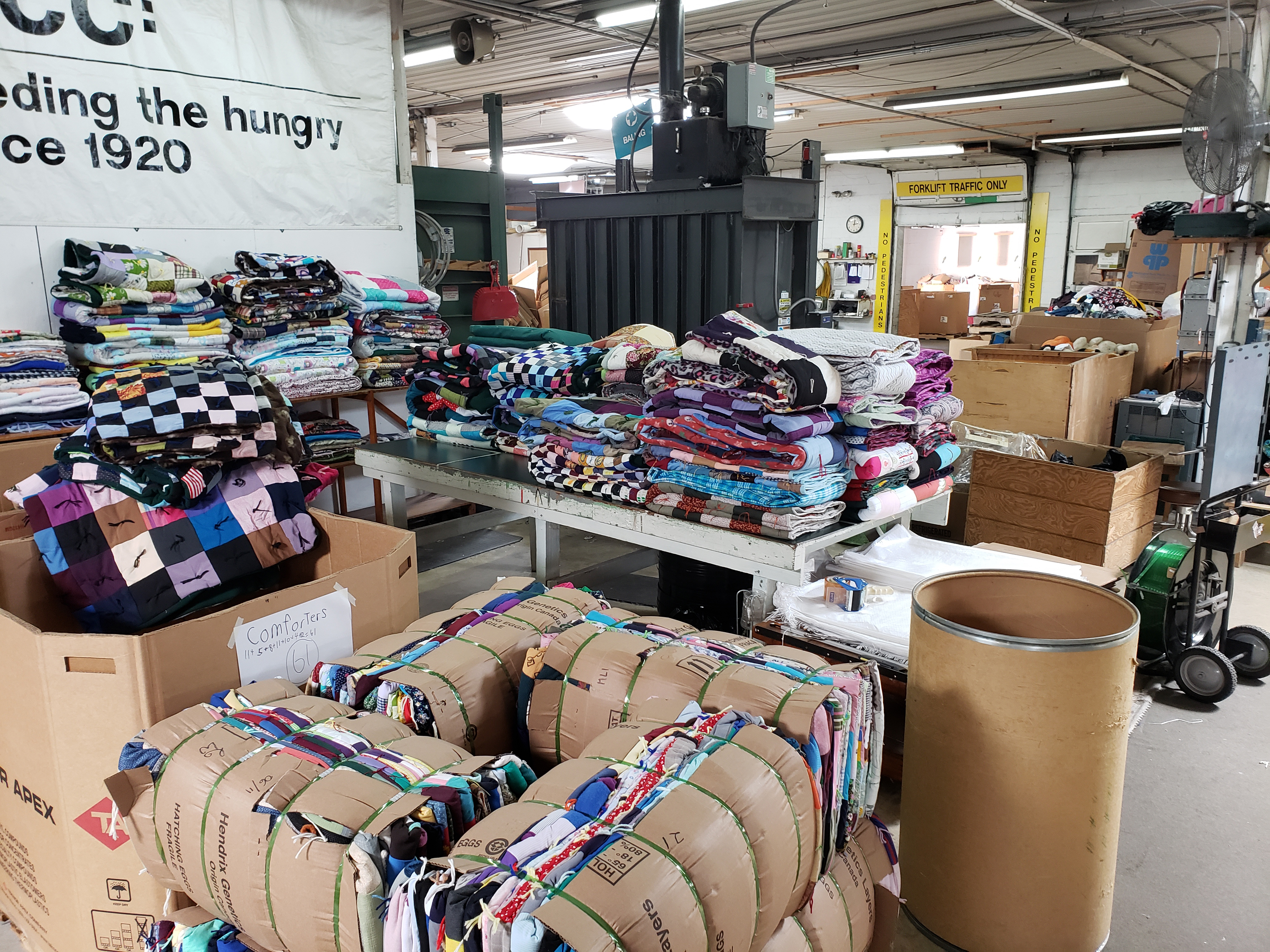 Every year, thanks to the support of countless volunteers, Mennonite Central Committee (MCC) ships thousands of comforters to people who are displaced and in vulnerable situations around the world.
Comforters may be used as bed covers, room dividers, carpets, curtains, wraps, mattresses and more and are a blessing to those recovering from disaster situations or lacking basic necessities. These colorful works of art are a tangible reminder to people that their needs are not forgotten and send a message of hope and comfort.
Each comforter measures approximately 60 x 80 inches and is hand-knotted with crochet cotton to keep the pieced top, batting and bottom layer together. This makes them different from quilts or purchased blankets.
There are many steps in the comforter process—from making the comforters to distributing them to places around the world like Haiti, Ukraine and Lebanon. Check out this photo story to learn more about the comforters shipped from the MCC Material Resources Center (MRC) in Ephrata, Pennsylvania.
Creation and collection
It takes many volunteers across the U.S., Canada and Europe thousands of hours to cut, sew and knot handmade comforters. At the MRC, volunteers choose fabric and cut out squares for others to take and sew together into unique designs and patterns. They often pick fabric that is sturdy and easily washable. Patches are cut from bright colorful textiles, in darker shades and with cheerful prints. It takes 165 squares, sized 6 x 6 inches, to make a comforter.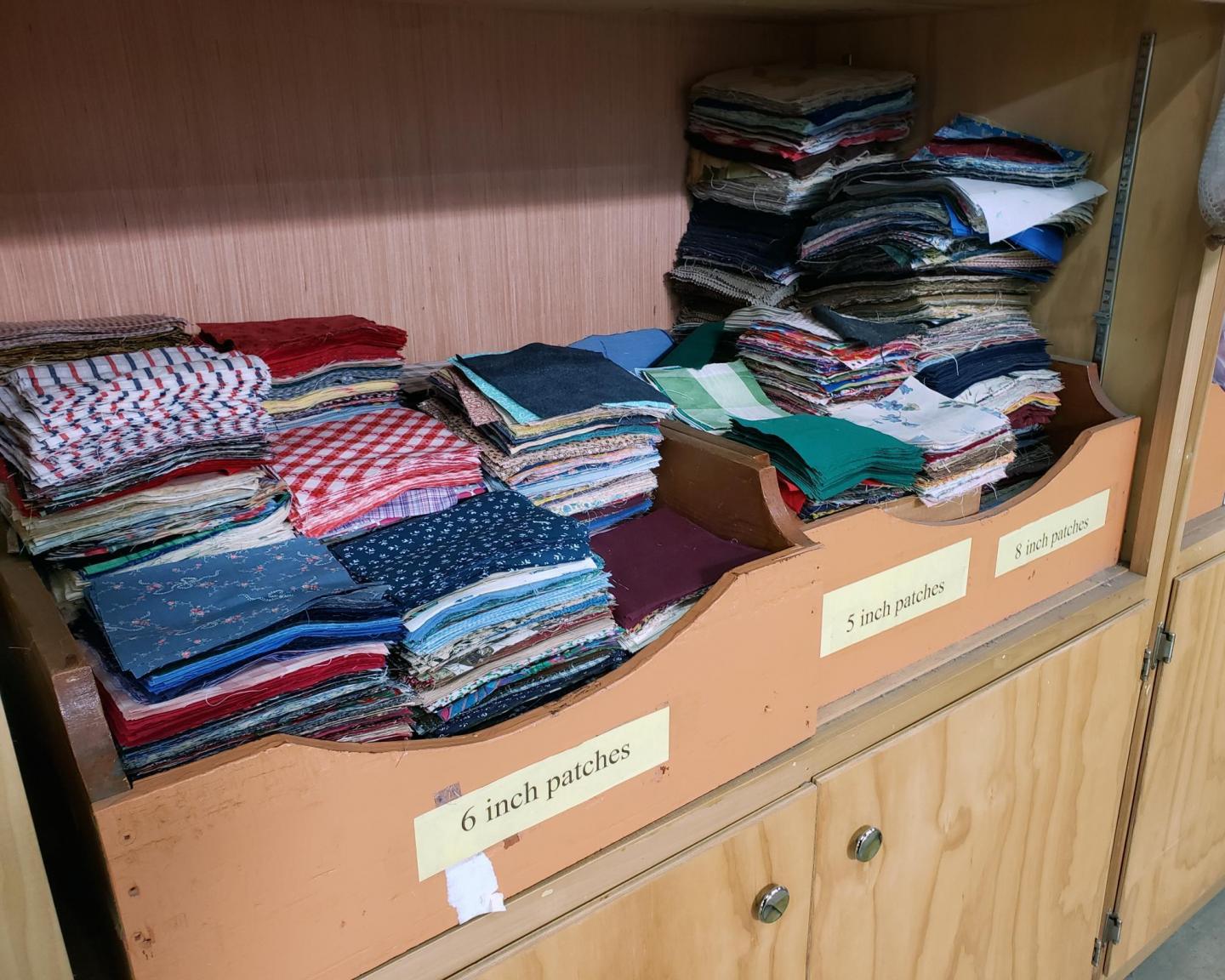 Some volunteers like to create comforter tops and donate them to the MRC for local volunteers to finish. Alida Hazel Sarina Myers, age 9, from Keezletown, Virginia, enjoys creating comforter tops for MCC. She was inspired to learn to sew after her grandparents, Herb and Sarah Myers, spent two weeks at the MRC in April of 2019. Sarah continues to assist her granddaughter Alida by cutting out the comforter blocks and by teaching her how to use the sewing machine. Alida enjoys arranging the blocks into the final pattern.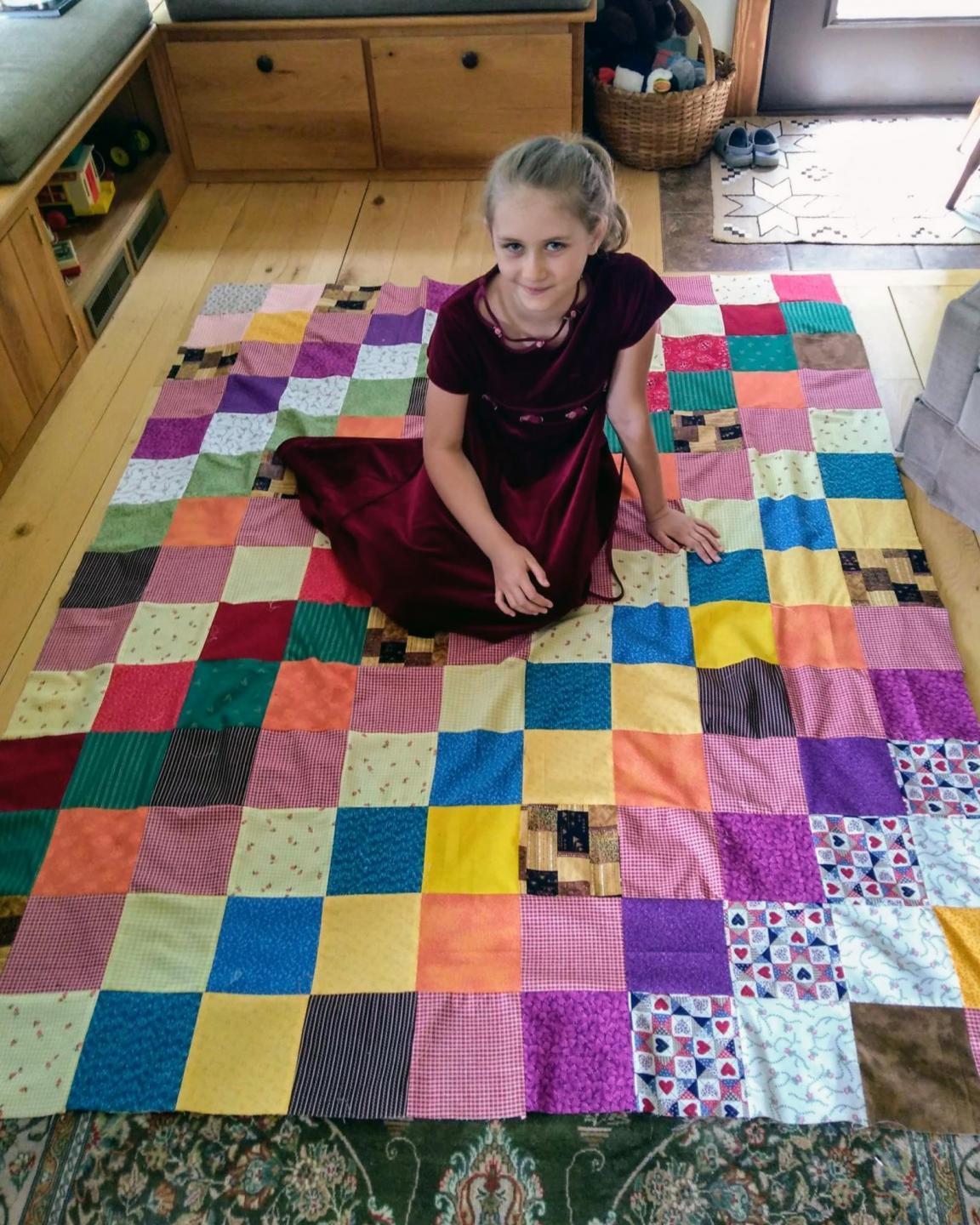 Volunteer drivers at the MRC go out and pick up many comforters at Amish households in Lancaster County, Pennsylvania, something Herb and Sarah Myers did as volunteers. In addition, every spring the MRC truck leaves Ephrata for Centre County, Pennsylvania, and the surrounding communities to visit many Amish homes tucked amidst the five valleys. On this trip, they pick up comforters that volunteers have been working on for the past year. In one day, volunteers collect around 1,200 comforters for MCC's ministries thanks to the efforts of the Plain Community, completely filling the 26 ft. truck.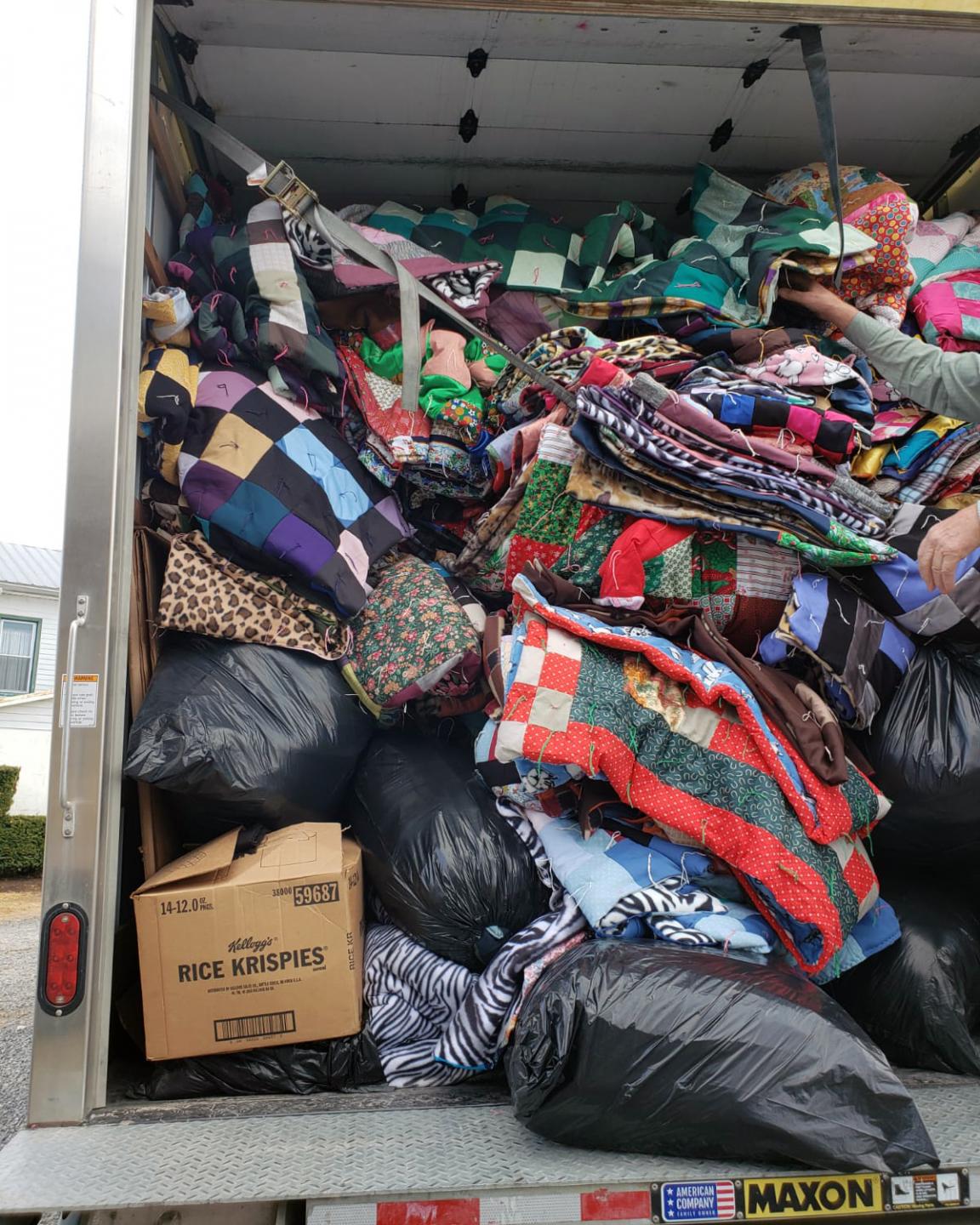 Many comforters are dropped off finished at the MRC. Clair and Jean Hunsecker from Leola, Pennsylvania, dropped off 15 beautiful comforters for "The Great Winter Warm-up: At Home" in February 2021. The couple works on the comforters together and have completed 100 comforters since 2018.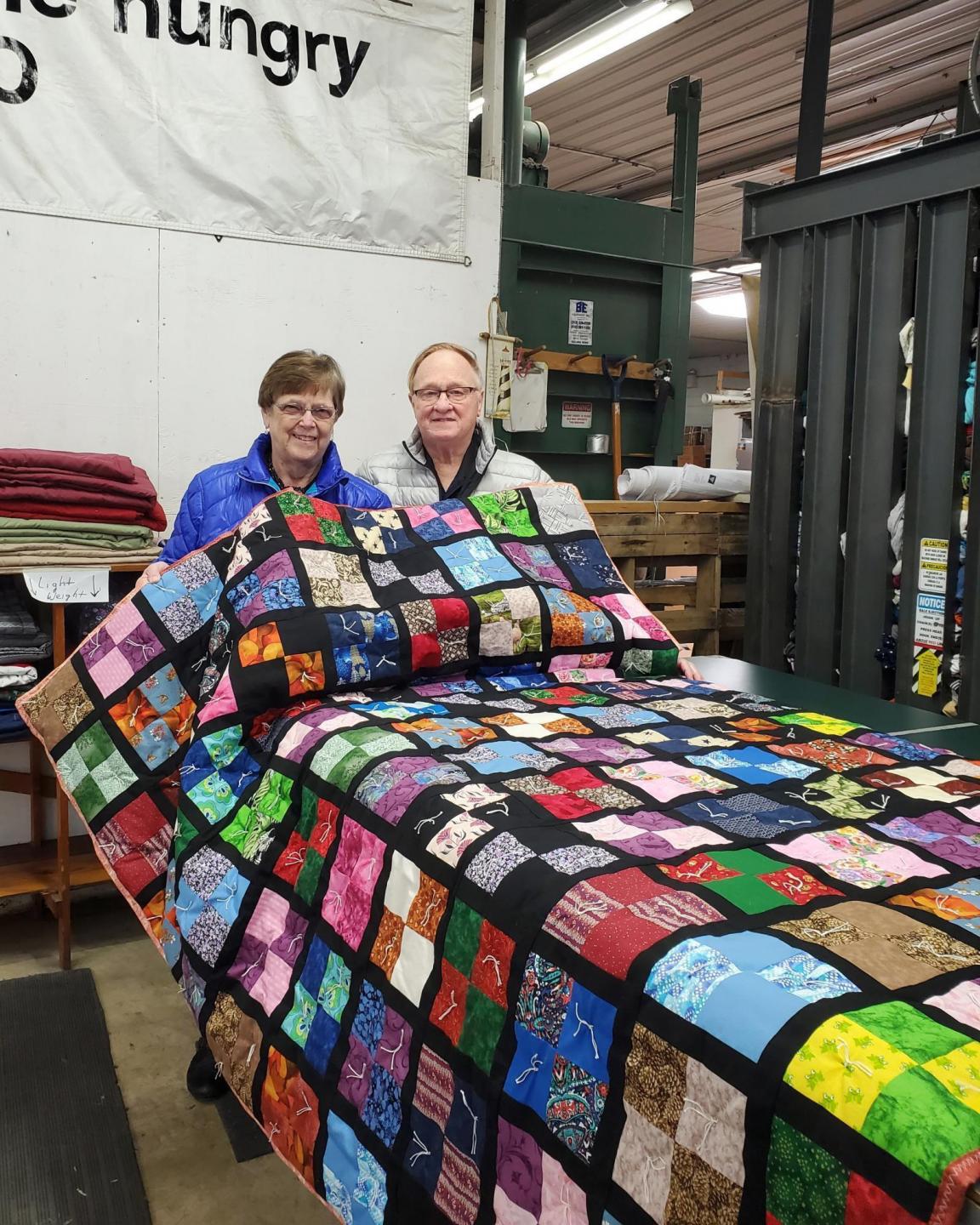 Receiving and baling
Once the comforters reach the MRC, even more volunteers are needed to process the comforters and get them ready for shipment. Comforter baling involves several steps and the more volunteers that help with this process, the faster it goes.
Volunteers, like Richard and Janet Frey from Lititz, Pennsylvania, perform a quality control check on all comforters that come into the MRC. MCC views every comforter as a gift to someone in need, so volunteers check to make sure that comforters are fully knotted and that there are no tears or loose seams. They also remove overlooked pins.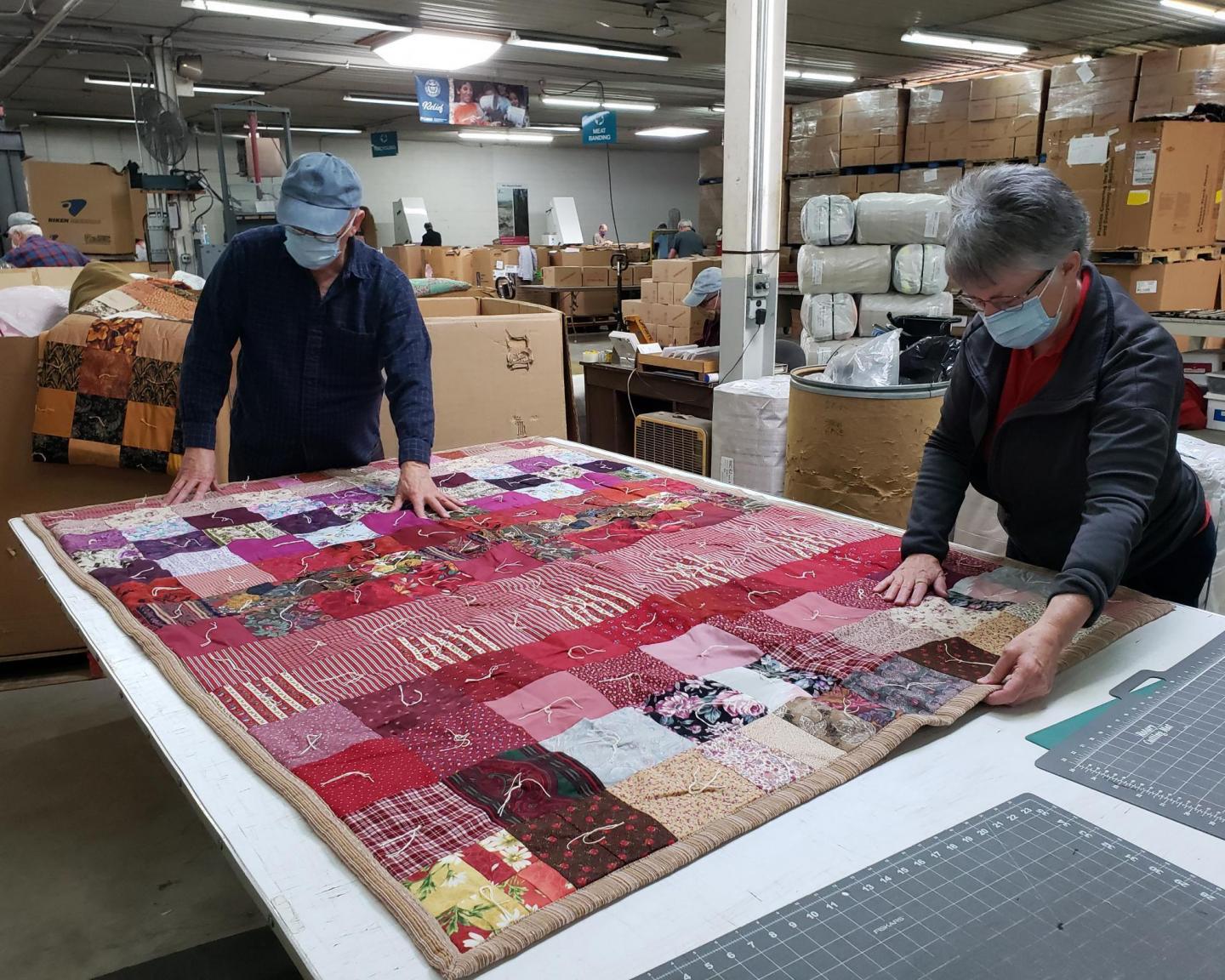 Comforters are then neatly folded to the size of the baling machine thanks to volunteers like Melvin Weaver from Reinholds, Pennsylvania.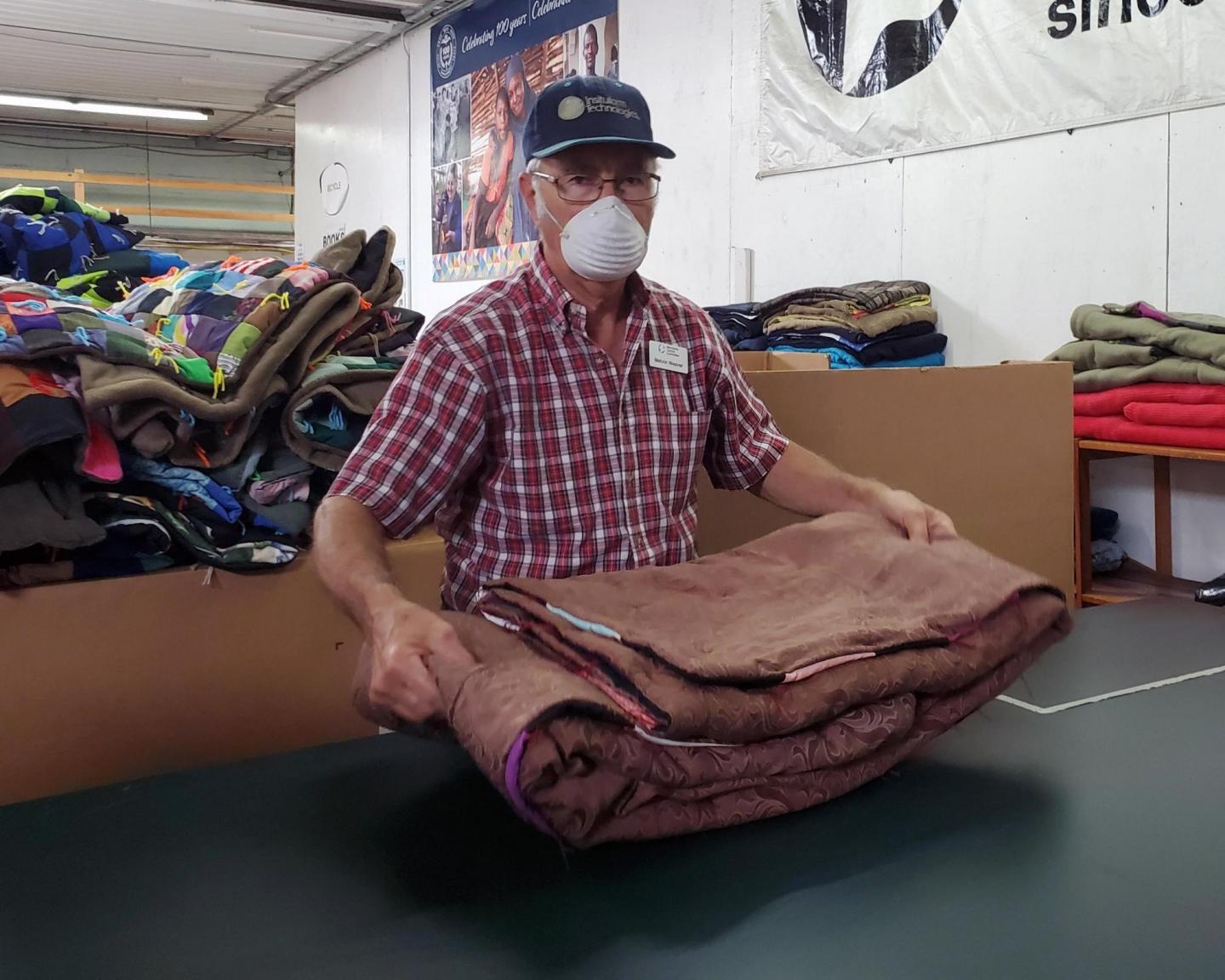 The folded comforters pile up as they await their turn in the baler. Each comforter has a unique backing fabric, featuring assorted colors and patterns.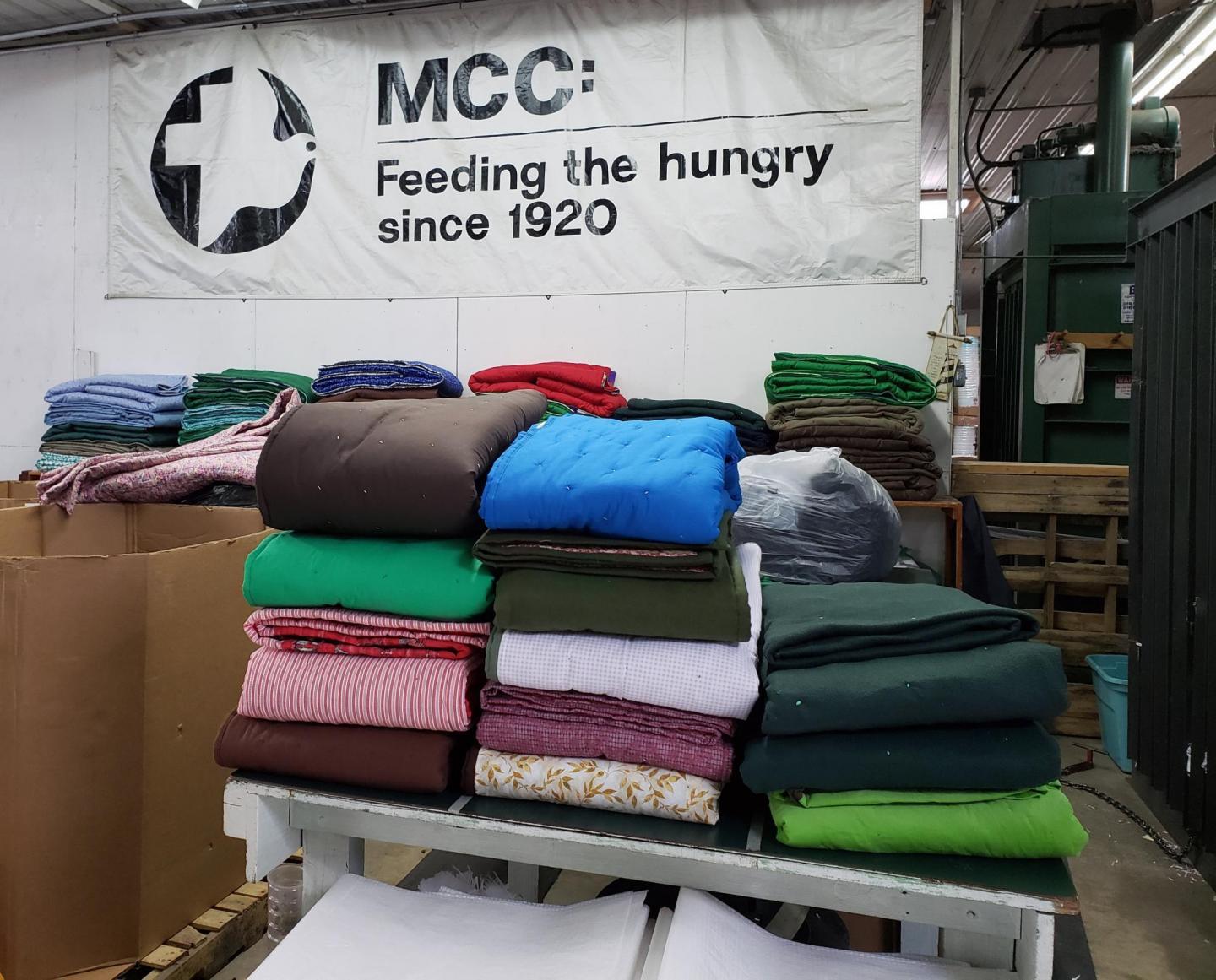 Next, volunteers place the comforters in the baler filling it to the top. Cardboard placed at the top and the bottom secures the stack in place and prevents the machine from damaging the comforters.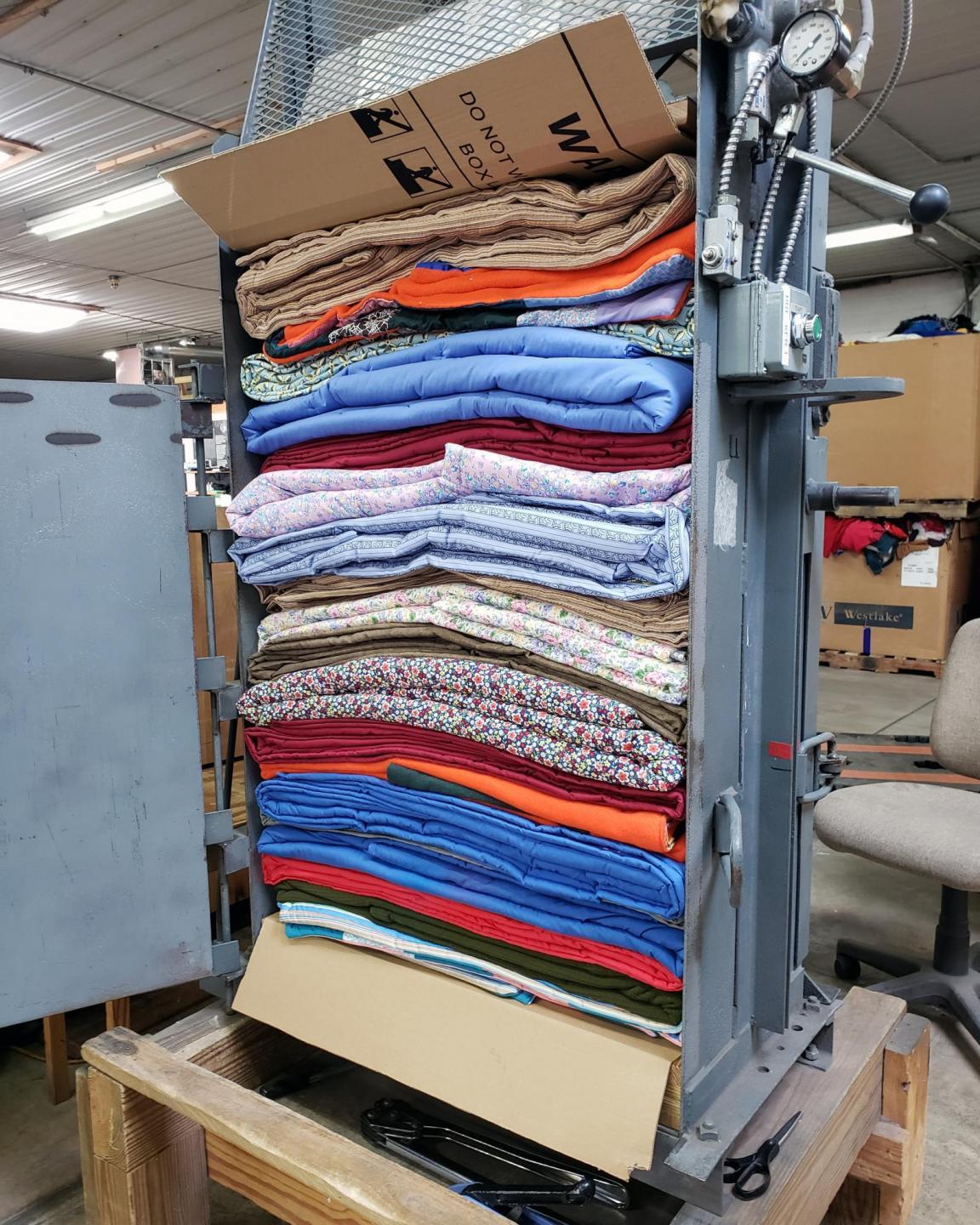 With the push of a button and the pulling of a hydraulic lever, the baler neatly and gently compresses the comforters—about 15 to 20 depending on their thickness—into a uniform-sized bundle or bale. Volunteers like Don Siegrist from Bird-in-Hand, Pennsylvania, then apply plastic strapping around the bale to hold its shape.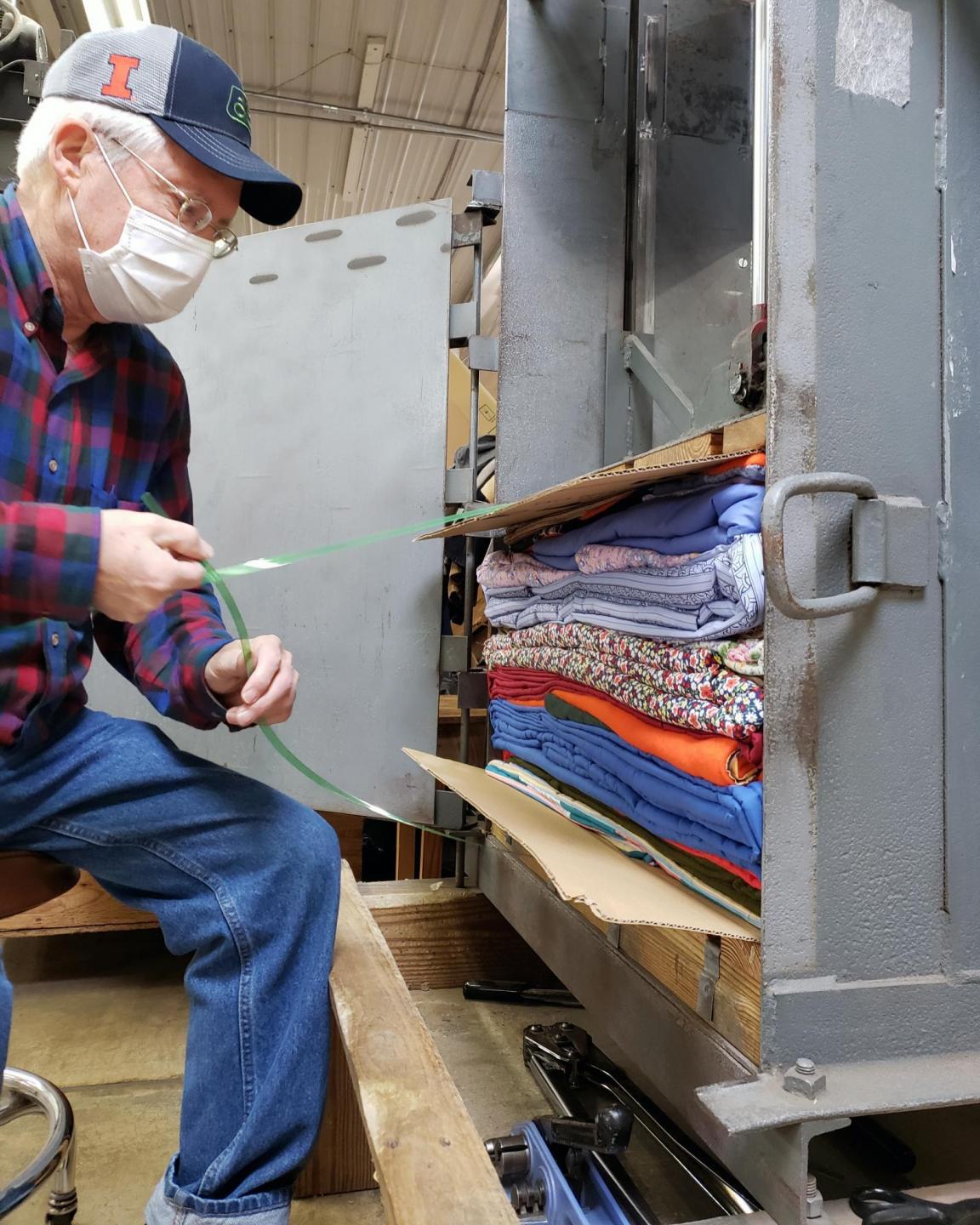 The bale of comforters is then wrapped in a synthetic burlap covering to protect it during shipment. This helps to keep the comforters clean and dry. Volunteer Dennis Diller of Leola, Pennsylvania, regularly serves at the MRC to help bale comforters.
The bale of comforters is weighed and then labeled with the quantity of comforters and its weight in kilograms. Comforter bales weigh between 75 to 85 pounds.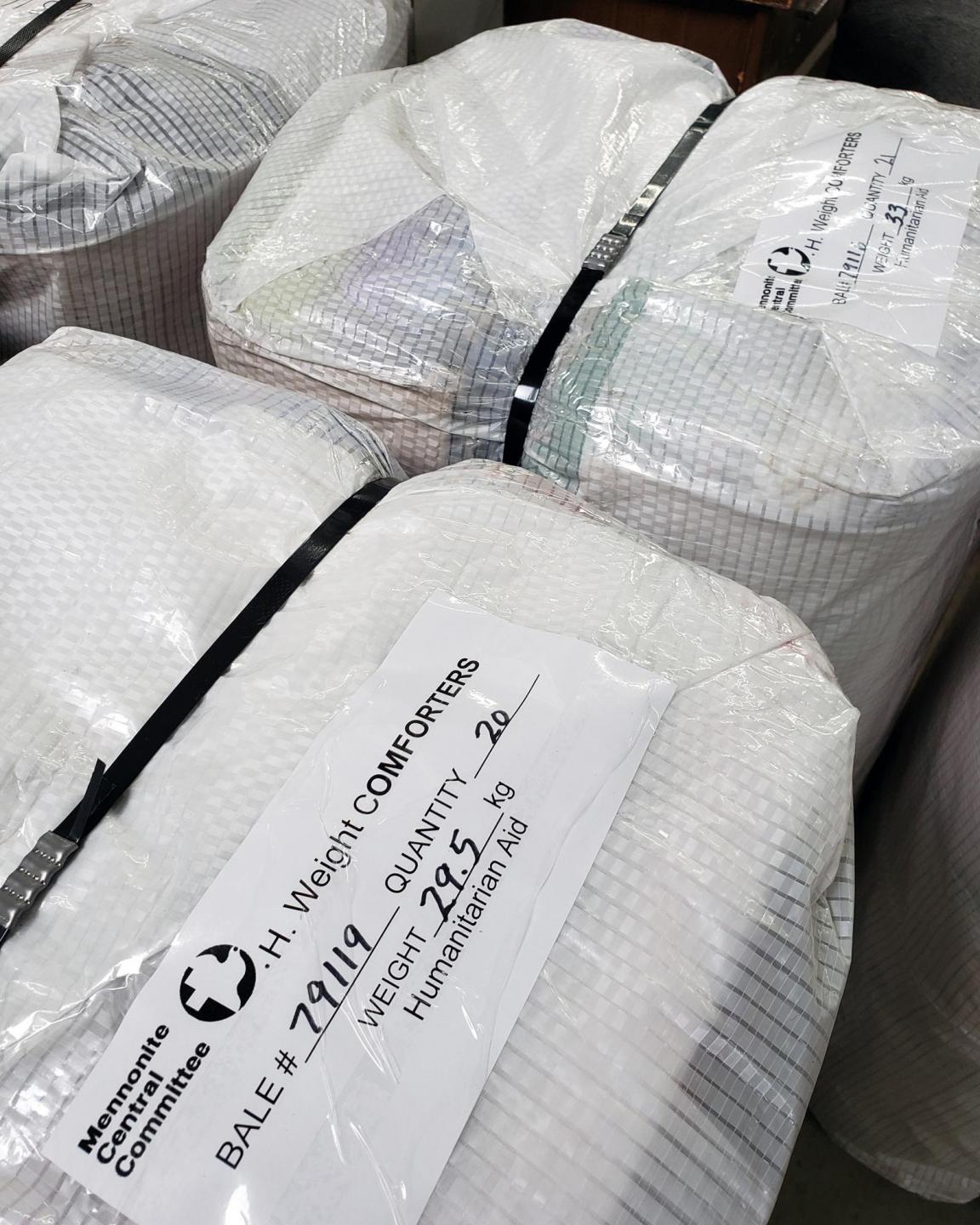 Finally, the comforter bale is ready for shipping. Since many bales are needed to fill up a shipping container, the finished ones are stored in the MRC warehouse stacked in an alternating fashion to prevent them from falling.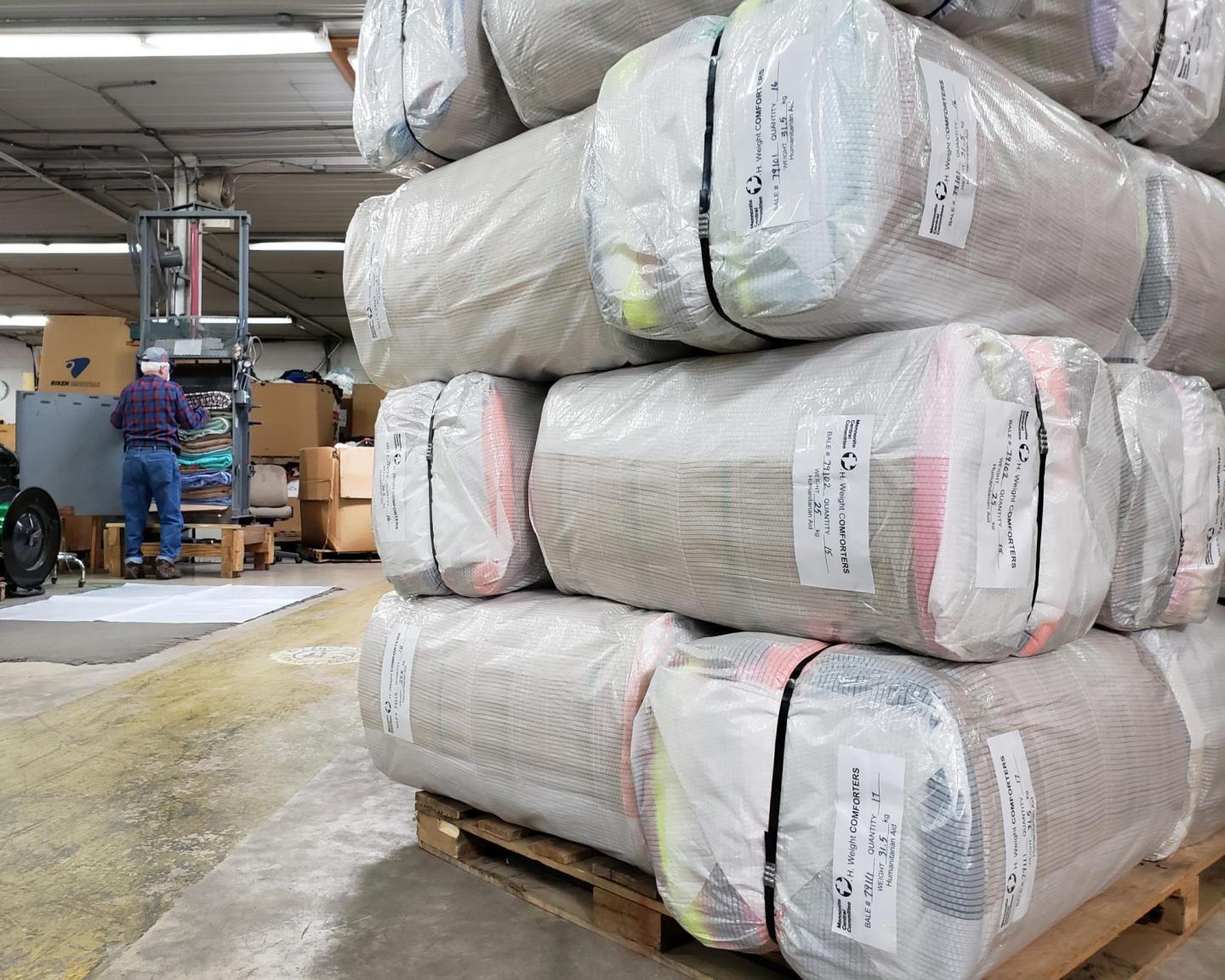 Shipping internationally
MCC listens to our partners to make sure that comforters are sent where they are needed most. Once a request comes in, the MRC works hard to make sure they have processed enough of the donated humanitarian aid to fill the request and the shipping container.
Shipping containers are usually 40 ft. long and so loading the back of a container involves loading in the dark with spotlights. Often supplies need to be loaded by hand to make sure to maximize the space in the container. Most shipments hold a variety of resources and not just comforters, although, if requested, it would take about 10,000 comforters to fill an entire shipping container.
Here MRC warehouse coordinator, Rudi Niessen, carefully packs a shipping container full of comforters, hygiene kits and relief kits to send to Syria in May of 2020. This container, as well as one filled with canned meat, helped internally displaced people and their vulnerable host communities suffering because of the ongoing conflict.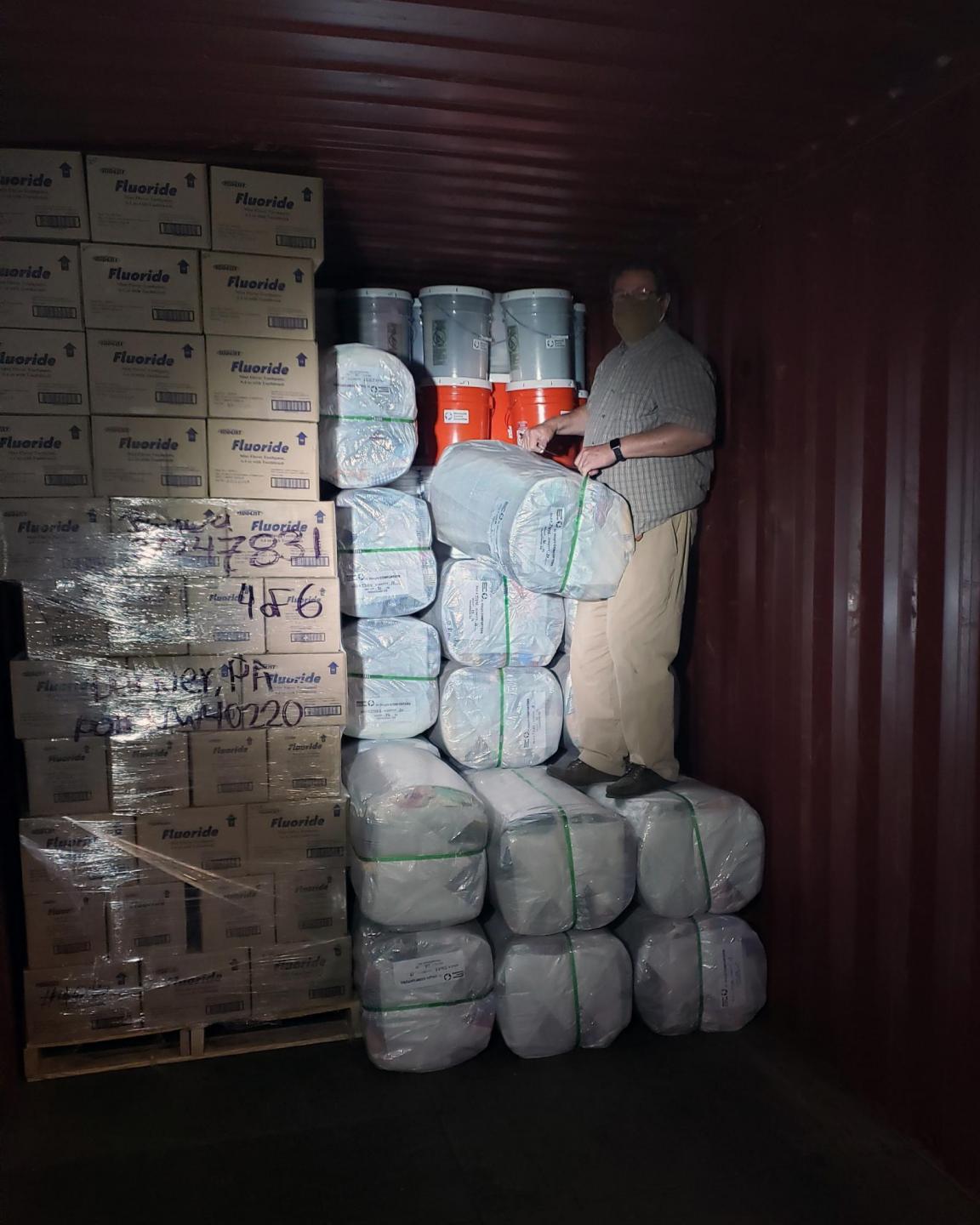 This shipping container was loaded in August of 2019 and held comforters, canned meat, relief kits, hygiene kits and sewing kits for Haiti. The resources were pre-positioned to be able to mount a rapid disaster response for at least 500 families. The reason this container is not filled to the top is because it has met its weight allotment due to the heavy canned meat.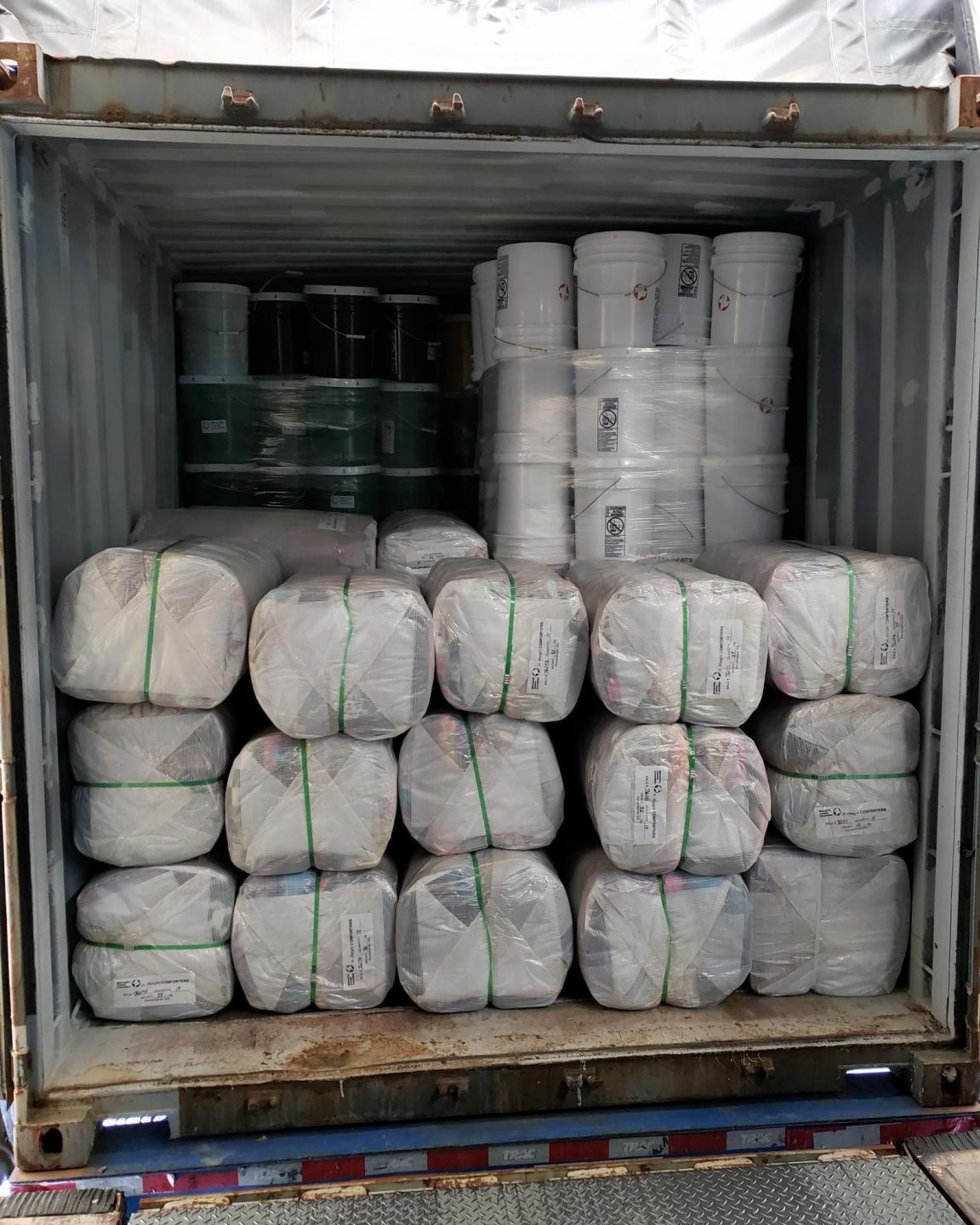 Each container is blessed before it heads overseas. This is an important and powerful step in the process allowing volunteers to take a minute and say a prayer for the people who will receive the shipment and thank God for the many volunteers who made the shipment possible. In January of 2018, James Wheeler (far right), former MRC manager, prayed over a shipment of humanitarian aid heading to Zambia.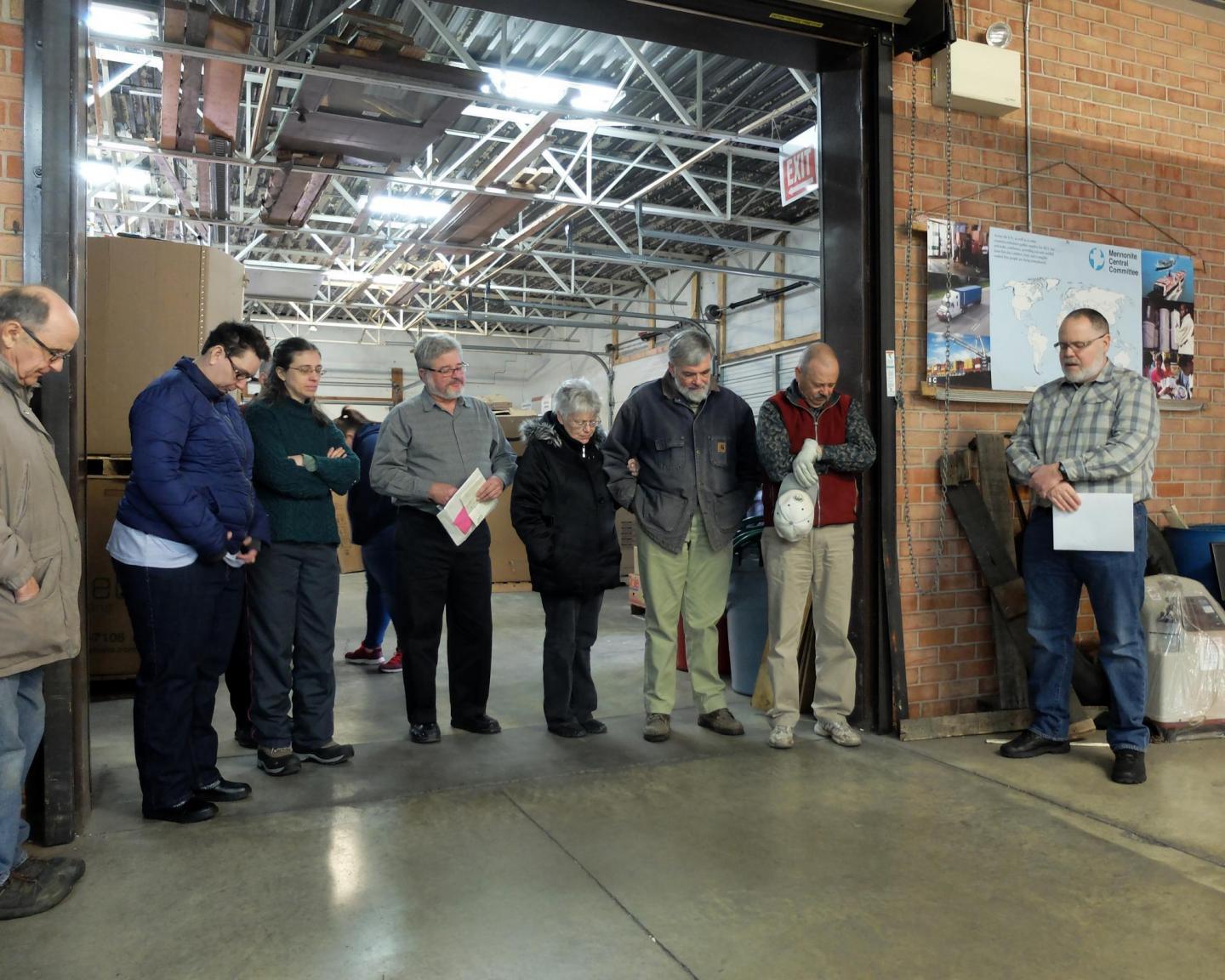 Next, it is time to shut and seal the container doors and send the shipment on its way. This shipment was sent in August of 2019 to Haiti.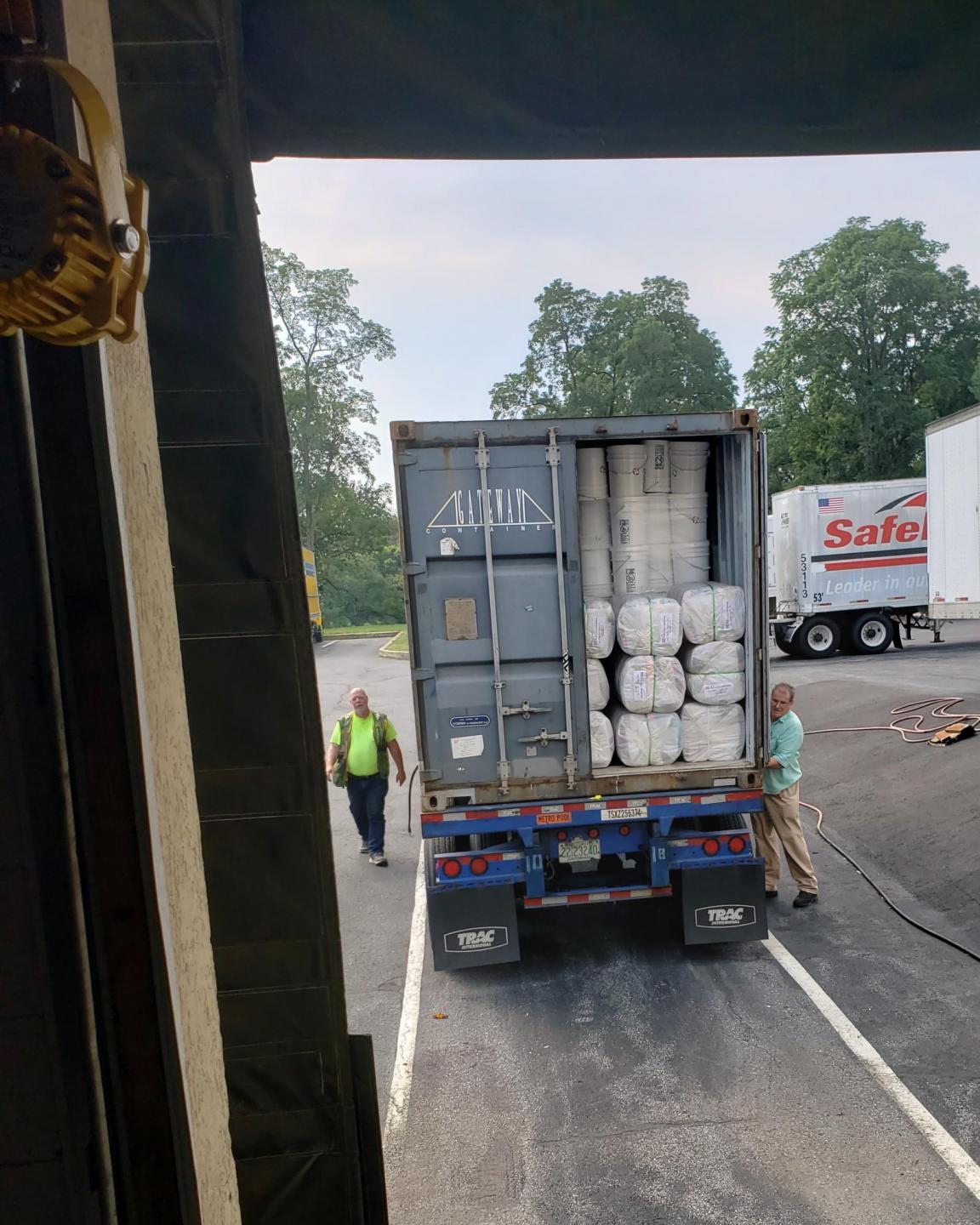 Most containers are picked up in the port in Baltimore, Maryland, and returned there with the MCC U.S. truck by Josh Voth, MCC fleet coordinator.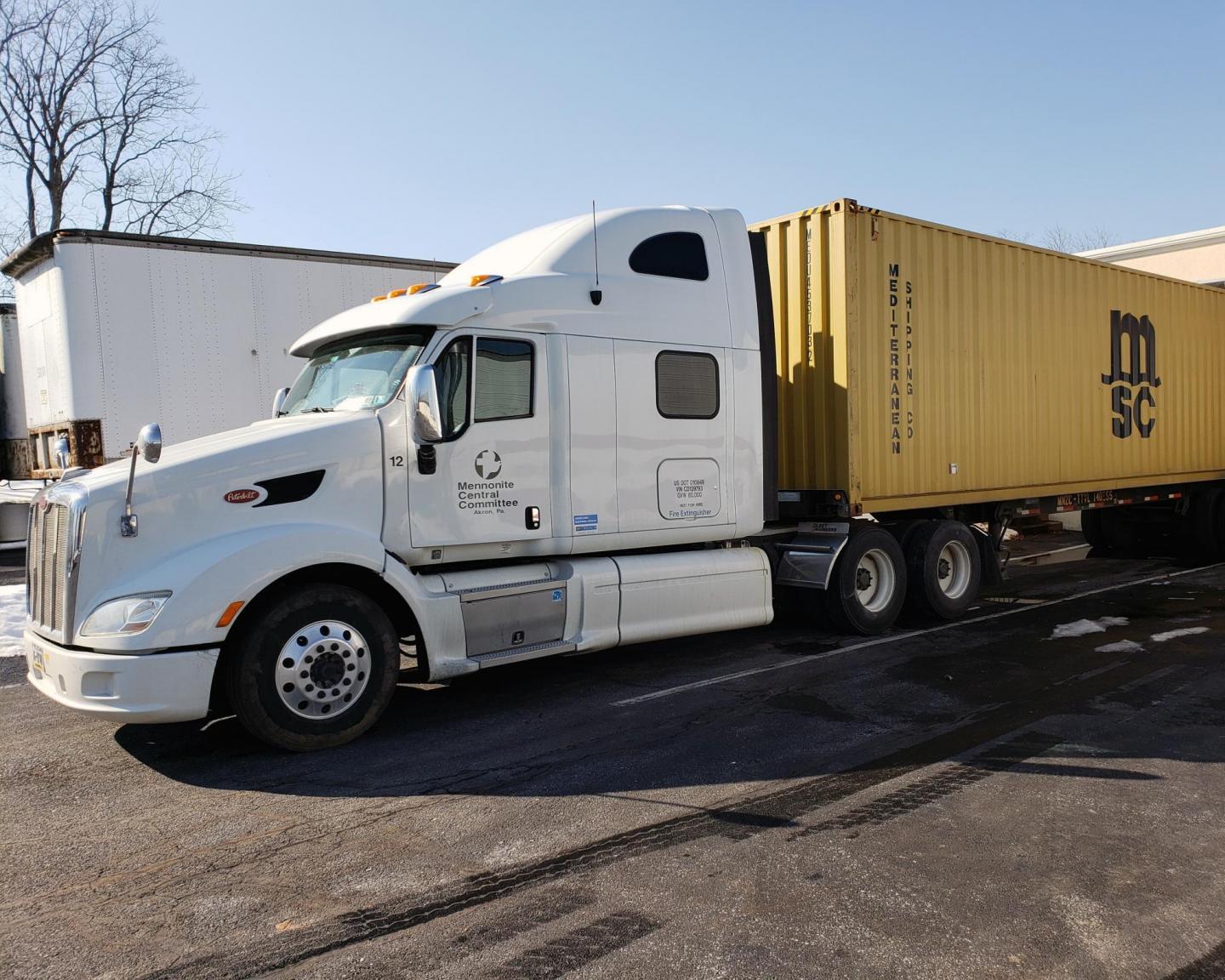 At the port in Baltimore, a specialized forklift, called a pinlift, lifts the container off the truck's chassis. It is then stacked on top of other containers waiting to be shipped. The red car is a spotter which tells the pinlift where to place the container.
Staging on land prepares the containers for when the ship enters the port. Now they can be quickly loaded and sent on their way. Depending on where the container is going, it can take several months for the shipment to make its way to its final destination. For example, a shipping container going to Haiti is estimated to arrive in a month. Some shipping containers going to landlocked countries are delivered to the closest port and then hauled by truck before arriving at our partner's location, often crossing several country borders and checkpoints.
Distributing to partners
Every shipment received by our partners is truly a gift from God and would not be possible without the many volunteers who made it possible. From April 2019 through March 2020, MCC sent 47,830 comforters to Ukraine, Democratic People's Republic of Korea (DPRK), Jordan, Syria, Lebanon and Haiti as well as distributed some in the U.S. and Canada.
Here, a shipment of MCC humanitarian aid arrives in Burkina Faso's capital, Ouagadougou, in June of 2018. The transit authority supplied a large crew to help unload the container that was packed tight. This shipment included comforters, hygiene kits, relief kits, infant care kits, school kits and canned meat which aided refugees who live in a camp near the town of Djibo close to the Mali border.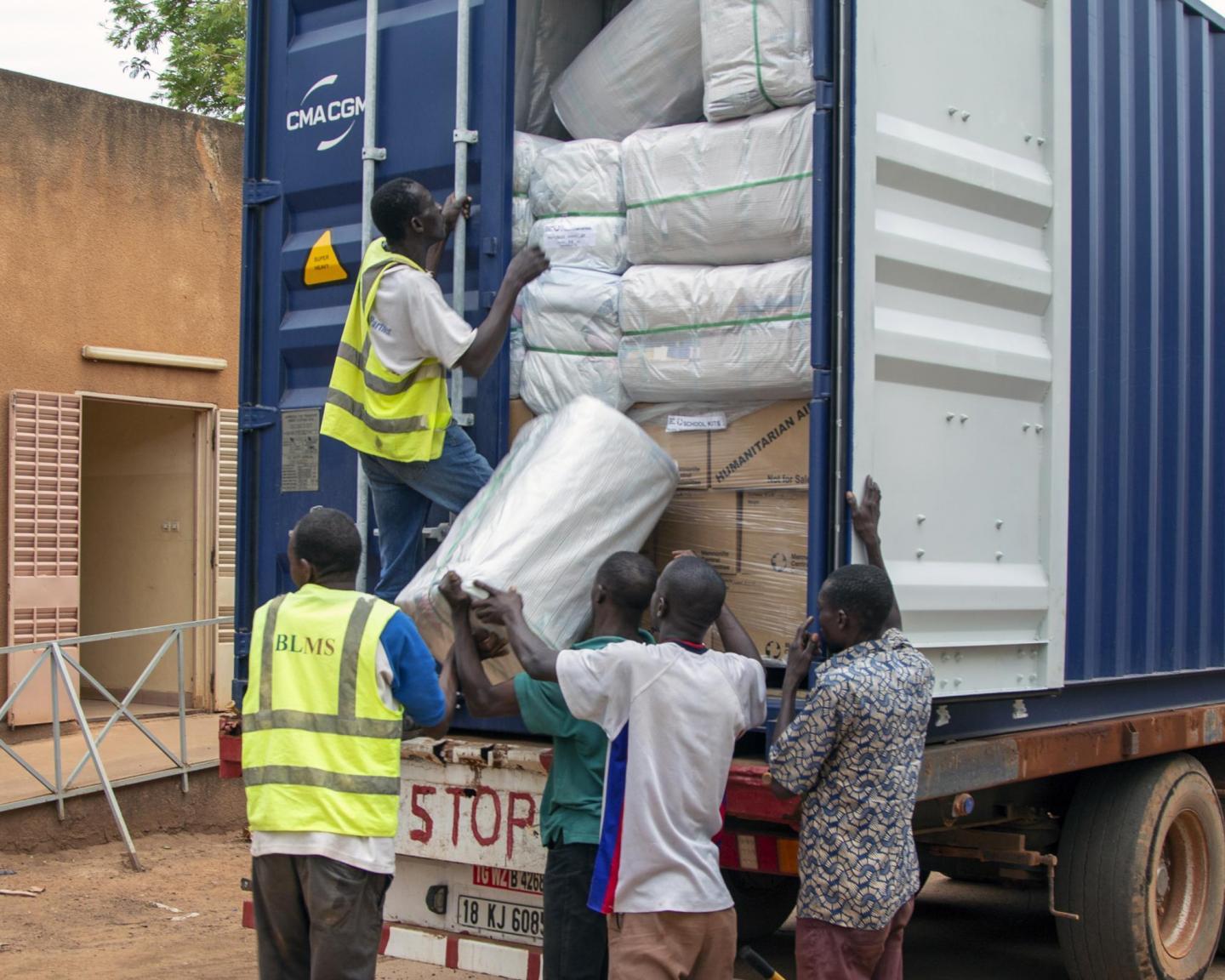 After arriving, the comforters are unbundled and distributed to families like MCC's partner New Life Charitable Fund in Nikopol, Ukraine, in the spring of 2019.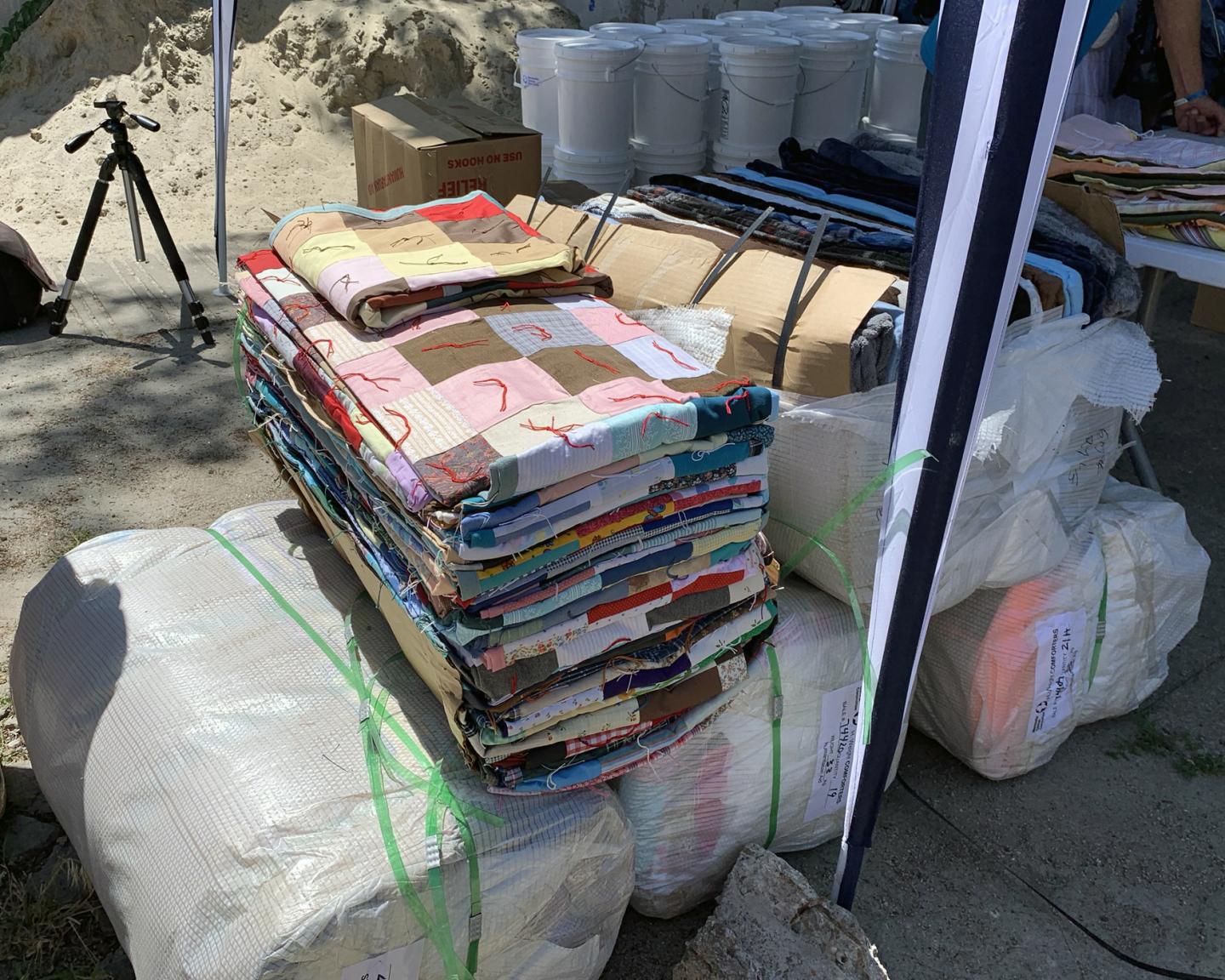 The comforters are then distributed to those in need. Here, staff members from MCC's partner, Popular Aid for Relief and Development (PARD), pose with humanitarian aid supplies that were distributed to community members of a low-income neighborhood in Tyre, Lebanon, in March of 2020. Many of the recipients were Palestinian and Syrian refugees encountering increasingly tough times due to the present financial crisis in Lebanon. The distribution took place prior to government-mandated COVID-19 social distancing precautions.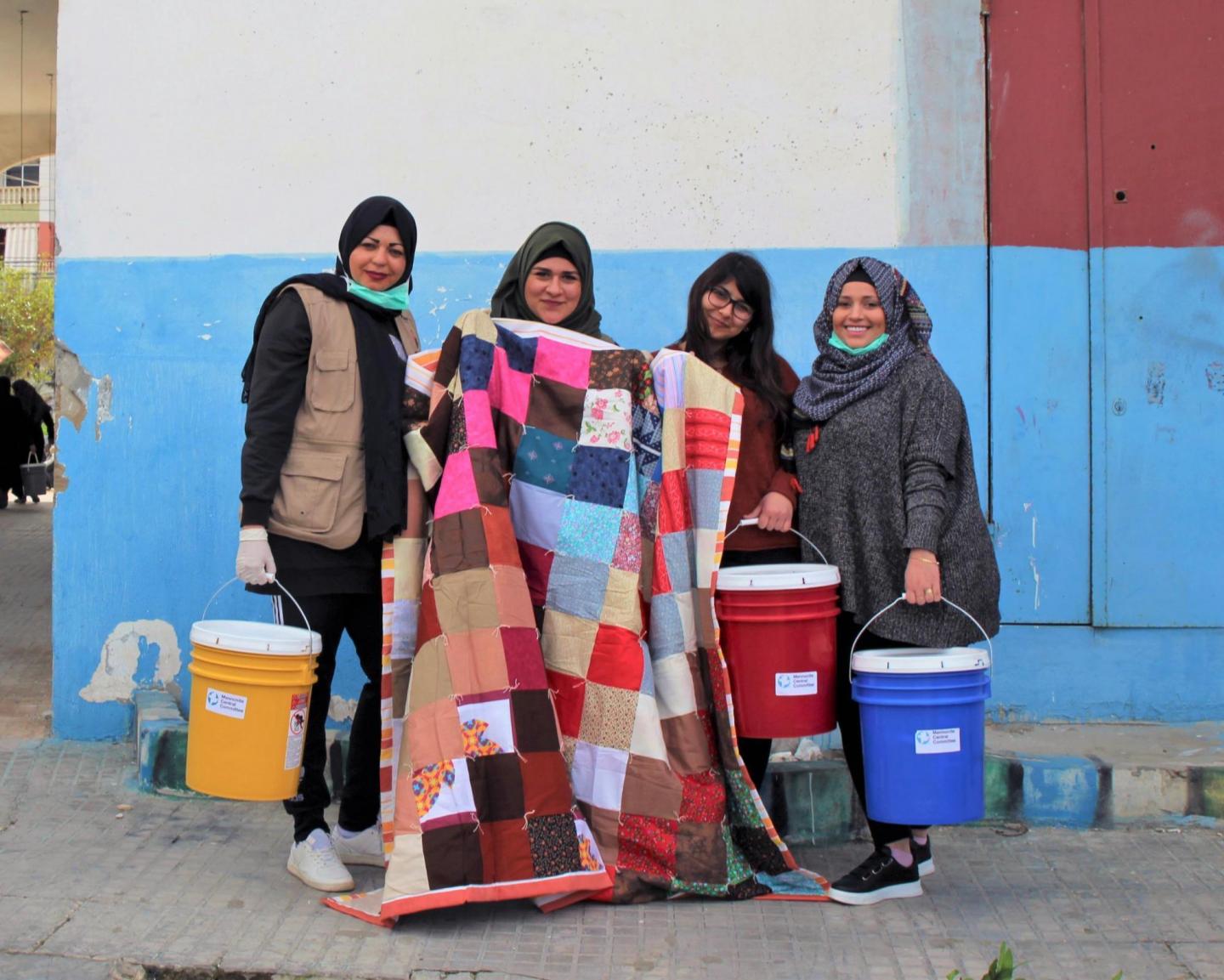 Again and again, recipients express their gratitude for the gift of an MCC comforter. To all the comforter makers and volunteers involved in this process, thank you for the part you play in sharing God's love and compassion for all in the name of Christ.