Carrying on in Ukraine
Despite war, MCC partners continue to reach out to youth and their families, including Roma youth.
Image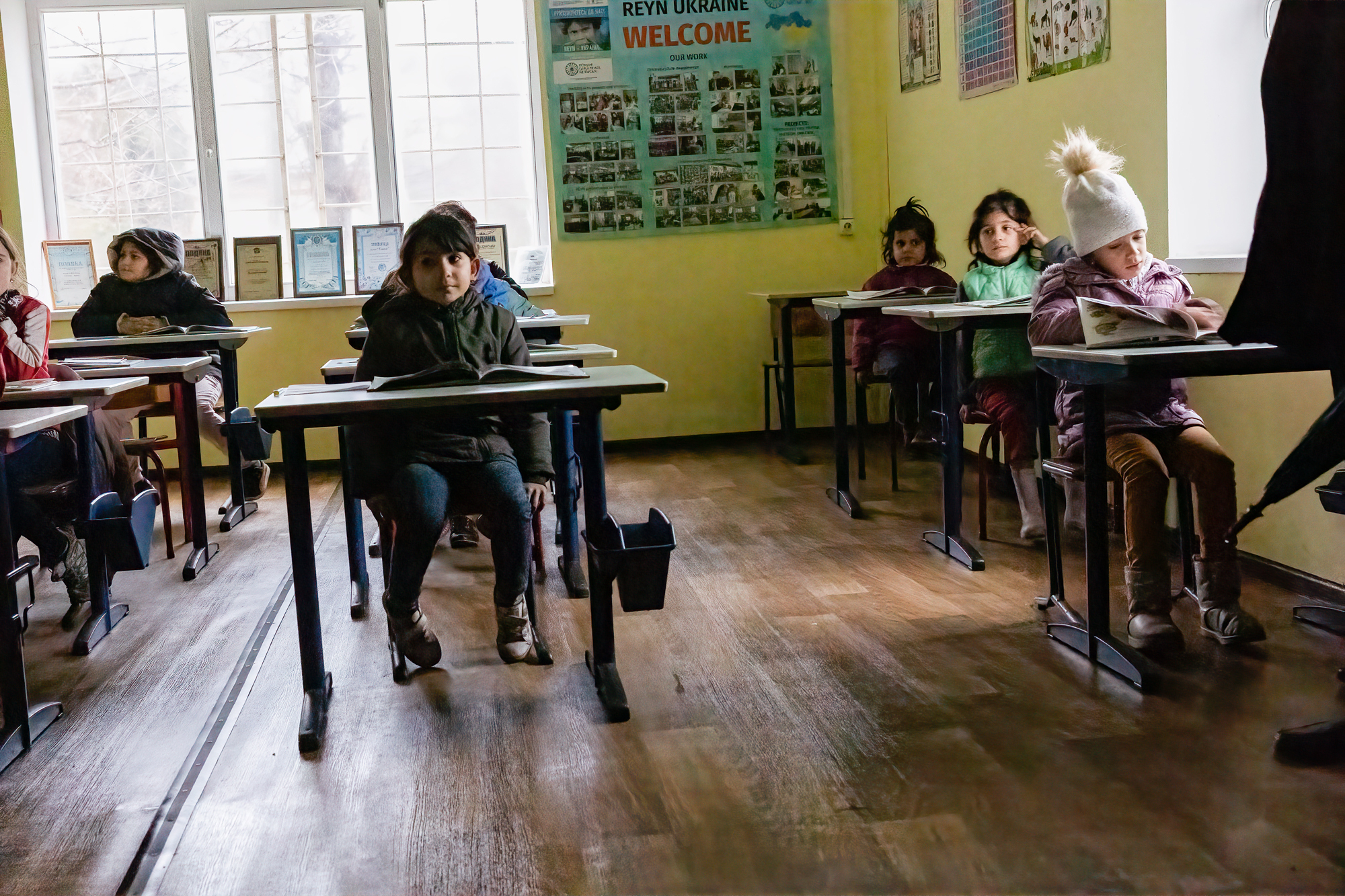 On a rainy, wintry day in Uzhhorod, a city in the far west of Ukraine, dedicated students sit at their desks, in the dark. The only light in the room is what comes in through the windows.
They wear winter coats and hats, bundled up against the cold. There is no electricity, which means there's also no heat. The temperature outside hovers a little above freezing and the classroom feels cold.
Electricity cuts are an everyday occurrence in Ukraine. The Russian military invasion has caused significant damage to infrastructure, and people are never sure when the power will come or go.
But the room is full, and the students all are engaged with the lesson, responding to the teacher's questions and coming up to the board to show their work.
This perseverance was what I saw over and over in person in a five-day visit to western Ukraine in December 2022 — and it's a theme I've witnessed in reports from MCC staff and partners since the conflict began last year.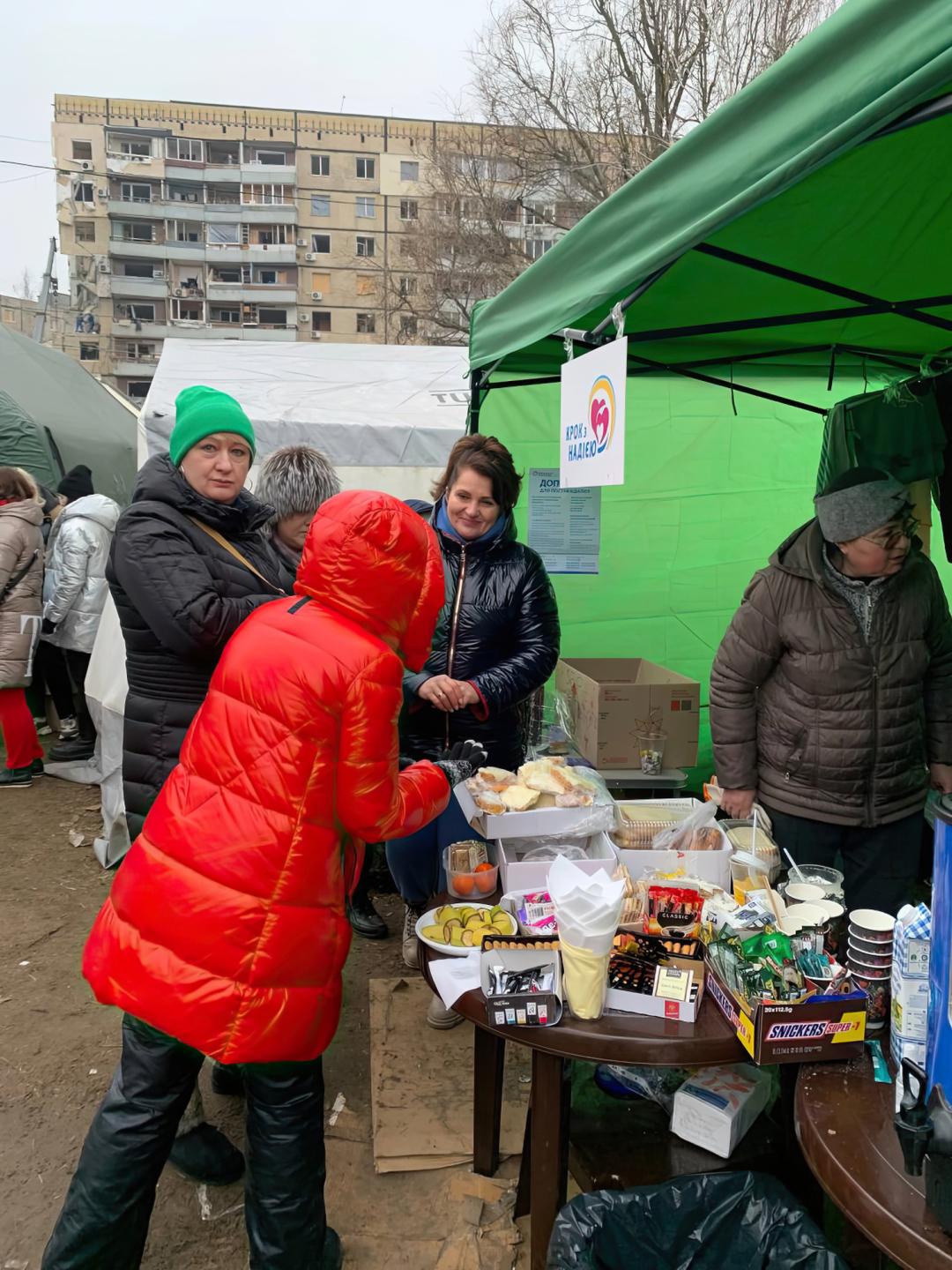 After the Russian military struck an apartment building in Dnipro in January, within an hour MCC's partner Step with Hope had set up a tent and was providing assistance. Step with Hope photo/Vladimir Zaikin
Some of MCC's partners, a year after being displaced from their own homes, continue reaching out to other displaced families.
Others have been able to stay put, providing urgently needed assistance in the midst of horrific destruction. I think of the time in January of this year when a Russian military strike tore into a large apartment building in Dnipro.
Within an hour, MCC partner Step with Hope's team and volunteers were setting up heating centers outside for people who had lost their homes that day and providing emergency supplies like food, water and warm clothes. The team remained on duty day and night in a tent near the apartment building while people were being rescued and in need of care.
Again and again, life is disrupted. And again and again, people find ways to carry on.
Again and again, life is disrupted. And again and again, people find ways to carry on.
Take the two-room school, run by MCC partner Blaho Charitable Fund to provide preschool learning for Roma children and prepare them for formal education.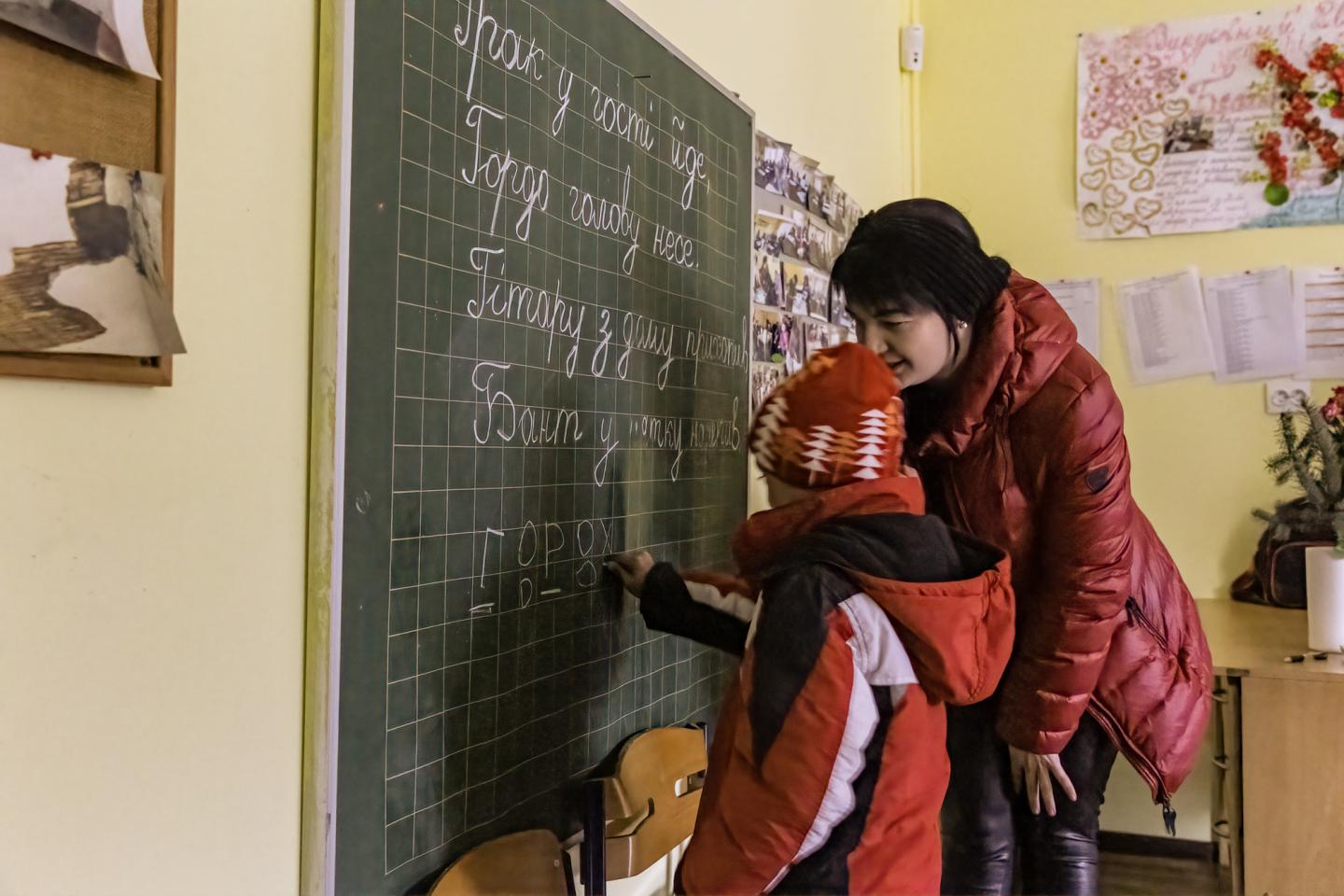 Roma people are an ethnic group living in countries throughout Europe but facing significant discrimination. They also often have lower levels of education, something the founder Eleonora*, a Roma woman herself, wants to change.
The most important thing is to teach them.
This education is very important for Roma children because if they can read and write, and if a person is educated, he or she is perceived differently," she says. "Humanitarian aid is needed 100% but it's not the main thing. The most important is to teach them."
At the beginning of the war, though, the school was temporarily closed to provide shelter for Roma families. They were facing worsening discrimination as they fled the violence and needed a safe place to stay.
But the conflict continued with no end in sight.
Eventually, Blaho Charitable Fund was able to rent a former restaurant and hotel and turn it into a larger shelter that can house about 150 people at a time, both Roma and other Ukrainians.
And the school reopened.
Children and families in the community had been asking Eleonora when they could come back for lessons. And the western part of the country was still relatively safe. "I understood there (are) no missiles coming here or rockets or bombs. And if state-run schools should work, we also should work," Eleonora says.
So the students press on, learning in the dark. The violence, the closure of the school and the power cuts have all disrupted their lives. But still life carries on.
Near Uzhhorod, in a small church, MCC partner Fire of Prometey hosts gatherings for children and their families. It's a chance for children to spend some fun time together, with songs, games and snacks. Speakers, like psychologists, are brought in to help parents support their children as they live through the conflict.
Natalia*, who fled the fighting in eastern Ukraine and has two children attending the program, says it makes a big difference for them, especially since they had to abruptly leave behind everything they knew.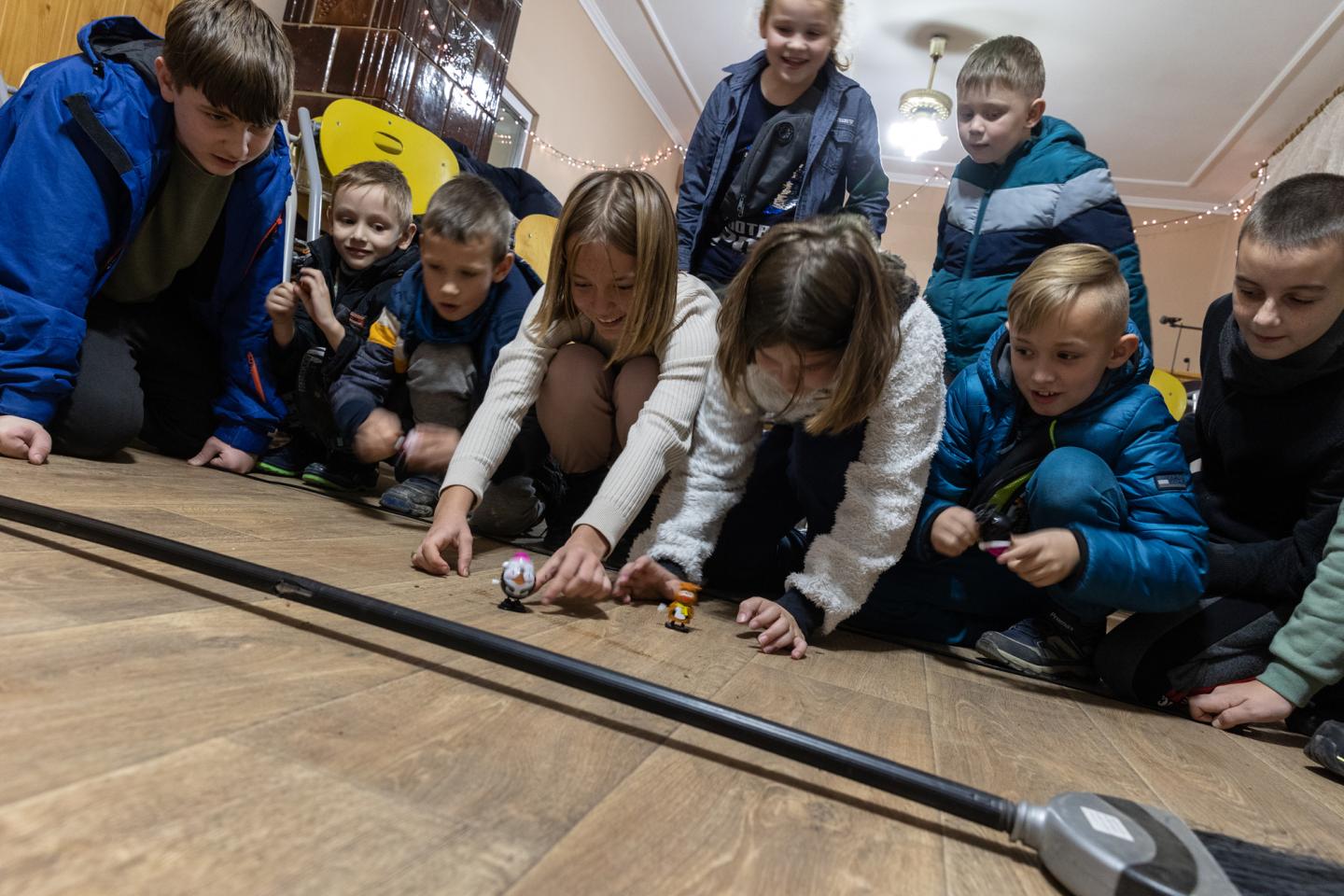 "[My daughter] doesn't have many friends here yet," Natalia says. "There she has a place where she can communicate. So it's sort of spiritual support for her . . . I think [these kinds] of programs are very important for the children especially when there is war. It's a big psychological support for children."
It's clear to see how much the children enjoy their time with each other, and how much they like Masha* and Kolya*, the couple who founded and run Fire of Prometey.
Masha and Kolya, like the children, left their home behind, fleeing Donetsk, where they were bringing children together after families were displaced when Russian military forces invaded the Crimean Peninsula in 2014.
That relationship building continues in this new context, bringing children who've been displaced together with others in the community, increasing empathy and understanding. "It's interesting the dynamic between [displaced] children and local children," Masha says, "because local children then learn to be compassionate to other children, to help other people."
Other vital parts of MCC support are the food packages and MCC relief kits and comforters that families receive through partners like the Association of Mennonite Brethren Churches of Ukraine (AMBCU).
After fleeing their home in Kryvyi Rih, closer to the front lines, Olga*, her husband and two children live in one of the shelters that AMBCU supports. In their room, bright MCC comforters are a beautiful contrast to grey shelter walls, and Olga says when the heat is off, they use the comforters to cuddle up together and keep the children warm.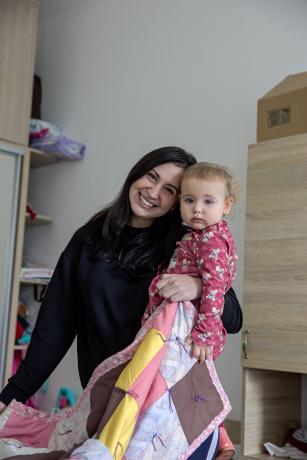 She's touched that the comforters are handmade. "In my childhood my grandma was doing this patchworking, and it's so special for me because when I saw that [this blanket] is handmade it was so dear to my heart."
And thanks to your support you make people a little bit happier.
The war has caused Olga's family, and everyone else in Ukraine, to adapt in ways they never expected. The electricity cuts mean she now keeps a gas burner for making coffee or heating milk for the kids. And when the power is on, she has a list of priorities from cooking food to charging devices.
In this new life, she says a lot of their happiness comes from small things they've received from others, like the comforters from MCC. "I think life, it will be okay, it will settle down. And thanks to your support you make people a little bit happier."
Emily Loewen is the marketing and communications manager for MCC Canada.
*Full names not used for security reasons.