Unless you count our comforters, beautiful handmade art is not the first thing you associate with MCC. But God works in mysterious ways and in the last two years, MCC has been blessed with the gift of art.
In 2017, an original painting by acclaimed Canadian folk painter Maud Lewis was found in a donation bin at one of our Thrift Shops. It later sold for $45,000, breaking all previous records for her art with proceeds going toward the relief, development, and peace work of MCC.
This past year, another gift of art came to MCC – this time from Instanbul, Turkey.
It started with Mazlum and Margie Lambert-Sen who are residents of Kitchener and had connected to MCC as part of a sponsor group for a Syrian family in 2016. Mazlum, who is from Turkey, and Margie had been offered a unique opportunity to buy a huge collection of original art from Memduh Kuzay, an artist they love and had connected with while visiting Turkey.
"We said, 'OK, maybe we can buy this artwork and donate the profit'," Margie recalls. "But we didn't know how to sell so much art!" Margie and Mazlum started looking for charities that aligned with their values to donate the art to and ended up contacting MCC.
"We were so thrilled to receive these beautiful works of art," exclaims Kim Lester, Associate Executive Director of MCCO. "I think it's a win-win that people can take home gorgeous art and invest in peace-building at the same time. I'm so grateful to Margie and Mazlum for their generosity and this unique opportunity."
Meet the artist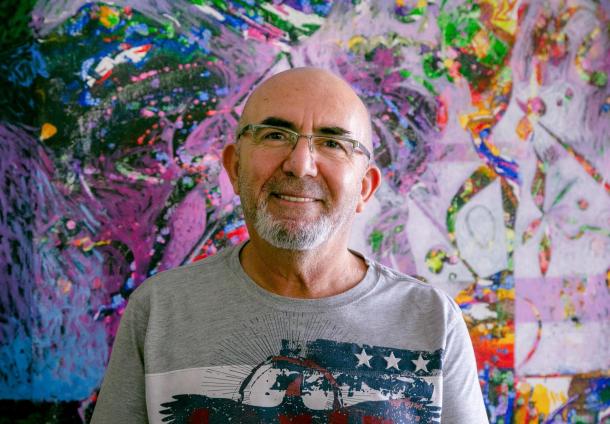 Margie told us that their writer friend was visiting Turkey and could take some photos and interview Memduh himself for us. Here is an excerpt from that conversation. Thank you to Kimberly Bryant for your beautiful photos and facilitating this interview!
Have you heard about how your artwork was distributed in Canada? How do you feel about your art being used to promote and support relief, development and peace work?
I think it's a brilliant idea and I'm very happy to be a part of it. When Mazlum brought the idea to me, I was in full support of it. I would've liked myself to come to Canada but getting the visa and traveling would've been too challenging for me right now. The paintings were already in the US, so it was simple enough to transfer them to Canada.
How can art promote peace?
I believe that it all started 12 to 14 thousand years ago, before the alphabet was ever invented. Humans began creating art – whether it was the caves in France or Spain. And it still continues to this day. Even though we have so many other advancements nowadays, art still remains. And it's always had just one cause: to promote beauty, and to promote happiness – so it's kind of like promoting peace. It comes with this expression of happiness and positivity. I believe that it's very natural that art supports peace, 100%.
What are your own artistic goals and values?
To start with, my goal is to be able to paint until my last days. In terms of my values, I believe in the uniqueness of my work and the idea that an artist must always try to outdo himself, to be better each day, and should be able to enrich the language of art in some way.
I'd also like to add: the biggest enemy of an artist is fear. An artist has to be brave, they have to be on the front lines. I believe that I do that. I express myself fully through my paintings. And for people who understand, they understand it.
Any message to those who will purchase your work in Ontario?
I would like to remind people, first of all, that they'll be going home with a unique and rare piece of art. Second, they should feel proud about investing the money into such a great cause. When they hang the painting in their houses, every day, whenever they look at it, they'll be celebrating the good deed they've done for humanity. It's a beautiful reminder in the form of art – so they're actually celebrating themselves through the art. I really love being a part of that.