2022/2023 Annual Report for MCC in the U.S.
Image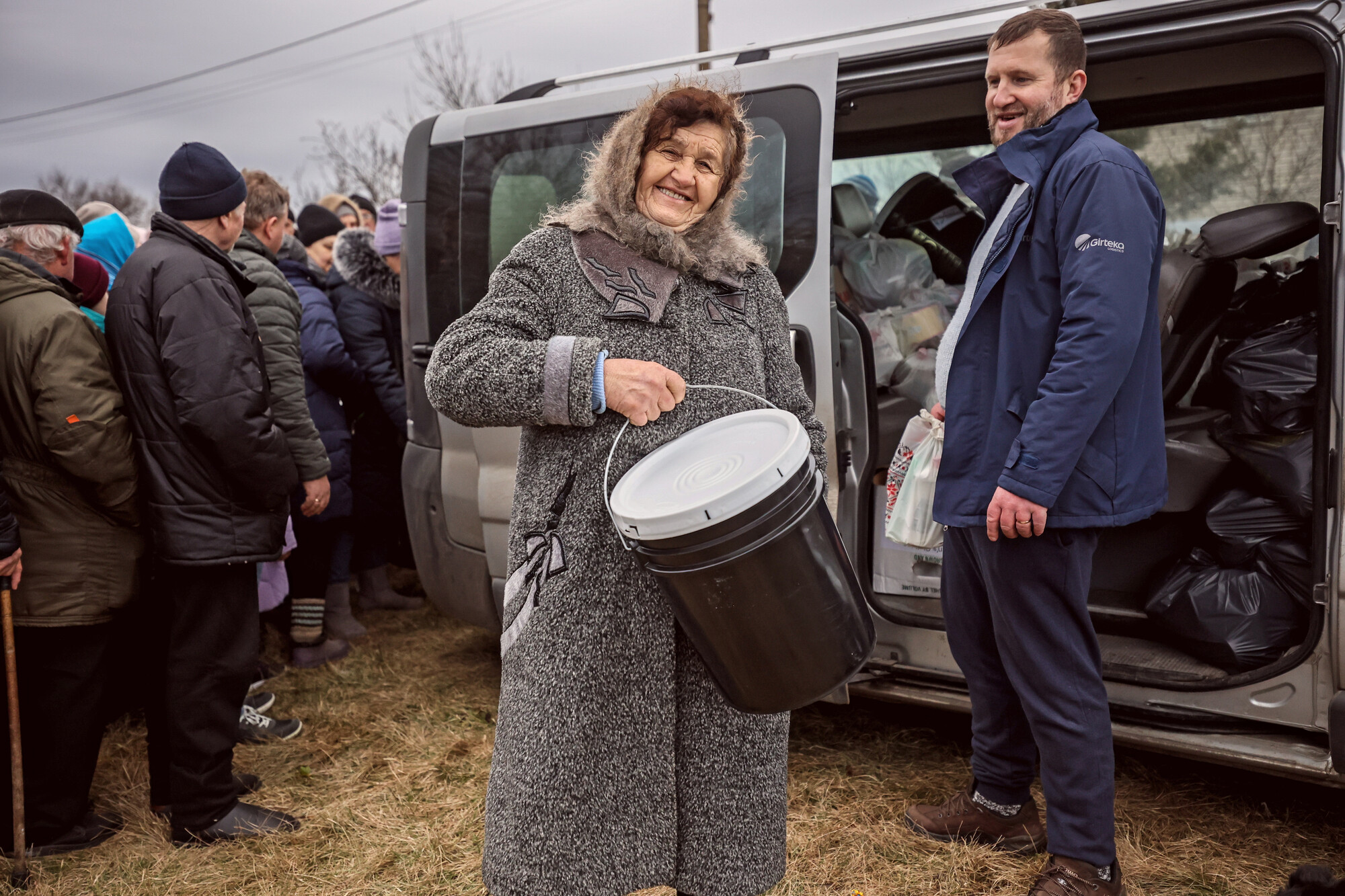 Thank you for changing lives through MCC 
Greetings from Ann Graber Hershberger, MCC U.S. executive director
Enjoy a glimpse of what you've helped accomplish in this past year.
Image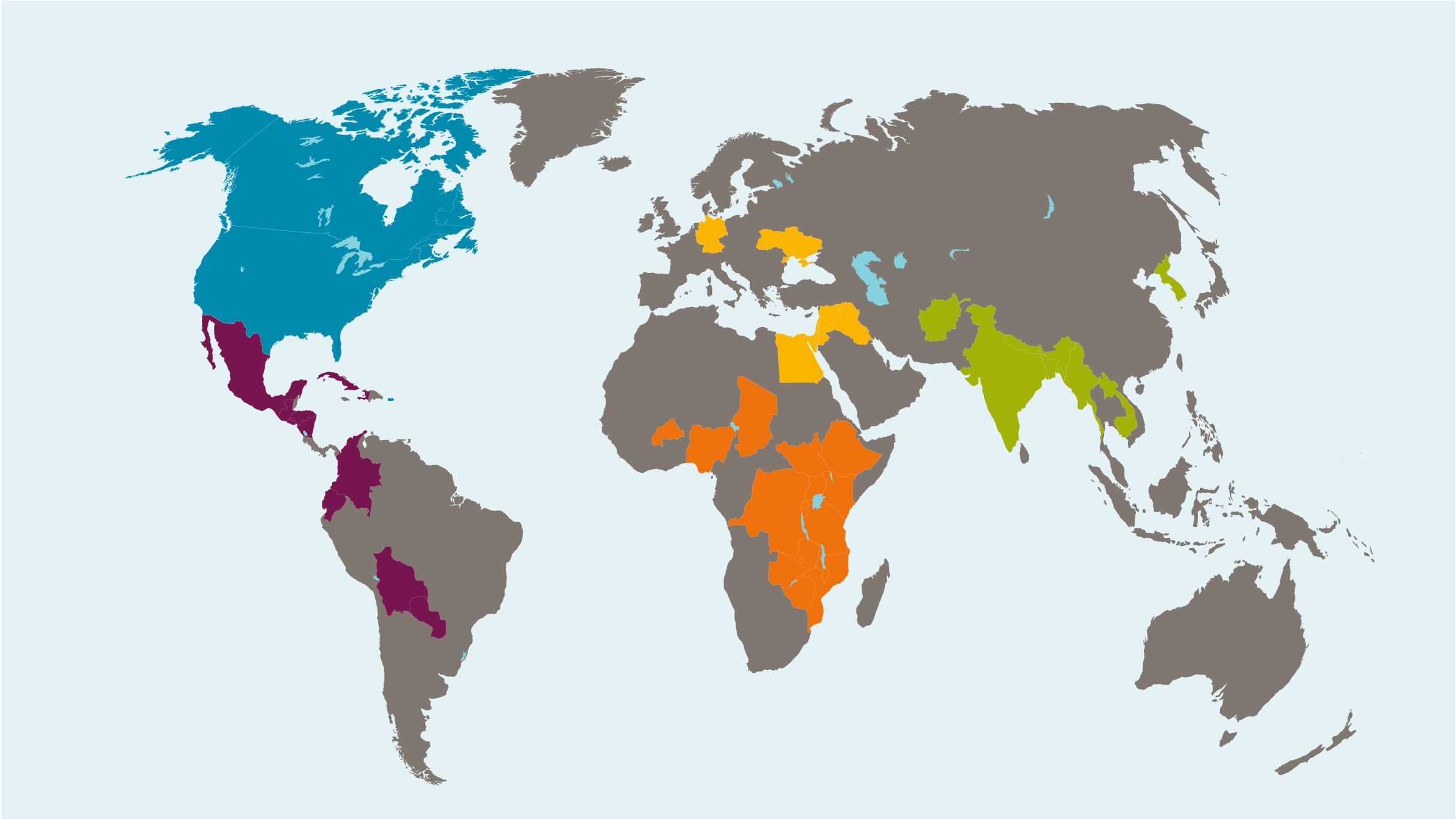 Africa
145 MCC workers
$19.8 million
Asia
123 MCC workers
$5.9 million
Europe & the Middle East
59 MCC workers
$15 million
Latin America & the Caribbean
88 MCC workers
$6.5 million
Canada
492 MCC workers
$9.1 million
United States
201 MCC workers
$8.2 million
*These figures for regions, along with $9 million in multiregional expenses, represent MCC's spending on program from April 2022 through March 2023.
What we accomplished together
Resource Space
Building for a brighter future
"I work this land with my son...we're building something new, for our children and the next generation." — Fausto Rodríguez Gómez, farmer, Llano Bajo, Chiapas, Mexico
In rural parts of Chiapas, Mexico's southernmost state, economic inequality and land disputes have left many households facing food insecurity. MCC partner Institute of Intercultural Studies and Research provides training and resources to local farmers like Fausto Rodríguez Gómez. He has learned about subjects like natural fertilizers and insecticides and received materials like chicken coop netting.
44K
people trained in improved agriculture and animal production methods
39K
people received agricultural supplies, including seeds and tools
68%
increase in the variety of food grown in kitchen gardens with support of a food security project in Bangladesh
105
food security and livelihoods projects in 34 countries
Image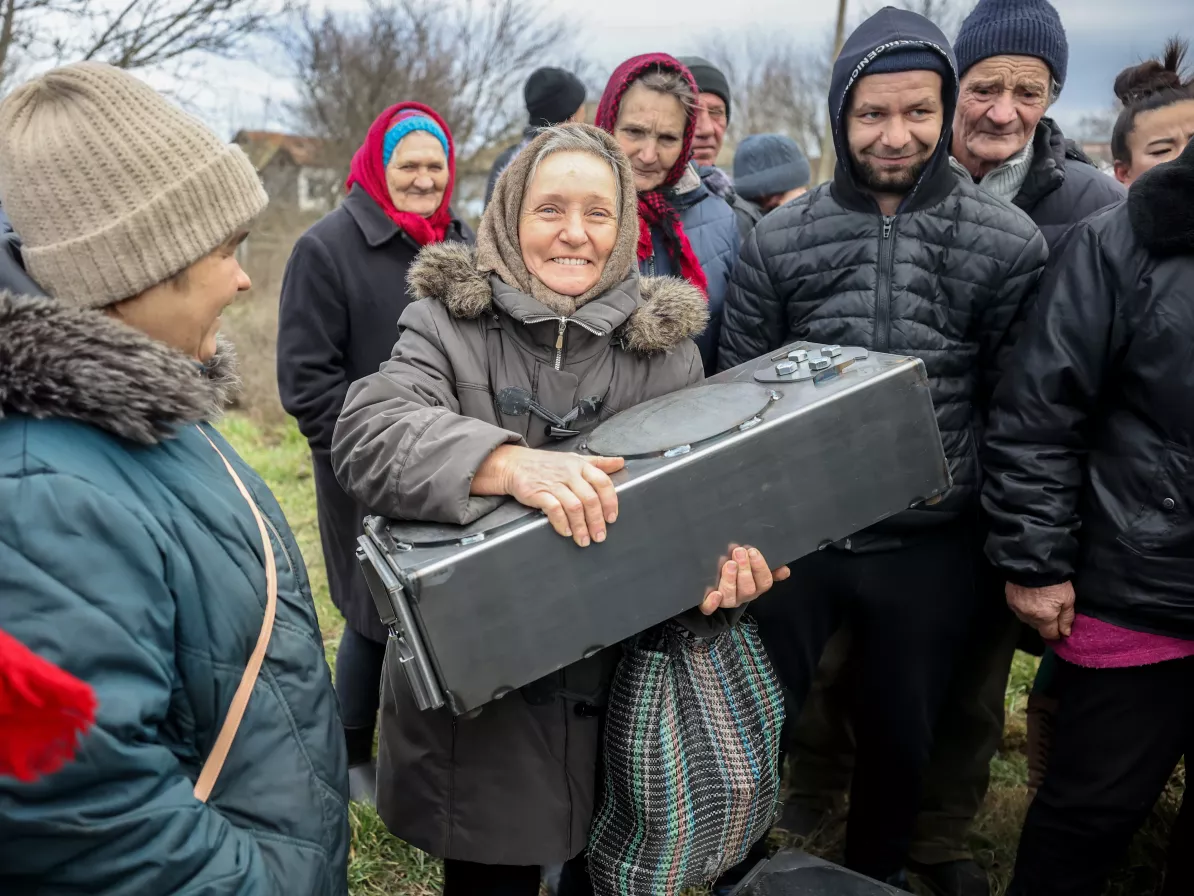 Responding in a time of crisis
"We gave to people whose homes were destroyed, people who lost their jobs, the elderly people with small pension benefits and people living with disabilities." - Nadiya*, MCC program coordinator, Ukraine
Because of your generous and prayerful contributions, Ukrainians with no other support are getting their basic needs met. MCC sent comforters, canned meat and other relief items to city of Uman and nearby areas, and provided supplies, like this wood stove a recipient* is holding, to help people survive the cold winter with limited heating or electricity. (*Names shortened or omitted for security reasons.)
208K
people received emergency food assistance globally
62K
people in Ukraine have been supported through MCC's 14 local partners
1,552
households received home repairs or reconstruction
575K
pounds of canned meat provided protein and nutrients
Image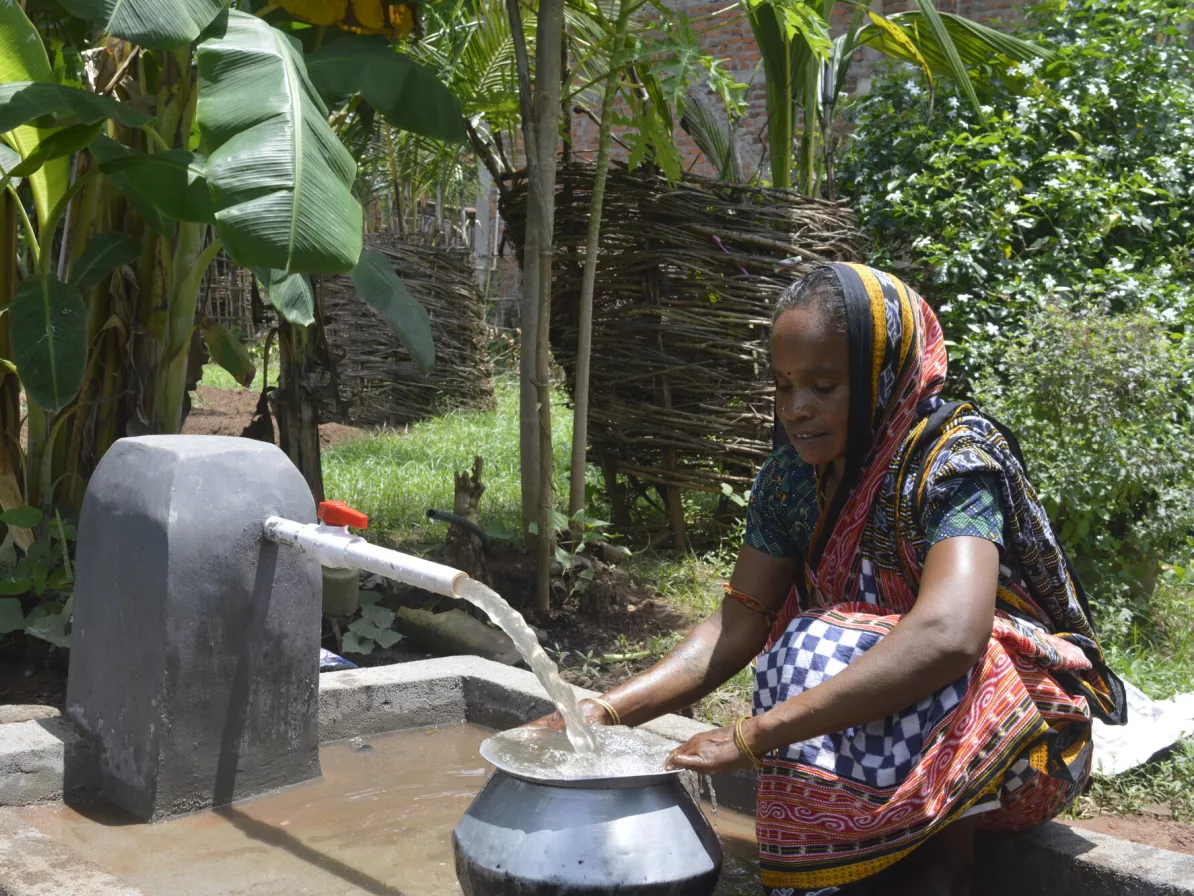 Celebrating the gift of clean, nearby water
"I used to spend about three to five hours a day collecting water for household chores. Now, things changed because of MCC and ISARA's support." —Malli Karji, Rugeising village, Odisha, India
Malli Karji collects spring water from a tap installed by MCC partner Institute of Social Action and Research Activities (ISARA) in Rugeising village. ISARA has been installing water harvesting systems in many villages to save women time on daily tasks and improve the health and hygiene of families.
55K
people now have access to an improved water source
16K
people now have access to a new or improved latrine or sanitation facility
201
drinking water systems built or repaired
315
water harvesting structures for irrigation constructed or repaired
Resource Space
Bringing new technology and opportunities
"Empowerment is giving voice, giving opportunities for people to choose what they want to do." — Caroline Pugeni, Mwenezi District, Zimbabwe
As a project coordinator for Score Against Poverty, an MCC partner in Mwenezi District, Zimbabwe, Caroline Pugeni not only provides opportunities for local women through clean energy technology and climate adaptation projects. She's also showing other women that they, too, can be community leaders and make an impact in this rural region.
8K
adults received vocational training and business skills
65K
children benefitted from MCC school kits and other school supplies
2K
individuals were trained as health care workers or community health promoters
1K+
parents in Kolkata, India, learned how to better support their children's learning at home
Image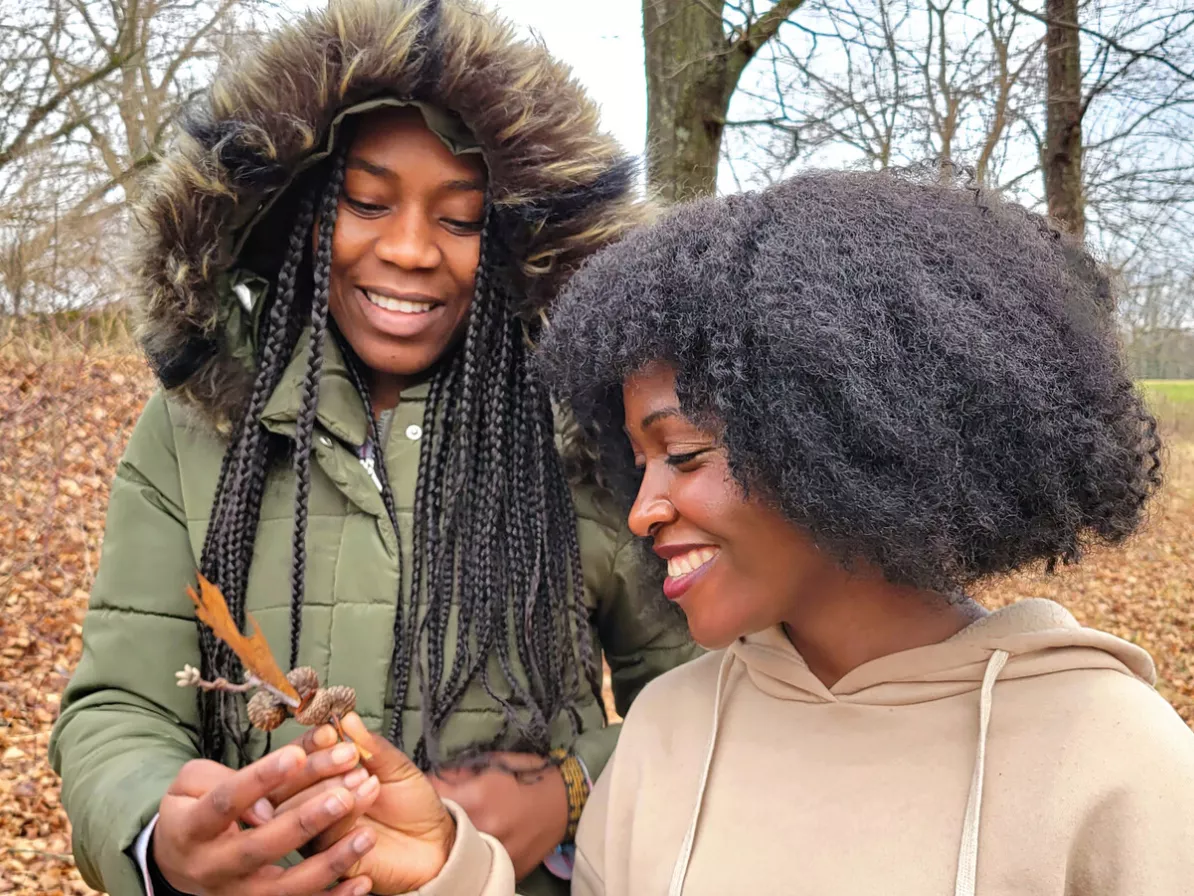 Promoting peace and healing
"I found everything interesting and life giving. Especially speaking about trauma and ways to deal with trauma." — Josephine "Phina" Kalondji, Boston, Massachusetts
Phina Kalondji, left, and Mwajuma Katembo were among 24 young adults at a weeklong "Peace for the weary" camp in January 2023. Participants at MCC peace camps need only pay a registration fee. Thanks to the support of people like you, MCC covers all other costs.
30K
people trained in conflict transformation, peacebuilding or mediation globally
6K
advocacy letters sent to U.S. policymakers
399
peace clubs active this year
38
meetings with U.S. policymakers
We invite you to explore just a few of the ways MCC has made a difference in communities across the U.S. in the past year.
We are so thankful for all who generously shared their time and resources to make these efforts possible.
Empowering immigrants
MCC supports partners like Women's Global Village, which helps immigrant women in Pennsylvania earn income, socialize and heal from trauma.
Serving local communities
MCC Appalachia volunteers like Tim Snyder and Bob Jantzi lend their time and talents to repair homes in West Virginia and Kentucky.
Uniting through service
MCC Thrift shops make an impact across the U.S. In turn, volunteers like Alice Graber, 100, of South Dakota, can meet service-minded neighbors.
Global Center, local ties
The MCC Global Center opened in Reedley, California. It offers immigration services, art displays, coffee, sewing classes and volunteer opportunities.
Tomorrow's peacemakers
Through MCC and Fresno Pacific University's Multicultural Peace Collaborative, young adults took the trek an immigrant might take to central California.
Protecting God's creation
MCC staff in Washington, D.C., help people like these Eastern Mennonite University students advocate for causes like addressing climate change.
Image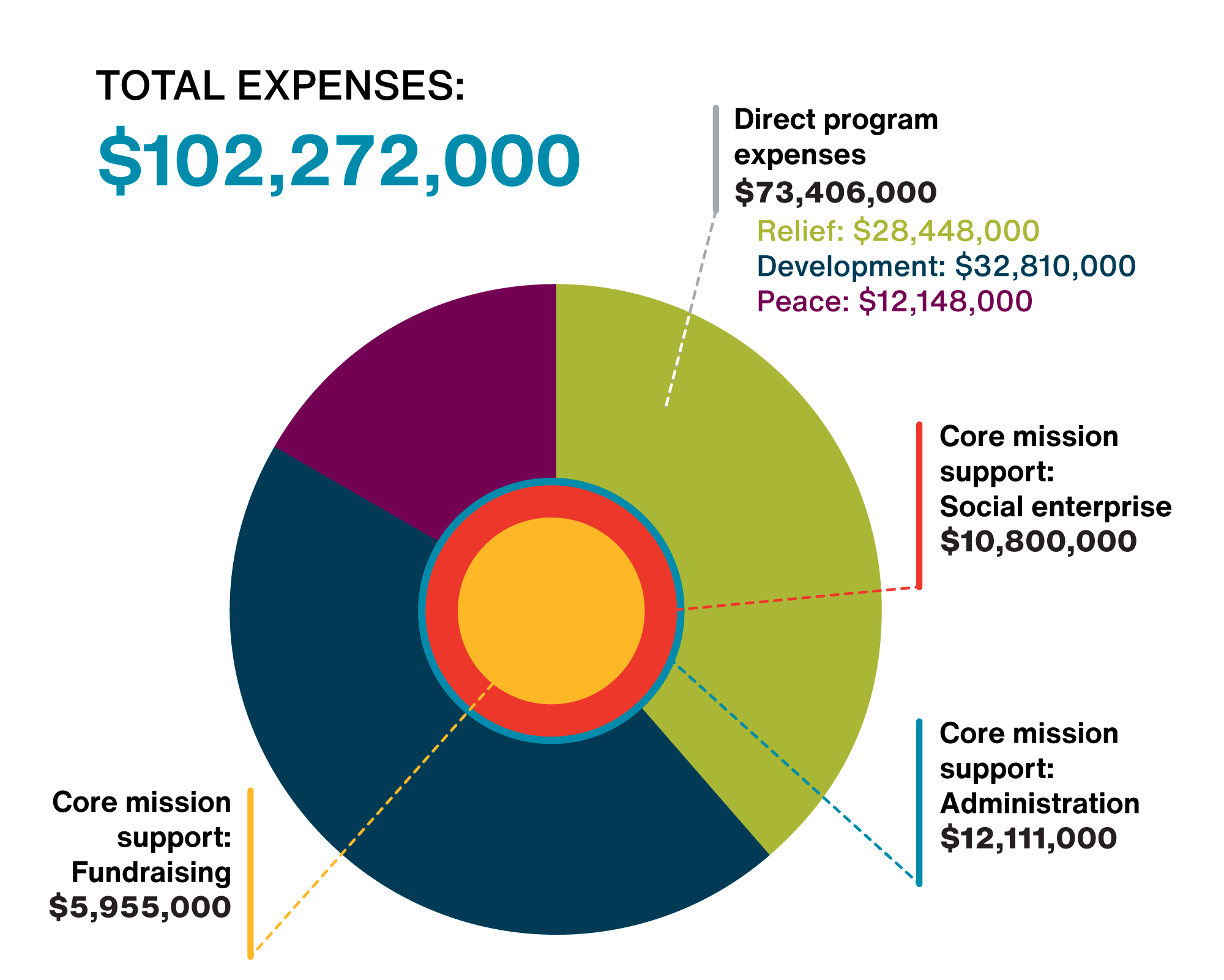 Total expenses: $102,272,000
Direct program expenses
$73,406,000

Relief: $28,448,000
Development: $32,810,000
Peace: $12,148,000

Core mission support

Social enterprise: $10,800,000
Administration: $12,111,000
Fundraising: $5,955,000
Image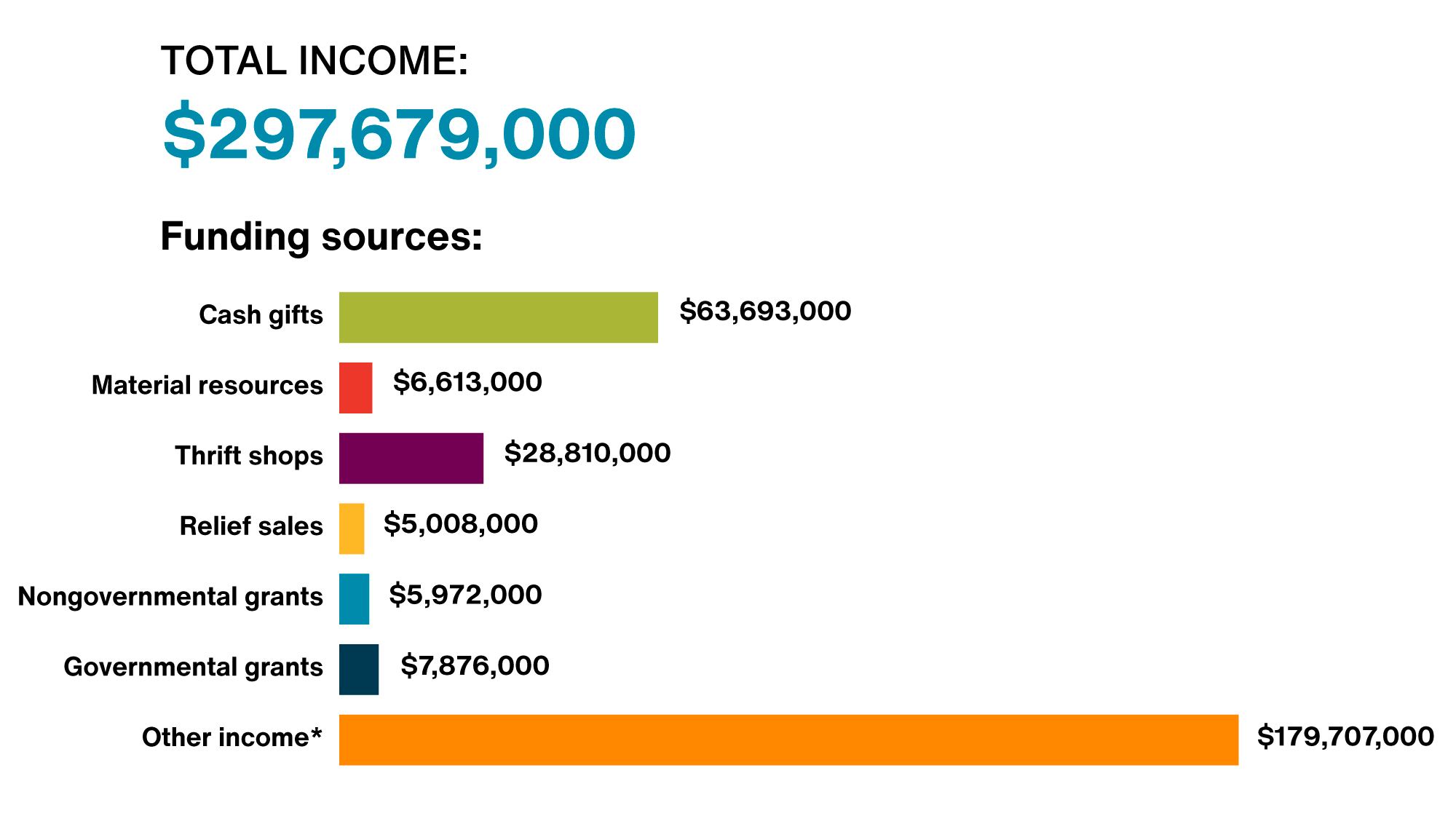 Total income: $297,679,000
Funding sources:
Cash gifts
$63,693,000
Material resources
$6,613,000
Thrift shops
$28,810,000
Relief sales
$5,008,000
Nongovernmental grants
$5,972,000
Governmental grants
$7,876,000
Other income*
$179,707,000
MCC U.S. and MCC Canada jointly operate and share financial responsibility for MCC's work globally. These figures represent all combined operations of MCC from April 2022 to March 2023.  
See more complete financial numbers, plus information on leadership, board and supporting denominations in this PDF of our annual report. The MCC Audited Financial Statement for 2023 is not currently available on the website. If you would like to view this please email: donate@mcc.org.
*The figure includes a gift of properties to MCC British Columbia, managed by its subsidiaries, of $179 million which is intended to generate earnings to support MCC's work. 
Give where needed most
Every donation makes a difference.