2022/2023 Annual Impact Report - Ontario
Image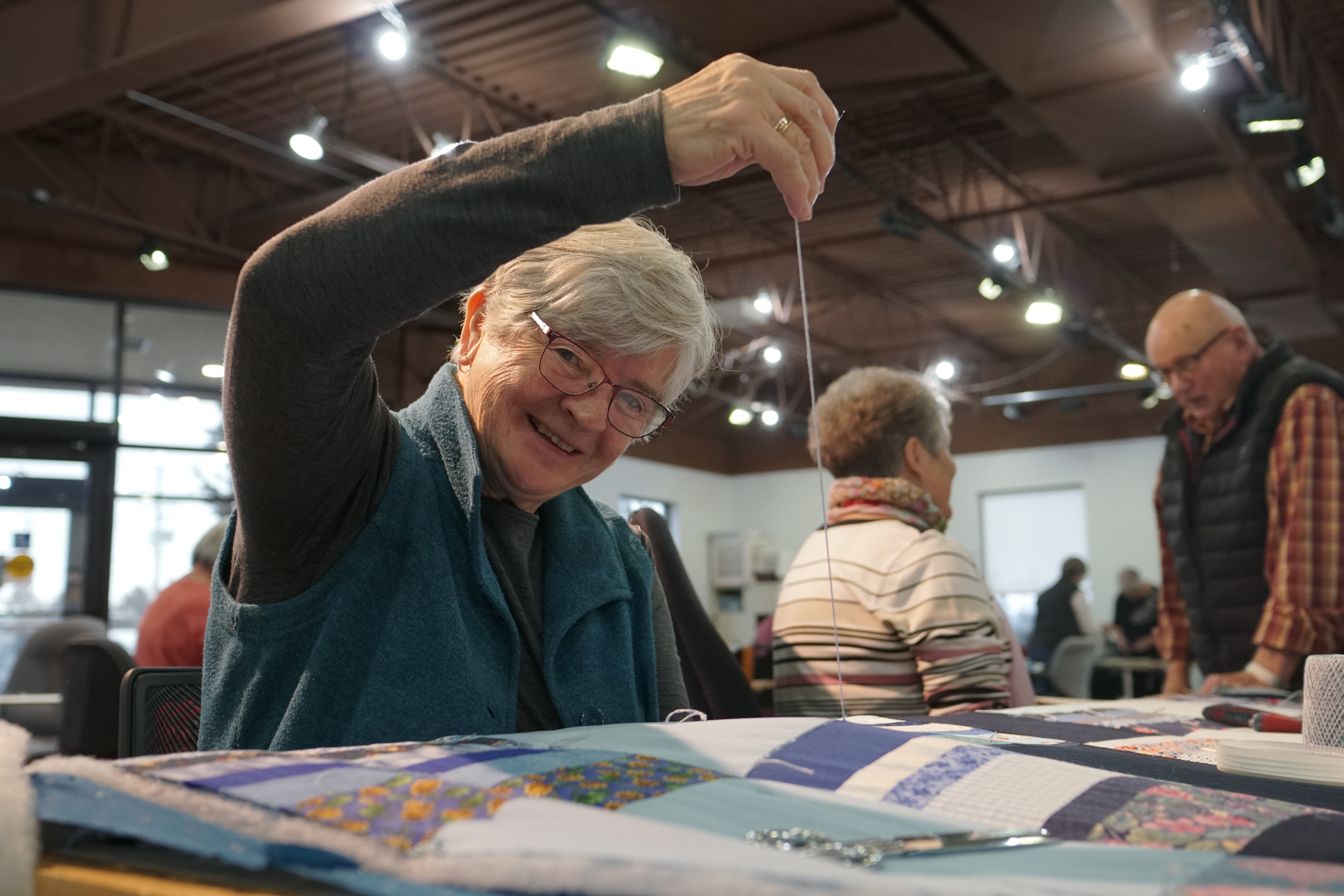 Thank you from MCC Ontario's executive director
Highlights from MCC Ontario
Image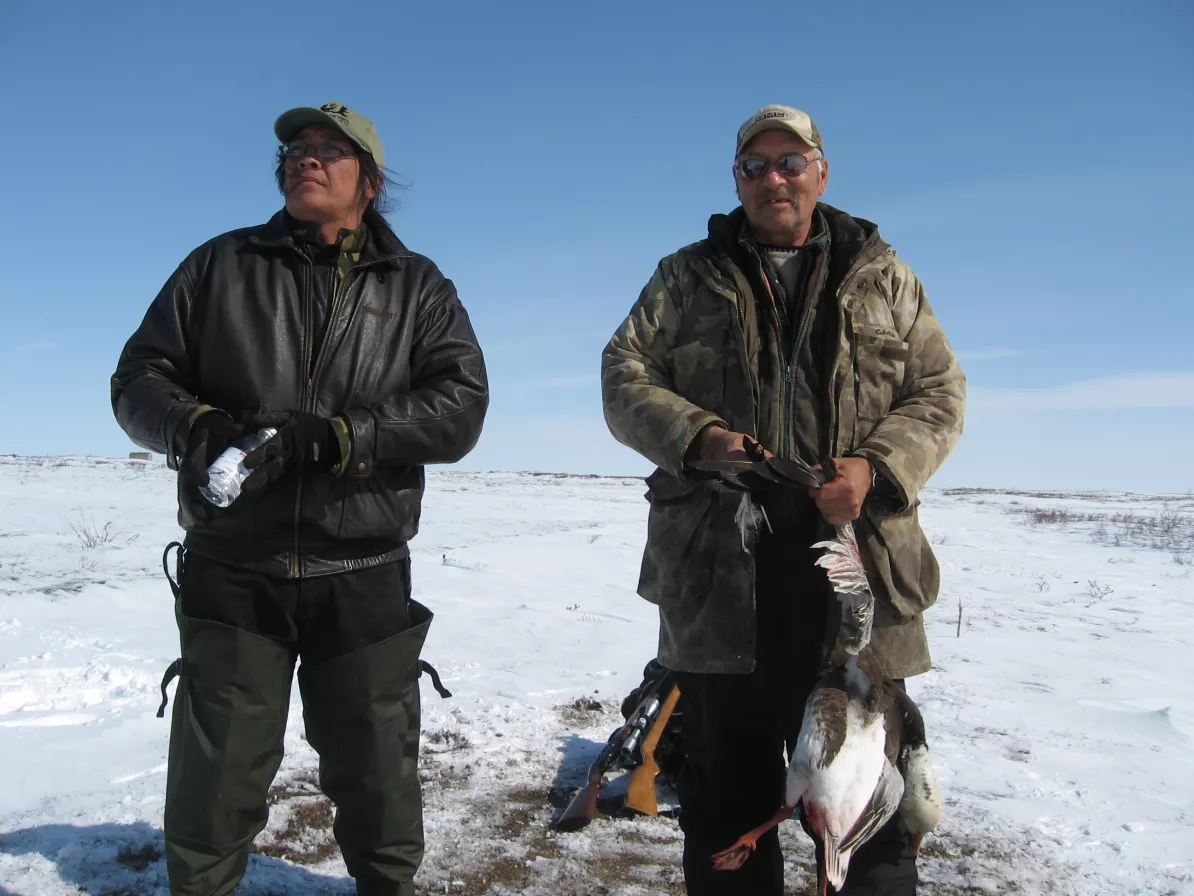 Indigenous Neighbours
Thank you for partnering with MCC Ontario to help address issues of food sovereignty and clean water while responding to the impact of colonialism on Indigenous Peoples.
Photo caption: Bill Louttit (right) and Brian Hunter with some geese from the spring hunt of 2008 near Lake River, Ontario. MCC photo
15
Partners engaged Indigenous food sovereignty initiatives with the support of MCC.
50
Single-parent and elder-led families from the community of Attawapiskat received wagons to assist with carrying clean, safe water.
269
Comforters were sent to Residential School Survivors as a symbol of respect, support and love.
48
People joined Niska Artisan Lucie Iserhoff for a powerful time of learning about colonial impacts on Indigenous Peoples.
Rebuilding food sovereignty
Bill Louttit and his seven brothers and sisters grew up eating wild game in the fly-in community of Lake River about 180 km north of Attawapiskat. "Everything you needed to eat was outside th door," recalls Bill. Today, because of the disruption of traditional food systems and knowledge caused by residential schools and colonialism, most Indigenous communities rely on overpriced, poor quality food shipped from urban centres.
MCC has partnered with First Nations communities all over Northern Ontario to support food sovereignty with initiatives such as community garden kits which come complete with all the tools and seeds needed to start a large garden.
Image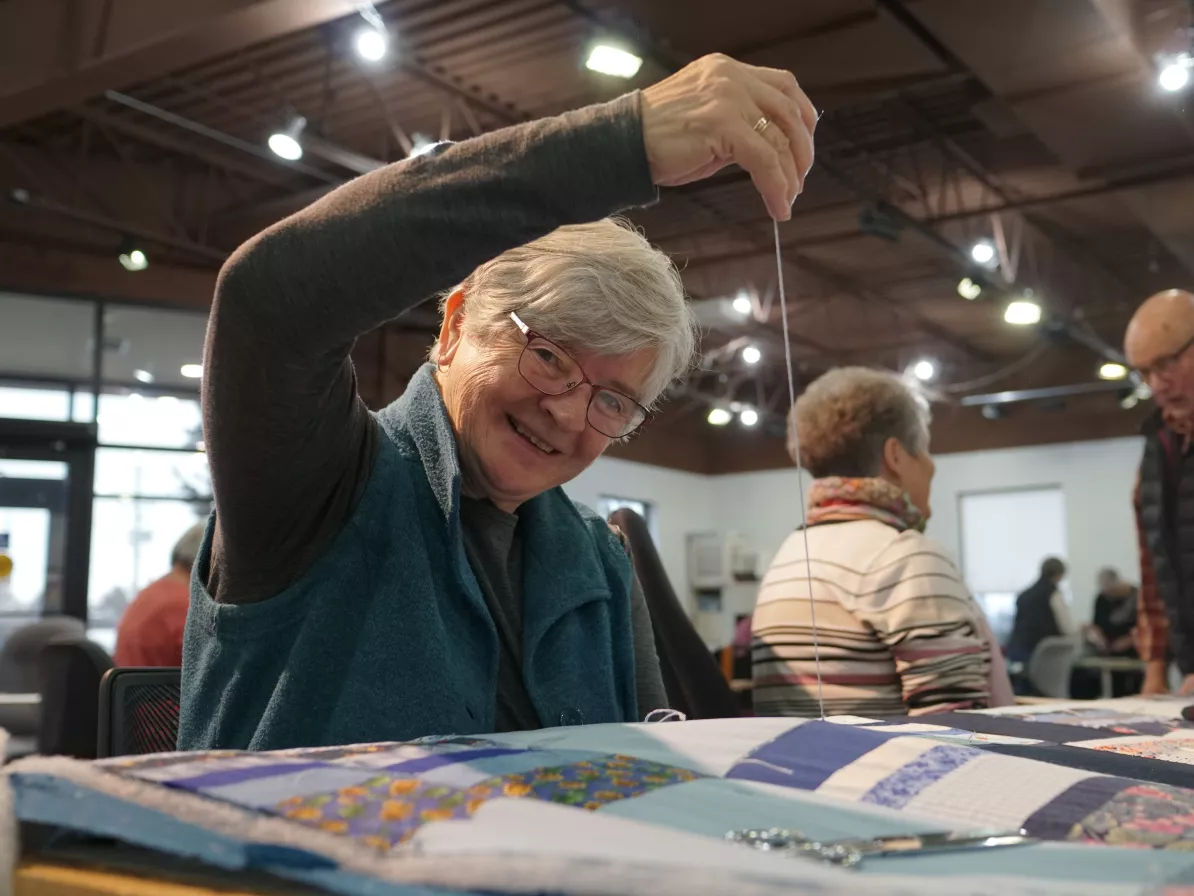 Material Resources
Thank you for providing urgent relief to people in need. Your generosity goes beyond physical needs; your gifts show someone in crisis that they are loved and not forgotten.
Photo caption: Sharon Martin Brubacher knots a comforter at the Material Resources Centre in New Hamburg as part of the Great Winter Warm-up. MCC photo/Ken Ogasawara
386
Volunteers knotted comforters, packed kits and loaded shipments, providing tangible relief and hope to people in crisis around the world.
400
Dignity kits provided essential support for vulnerable women and girls.
80
Cartons of laundry and bath soap helped families prevent diseases and remain healthy.
18K
Tubes of toothpaste helped children maintain their oral health in the midst of conflict and disasters.
The Great Winter Warm-Up
In February, 122 people gathered at the MCC Ontario Material Resources Centre to knot comforters during the Great Winter Warm-up, a week-long comforter-knotting blitz. Across Ontario, hundreds more gathered in churches, homes and apartments. Each comforter provides warmth and compassion to individuals and families who have lost so much.
Image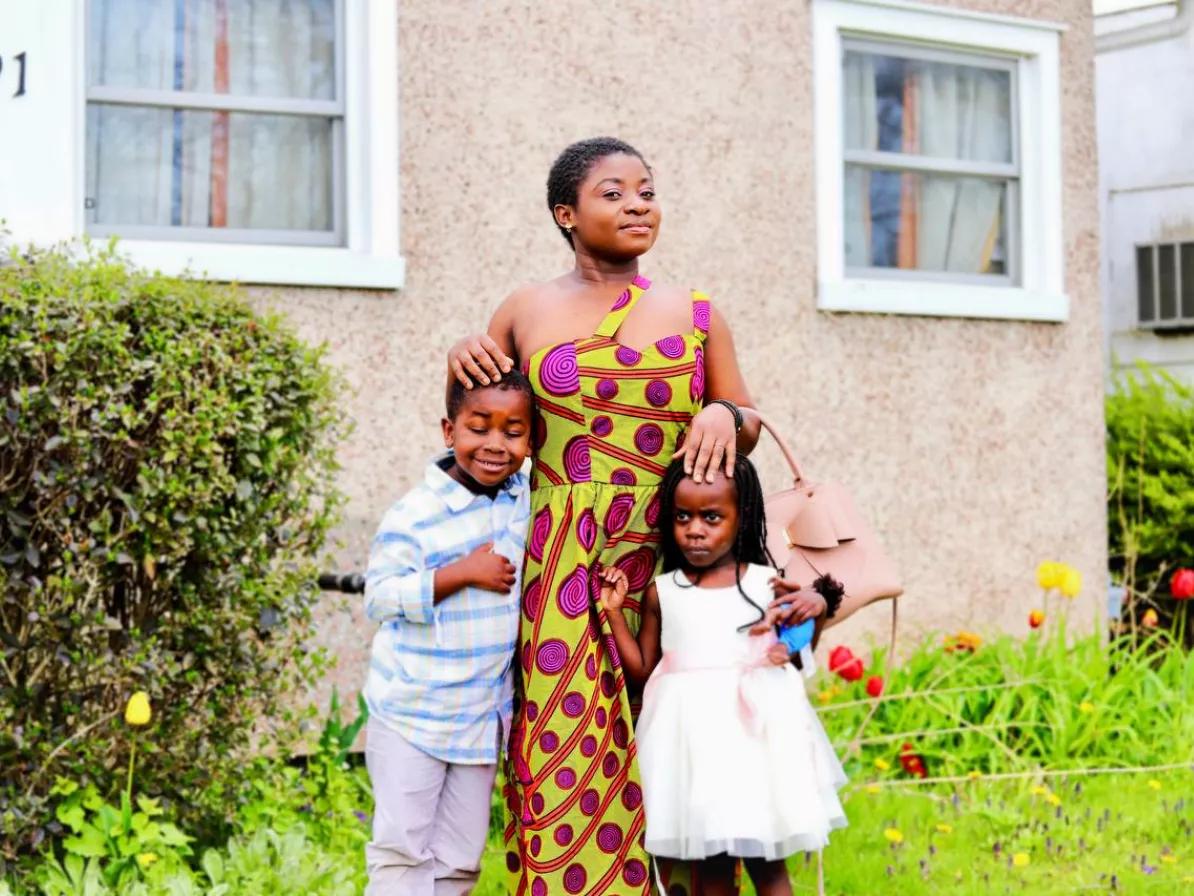 Migration & Resettlement
Thank you for coming alongside those who have been uprooted and for welcoming newcomers to Canada. The positive impact of your generosity will last for generations.
Photo caption: Tawimbi and her children MCC photo/Benja
305
newcomers were supported as they started a new life in Canada.
171
Active sponsoring groups were supported as they navigated the refugee sponsorship process.
205
Service providers to the Low German-speaking community increased their capacity to better serve this community.
Hope is on the horizon
Tawimbi and her children fled violence in Democratic Republic of Congo and immigrated to Canada in 2017, but she was forced to leave her husband behind in a Tanzanian refugee camp. Issues with the residency paperwork and then COVID-19 closures meant that he has been unable to see his family for over six years. The wait was long, and at times it has felt like all hope was lost. But your compassion and care have supported them every step of the way.
In March 2023, we received the happy news that Tawimbi's husband was finally just one step away from being reunited with his family. Hope is on the horizon!
Image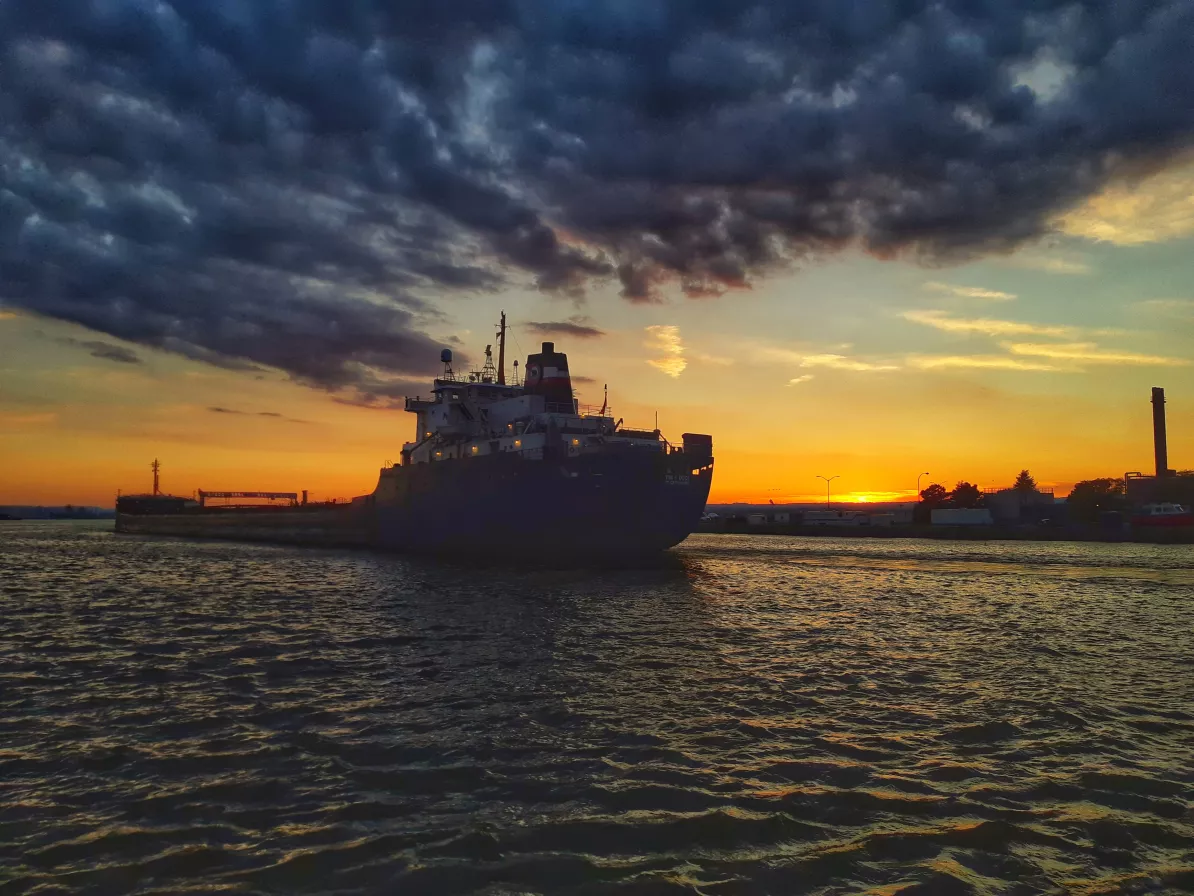 Restorative Justice
Thank you for choosing to partner with MCC in the work of restorative justice. You are helping to build a culture of peace for all.
Photo caption: The Dismas Photo Club is an art project that was created and led by folks reintegrating into community after serving a sentence and by the volunteers who support them. The project is a creative way of expressing beauty. This photo was taken by Sylvia Richards, partner of Circle of Support and Accountability volunteer Ian Sutherland. Dismas Photo Club/Sylvia Richards
81
Individuals convicted of sex offences were supported and held to account as they continued to maintain crime-free lives.
1.5K
Individuals were trained to respond to harm or conflict using nonviolence and promote peaceful solutions.
100
Recently released individuals were supported in
reintegrating into communities following incarceration.
Returning to community
We know the impact of prison and how overwhelming it is to return to the wider community. Our participants face incredible difficulties after incarceration. Challenges and frustrations can lead to isolation, and isolation often leads to re-offence. The Faith Community Reintegration Program
 FCRP) comes alongside formerly incarcerated individuals who want to make meaningful spiritual connections. This year, FCRP served 19 women with this goal. The program also supported these women to ensure no breach of parole conditions. We are happy to report that 100% of participants had no breach of conditions and no new criminal charges.
Image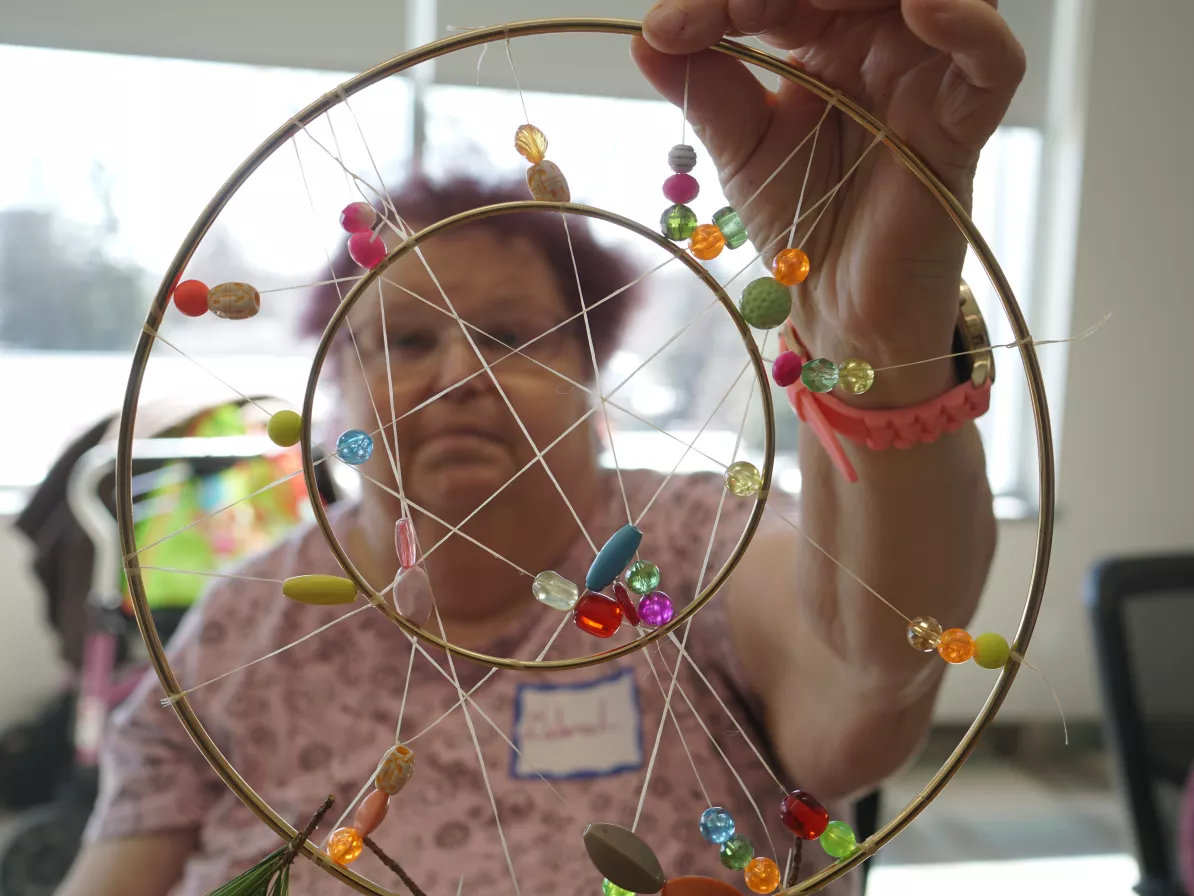 Walking with people in poverty
Your partnership with MCC fosters connection, creates meaningful employment and advocates for vulnerable people. The impacts of your generosity are far-reaching!
Photo caption: Deb proudly shares a dreamcatcher she made at
the Circle of Friends retreat. Indigenous Neighbours staff Mim Harder taught the group how to create dreamcatchers. MCC photo/Ken Ogasawara
7
Individuals with disabilities or barriers to traditional employment enjoyed meaningful work by serving up more than 26,000 cups of soup through the Raw Carrot Soup Enterprise.
9
People's Action Group members with lived experience in homelessness advised the Region of Waterloo on effective policies to address homelessness.
333
Circle of Friends meetings supported individuals and families transitioning to stable housing.
Community in times of crisis
Circle of Friends supports individuals and families transitioning from homelessness and shelter-living to stable housing in the community.
Ben* was one of those people. When Ben was diagnosed with an aggressive form of cancer, he didn't have many people to be there for him, but he was not alone. His Circle created care packages for him and continued their visits at the hospital which he appreciated so much.
Ben eventually died in hospital, but his story remains one of resilience and hope.
Last year, MCC supported 17 active Circles, facilitated 333 Circle meetings and worked with 34 volunteers.
*name changed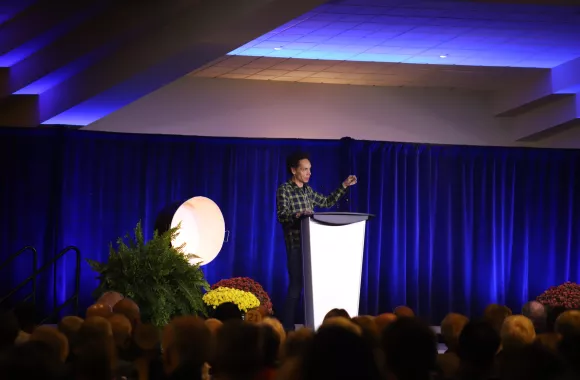 The Power of Partnership
Photo caption: Best-selling author, honorary Mennonite and K-W native Malcolm Gladwell was the keynote speaker at MCC's Power of Partnership event in October 2022. MCC Photo/Shoua Vang
Malcolm Gladwell
The Power of Partnership describes the essence of MCC's approach to our work in relief, development and peace in the name of Christ. That was the theme for MCC's signature event in October 2022 in Kitchener with best selling author, honorary Mennonite and K-W native Malcolm Gladwell. The event celebrated MCC's centennial of 2020, but was postponed because of the global pandemic crisis. About 650 MCC friends and supporters gathered for an amazing evening that will last long in the memory. Using stories and sports analogies, Gladwell emphasized the evening's theme of the power of developing relationships with local, on-the-ground organizations. He also spoke about how working together as a team can bring peace, dignity and hope to those who need it most. Gladwell challenged the audience to carry the message that building a better community requires teamwork such as those shown by a soccer team. Attendees generously contributed over $150,000 to support MCC's efforts here in Ontario and worldwide.
Image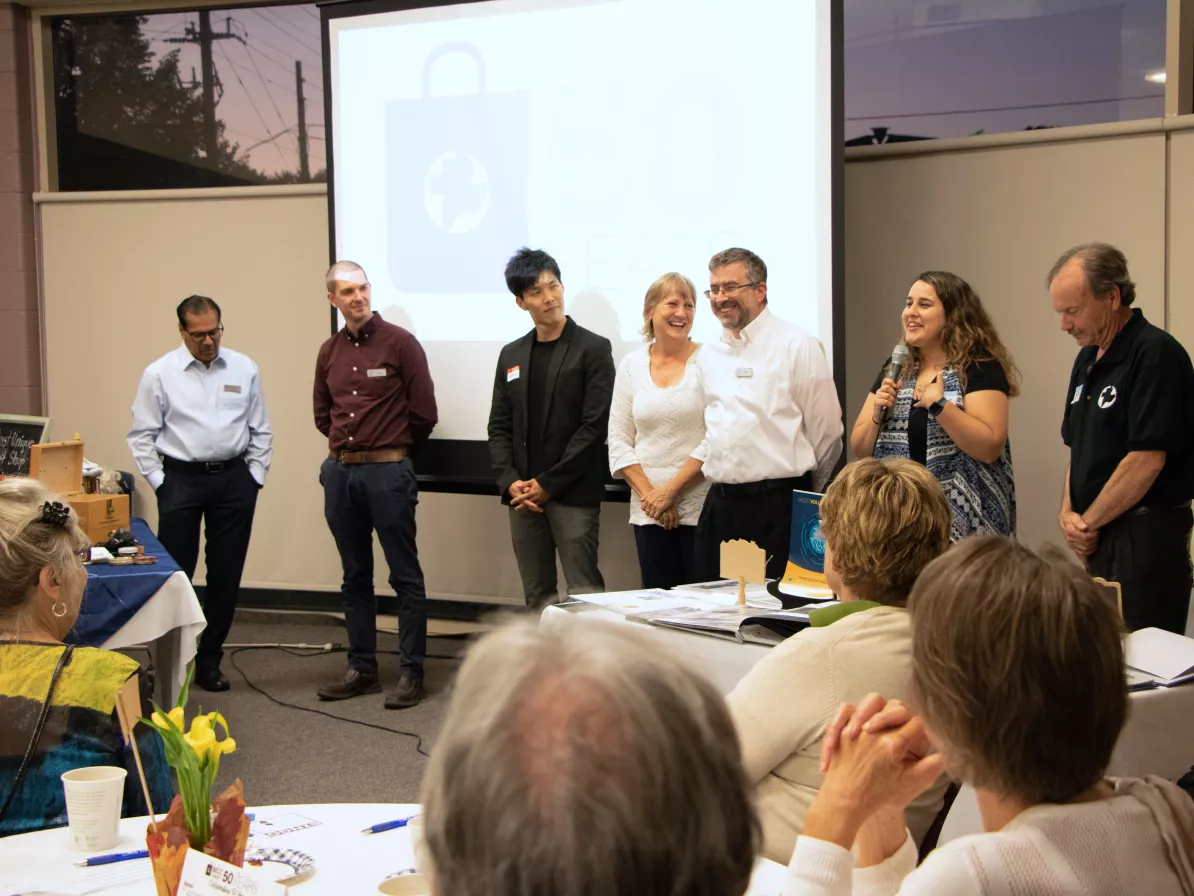 50 years of MCC Thrift
In 2022, MCC Thrift celebrated 50 years of supporting MCC's work in relief, development and peace. Across Ontario, volunteers and staff gathered to celebrate this milestone and reflect on the impact thrift has had in our local and global communities. From its humble grassroots, MCC Thrift has grown to a thriving network of six shops and three associate shops in Ontario where purchasing dishes can help support newcomers to Canada, or donating books can help provide reading material to students in places like Rwanda.
Photo caption: MCC Care and Share staff and volunteers gathered in Stouffville to celebrate MCC Thrift's 50 anniversary. MCC Photo/Janessa Pretorius
$2.5M
items were donated, sorted, merchandised
and sold in MCC Ontario thrift shops.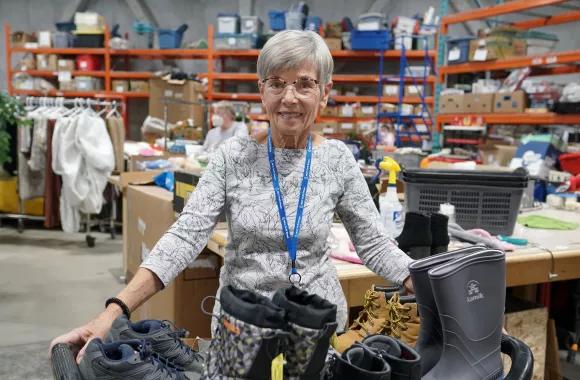 Training Active Bystanders
Because of your support, thousands of community members across Canada have been empowered to be active peacemakers.
"I'm thankful the Lord led me to the MCC peacebuilding course and for learning about active bystandership." - Andrea, TAB participant
Photo caption: Thrift on Kent volunteer Barb LeBlanc uses her training to turn a potential crisis into a great customer service experience. MCC photo/Ken Ogasawara
Standing for peace
Training Active Bystanders (TAB) is a program that equips us to respond to moments of crisis, whether large or small, in a peaceful and de-escalating manner. TAB has been implemented by MCC's Restorative Justice team since 2019.
Participants have found TAB to be a practical tool for peacebuilding, as well as an opportunity to learn more about one's self.
One participant wrote:
"I find it a bit easier to see the human being behind actions or words that are hurtful, rather than automatically falling back into my habitual reaction which is to try to convince them I'm right."
Barb LeBlanc, a volunteer at an MCC thrift shop, showed how being a gentle yet "active bystander" not only prevented a potential argument between customers who wanted the same pair of sandals, but turned it into an above-and-beyond customer service experience by finding a suitable pair for each customer. "There was a potential for confrontation – thankfully it didn't occur."
In collaboration with 11 partners, MCC has trained over 2,000
participants across Canada.
Financial highlights
The financial information on this page represents the operations of MCC Ontario for the year ending March 31, 2023 and has been prepared from the audited financial statements. Complete audited financial statements are available upon request or at MCCOntario.ca/annual-report.
Expenses
$20,767,096
MCC Ontario dollars at work
$13,292,306
International programs 
$4,202,117
Ontario programs
$1,034,523
Fundraising
$2,238,150
Administration
Image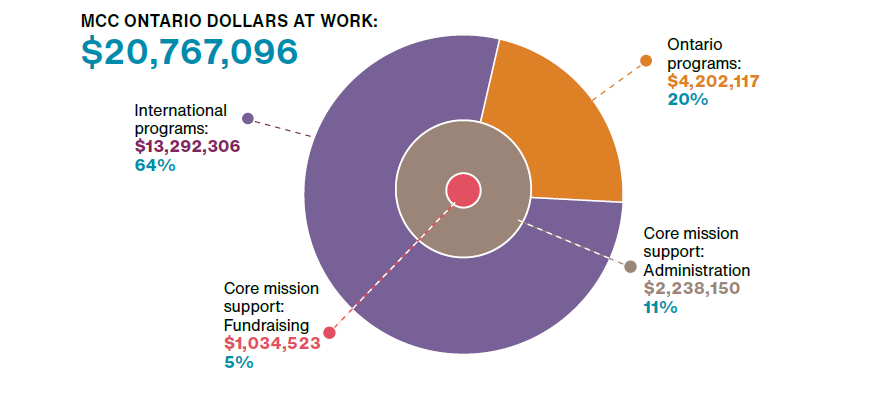 $4,202,117
MCC Ontario program dollars at work
$2,183,338
Migration and Resettlement
$645,947
Poverty
$533,007
Indigenous Neighbours
$530,262
Restorative Justice
$274,097
Material Resources
$35,466
Peacebuilding & Education
Image

Revenue
$23,486,406
MCC Ontario funding sources
$13,870,960
Donations
$4,733,563
Thrift
$2,218,441
Estates and trusts
$1,488,322
Other
$587,619
Material resources
$420,870
Relief sales
$166,631
Grants (government and other)
Image

Give where needed most
Every donation makes a difference.