Love for all who enter
An MCC partner offers care and training, helping young women gain a stronger sense of their own worth and new possibilities for the future.
Image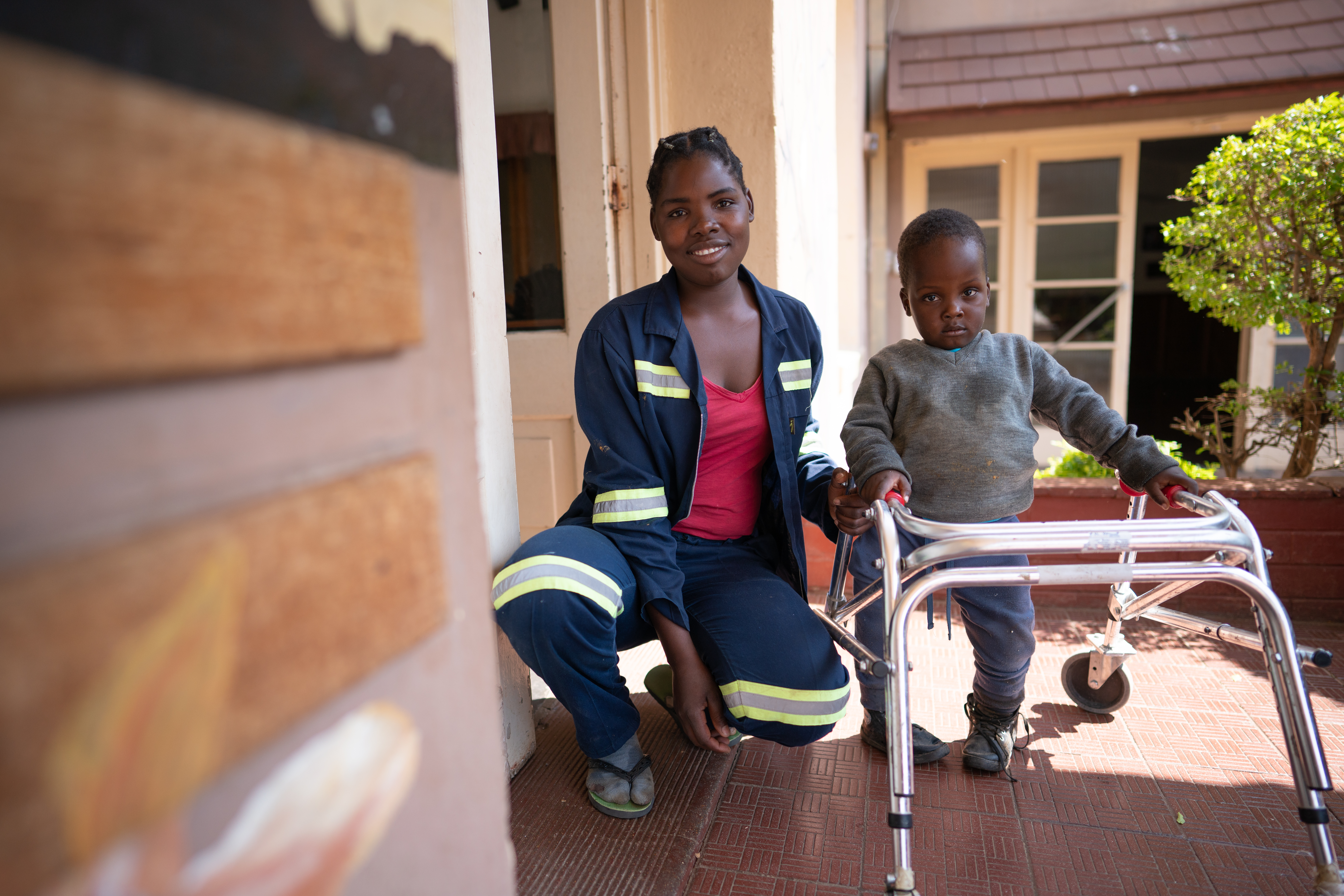 The mural painted on the wall near the entrance of the Sandra Jones Centre in Bulawayo, Zimbabwe, reads, "All who enter here find love." Patricia Nyandoro, 25, is finding out what that means.
She came to the facility in April with her 3-year-old son, Taropafadzwa Blessing Shumba. They had both been rejected by their village and their family because Taropafadzwa had been born with spinal problems.
"In our family we do not have disabled people, so he cannot be part of the family," Nyandoro recalls her family telling her. Taropafadzwa's father and his family also rejected the child.
Nyandoro moved from relative to relative, looking for a place to live, but always they shunned her. Eventually she left the village, carrying her baby on her back and finding places to spend the night in various shops and, for a month, in a shelter.
"I lost all hope," Nyandoro says. "I felt so bad and useless. Even if I could find a job, there was no one who would be able to look after the baby."
When Taropafadzwa developed sores on his feet, Nyandoro convinced bus drivers to transport them to Bulawayo for medical care. The hospital, which specializes in helping children with disabilities, kept them for three months for free while her son had surgery.
When the hospital staff discharged them, Nyandoro admitted she had nowhere to stay, and she couldn't afford ongoing medical care. That's when the hospital connected Nyandoro with Sandra Jones Centre, an MCC partner.
And Nyandoro, with her son, walked through the doors into the loving care of the staff and a life of new possibilities. They were given a place to live and nutritious food three times a day, plus medical care for Taropafadzwa.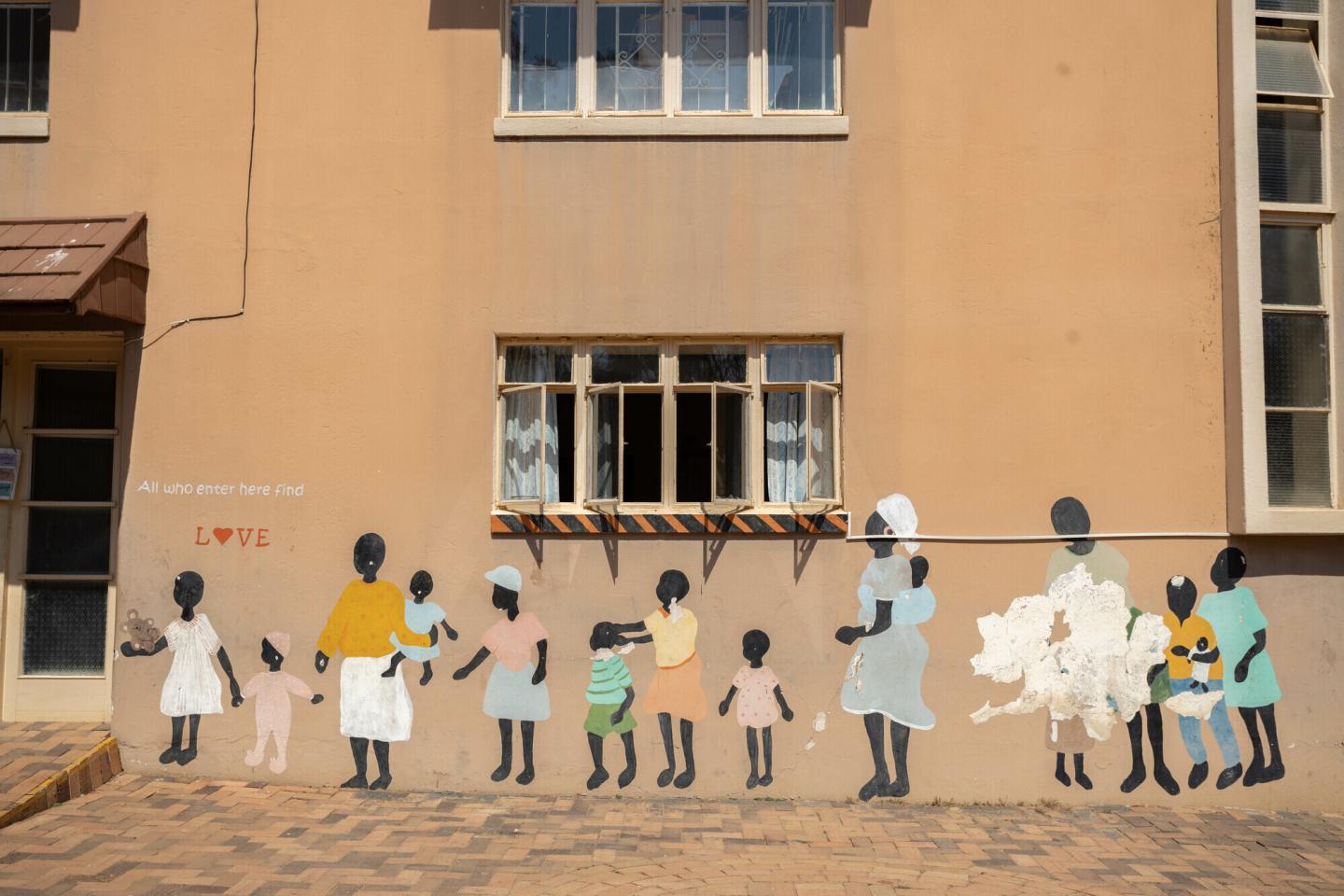 The women who come to the Sandra Jones Centre receive a safe place to stay, three meals a day, counseling, Bible study and training in vegetable gardening and chicken rearing.
At the center, they live with other young women or teens who also came with wounded hearts. Some were forced into marriage as preteens. Others experienced a lifetime of food shortages, insufficient education and often sexual abuse.
"We are here to help them, be a refuge for them, to help them . . . find themselves; see how they can pick themselves up and be able to move on with their lives," says Tina Dube, codirector of the organization with Debby Brennocks, whose friend Sandra Jones started the center.
We are here to help them, be a refuge for them, to help them...find themselves; see how they can pick themselves up..."
Part of moving on means teaching the women skills in farming and chicken rearing. These skills prepare them to become self-sufficient when they return to their rural homes or move out on their own.
The women spend early mornings and late afternoons in the fields and greenhouses, tending to tomatoes, corn, cabbage, peppers and other vegetables.
It's a large operation. The pepper greenhouse, for example, has 1,000 red pepper plants and 1,000 yellow peppers. Extras not used to feed the young women are sold to help defray the costs of running the organization.
"From the time I came, I didn't even know how a tomato is planted up to maturity," says Primrose Nyoni, 22. "I now know from day one. This is how we do it: We plant the tomato plant and then after some time it starts having flowers.
We know it's about to mature, so I add fertilizer, some manure that is needed for it to grow. After two weeks, I come again and top off the fertilizer." MCC provides seedlings, fertilizer and tools in addition to gumboots, gloves, hats and work overalls.
Nyoni, a second-year participant, is being paid a small amount to teach new participants how to grow the vegetables. Before coming to Sandra Jones, she had to quit secondary school to support her younger sibling and her mother, who is ill. Her father had deserted the family.
She cleaned houses, where she says she experienced a lot of physical and verbal abuse. She used the money from cleaning to start a small business selling tomatoes that others grew, but she couldn't make enough money.
After she finishes this second year at Sandra Jones, Nyoni plans to return home and plant her own tomatoes and cabbages to sell. She says she also feels better equipped emotionally and spiritually to take care of herself because of what she has learned through other teaching at the center.
"Studying the Bible has really helped me. I don't just open the Bible because it's time for church. I open the Bible for my day-to-day living. In the morning before I start anything, I open the Bible and I read the Bible, which has helped me with the anger issues that I had."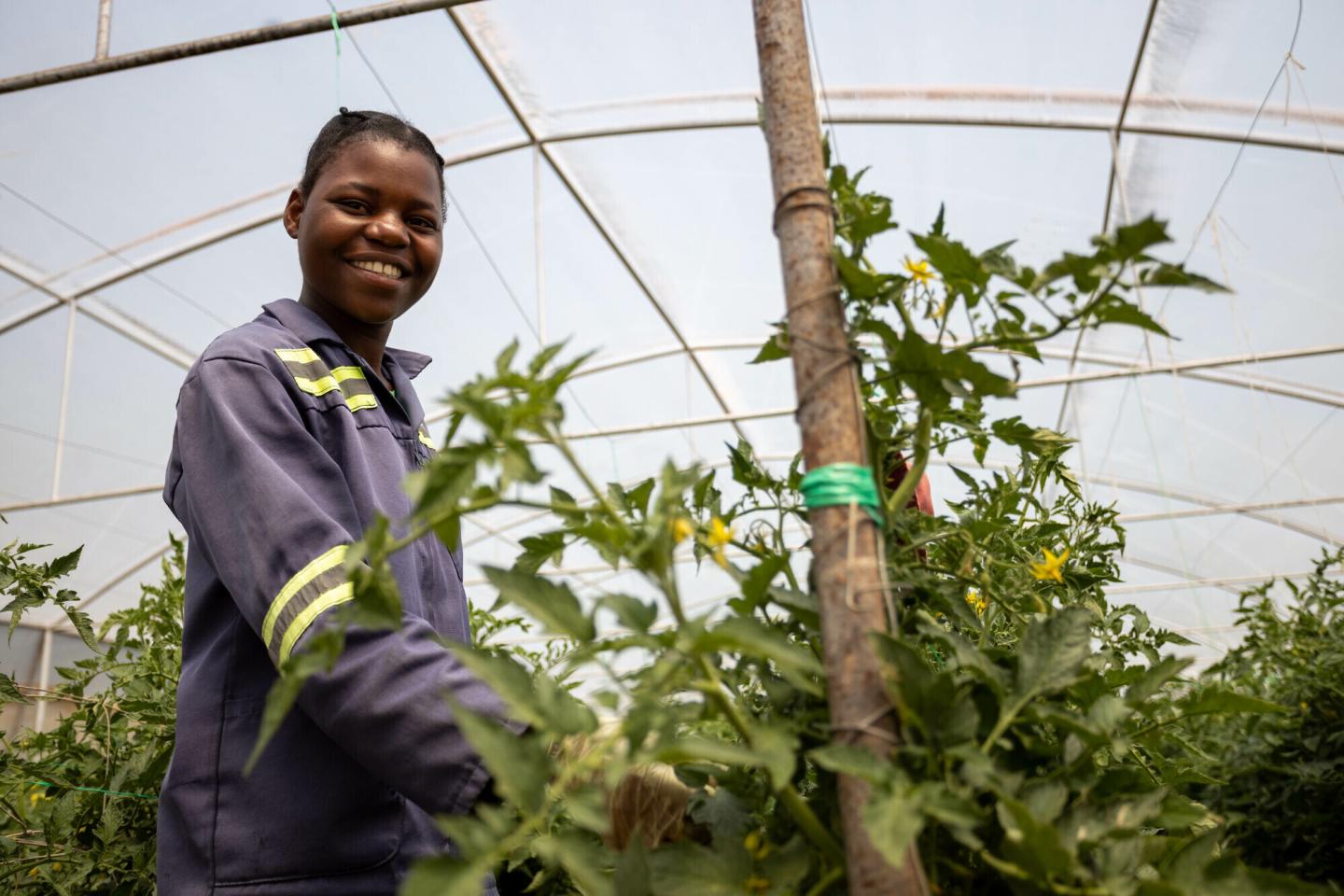 Whether through agricultural training, Bible study, life skills classes, counseling or listening, the staff and volunteers constantly reinforce the message that each woman has value and is worthy of respect.
Many of the girls come believing that being mistreated is normal, Dube says. Others come believing that they are nothing and men are everything. They often come with a sense of dependency on men.
But when the staff begins to treat them well, she says, the women start to realize that, "I am something, I am somebody. I can do something."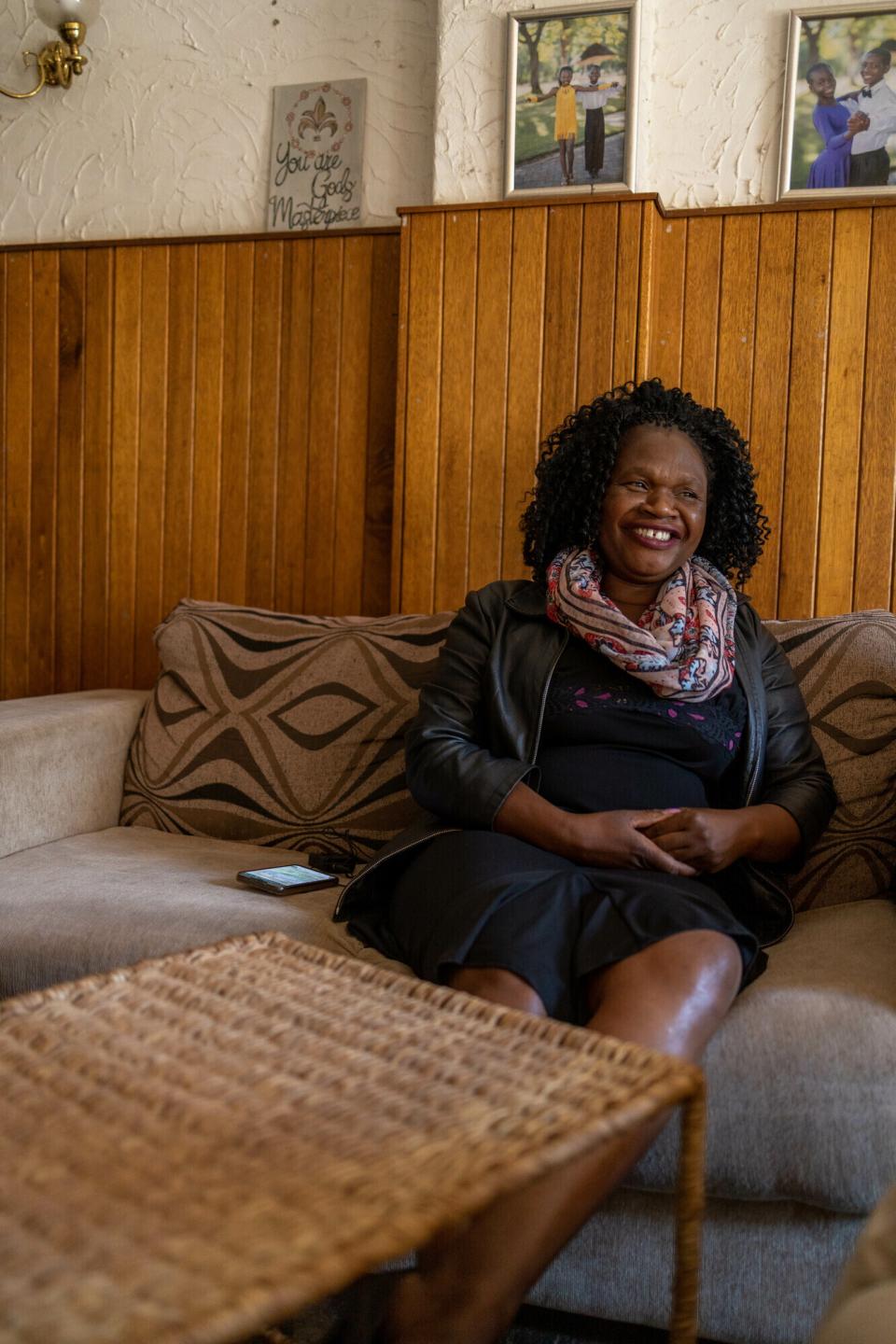 "We are here to help them, be a refuge for them," says Tina Dube, co-director of the Sandra Jones Centre.
"Once they're here," Dube says, "they know that they can stand on their own." Nyandoro feels the love promised on the mural by the door through the care she and her son have experienced.
"I feel a lot better, but sometimes when I think about the future, there is still fear," she says. "But I can see that one day, I'll be able to look after my own child, and even if I leave here, I know I will not give up on my child."
Nyandoro's situation is particularly complicated, Dube notes, because of the layers of difficulty in being the sole caregiver for a young child with disabilities.
No matter the situation, though, she's seen two things come true in case after case. Changes take time. But they do come.
You know that this girl is going to come out of this and be a conqueror and an overcomer."
"What motivates me is the results," Dube says. When the women arrive, they sense that they've come to a safe place, and they begin to hope that things might change. And eventually, slowly, as the staff walks with them through the journey, the women begin to change.
"You know that this girl is going to come out of this and be a conqueror and an overcomer," Dube says. "And I think the fulfillment is really what carries us all."
Top photo caption: Patricia Nyandoro and her son, Taropafadzwa Blessing Shumba, have found refuge and new opportunities at the Sandra Jones Centre in Bulawayo, Zimbabwe.