Bethany Christian Schools student wins MCC essay contest
April 28, 2023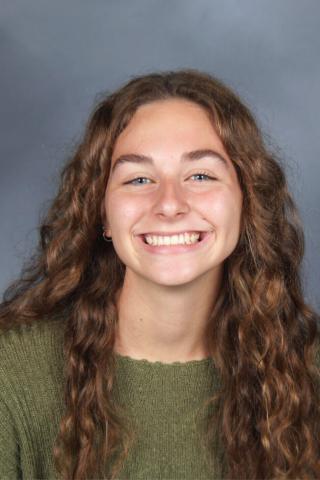 Alina Bergstresser, an 11th grade student at Bethany Christian Schools in Goshen, Indiana, won grand prize in the annual Mennonite Central Committee (MCC) U.S. National Peace & Justice Ministries public policy essay contest.
Olivia Renze, a senior at Bethany Christian Schools, and Simeon Spurrier, a 10th grader at Lancaster Mennonite School in Lancaster, Pennsylvania, received honorable mentions for their essays.
The top essayists were among 14 finalists from four U.S. high schools. Bergstresser will receive $1,000 for her essay. Renze and Spurrier will receive $250 each.
In her winning essay, "A faulty immigration system," Bergstresser writes that on the U.S.-Mexico border "there is ongoing mistreatment of immigrants in detention centers, lack of funds for immigrant resources, and, for many immigrants, a long struggle for citizenship that is not forgiving."
Drawing from an interview with an immigrant from Guatemala, Bergstresser emphasizes how poverty can exclude people from applying for a visa to migrate to the U.S. due to lack of means to pay the fees and a lack of English literacy skills.
Another issue that Bergstresser writes about is the poor conditions in detention centers used to detain some asylum seekers. She states that "classifying the people being held captive as 'non-citizens' allows the leaders of jails, penitentiaries and private prisons to mistreat them even further."
According to Bergstresser, the faults in the immigration system can be addressed through acts of kindness from individuals and policy change at the federal level. Anabaptists can play a role in welcoming those who have migrated to the U.S., Bergstresser emphasizes, by "[demonstrating] hospitality as Jesus did, with no exceptions."
Additional policy recommendations include increased U.S. foreign assistance funding toward stemming violence in migrants' home countries and changes to make the process for seeking asylum more efficient. Bergstresser's full essay can be accessed at mcc.org/media/resources/11303.
Olivia Renze also addressed immigration policy in her essay "Immigration in the United States and how to solve it." She proposes changes that include redistributing foreign assistance, streamlining immigration processes and incentivizing compliance from migrants.
In his essay, "Our Brokenness: An essay concerning the American Criminal Justice System," Simeon Spurrier describes contributing factors to the current system of mass incarceration: slavery, Jim Crow laws, the war on drugs and harsh sentencing. In addition to changing mandatory minimum sentencing policies, Spurrier advocates for the use of restorative justice as a system that addresses underlying causes of harm and "works through the trauma caused by that crime."

The MCC high school essay contest, which is in its 24th year, encourages youth to explore and understand national policy issues while reflecting on how their faith engages with advocacy. Public policy topics in this year's contest included immigration, climate change and mass incarceration.
The contest is open to Mennonite, Brethren in Christ and other Anabaptist youth of high school age and to all youth who attend Mennonite-related high schools within the U.S. and Puerto Rico.
Opinions and information in these essays do not necessarily reflect MCC's perspective or understanding of fact.